Manu Bennett's Deathstroke Will Return To Arrow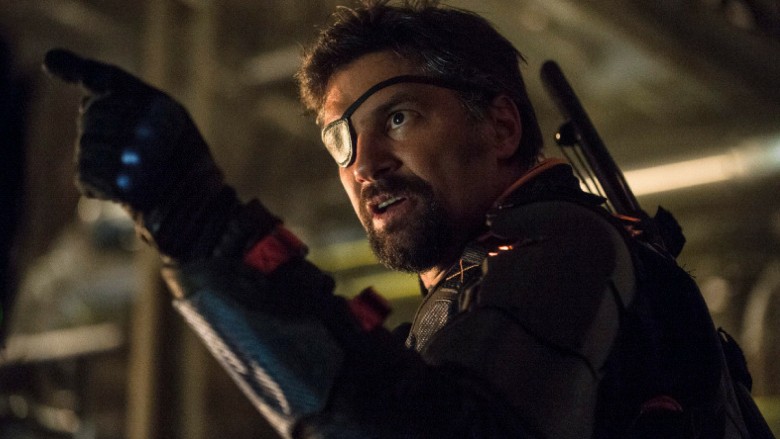 We may have to wait a while longer to see Deathstroke hit the big screen, but the super-villain will (probably) return to the small screen much sooner than we thought.
Arrow star Stephen Amell announced on Twitter that Manu Bennett, who played Slade Wilson during the early seasons of the CW show, will make a return for the season 5 finale. It's something that executive producer Marc Guggenheim appears to have confirmed this as well, tweeting a picture of the script for the finale and tagging Bennett. However, Bennett seemingly denied that he's coming back, posting, "For the record: I'm not going back for Arrow! #assumptionisthemotherofall..."
It's unclear why Bennett would apparently deny his role, although it's possible that he could just be playing coy. He could also have specifically chosen to use the phrase "for Arrow" to hint about the plot of the episode, implying that it's not Oliver who gets him to make a return but some other character or reason. Considering that both Amell and Guggenheim tagged Bennett specifically, it seems unlikely that he won't make an appearance at all, and if he truly isn't in the finale, there are going to be quite a few upset fans out there.
The finale is titled "Lian Yu," which Arrow fans will recognize as the name of the island where Oliver was shipwrecked, and where he met Slade. This is also where Slade is currently being kept, with the character locked up in an A.R.G.U.S. prison cell on the island. That would make a potential return easy and convenient for the show, assuming that the episode's title means that Oliver will go back to the island to find a way to defeat Prometheus, a villain like Deathstroke who could definitely have some ideas on how to take down Adrian Chase (Nathan Fillion). This would also fit with Amell's caption: "Desperate times call for desperate measures."
TVLine and Entertainment Weekly both confirmed Bennett's return, so either he doesn't know that he filmed a new episode or he's just trying to trick us into being surprised by the character's appearance. For the record, Bennett told Digital Spy that he thought fans would be a lot happier to see Deathstroke appear on the show again if they didn't know about it in advance.
We'll know for sure when the season 5 finale of Arrow airs on May 24. For now, check out how the show's cast should really look according to the comics.