Boss Baby Crushes The Smurfs At The Box Office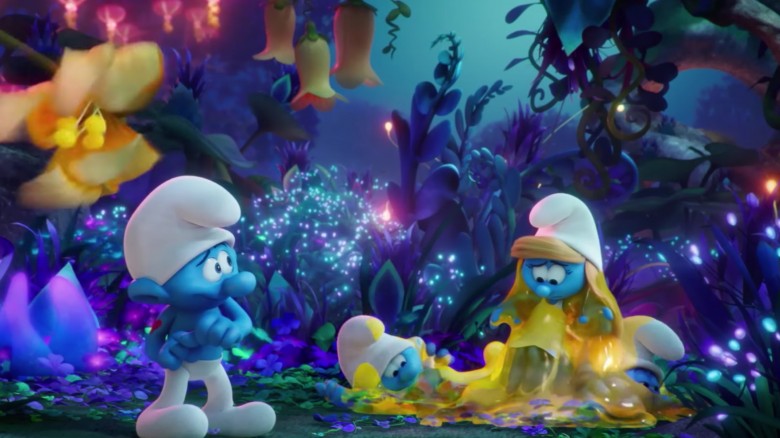 If cookies are for closers, then The Boss Baby can have all the sweets it wants. The animated DreamWorks comedy continued its reign as undisputed CEO of the box office over the weekend, falling 48 percent for an estimated $26.3 million.
So far, the film has made nearly $90 million on the homefront, while the film raked in $37.5 million overseas, bringing the international total to approximately $110 million. Do a little math, and you'll get a grand total of approximately $200 million. Chances are good we'll see a Boss Baby sequel in the future, and if you couple those box office numbers with Alec Baldwin's impressive stint over at Saturday Night Live, then it's probably safe to assume that he is feeling pretty good about himself right now.
Of course, if The Boss Baby won the Cadillac, then Beauty and the Beast took home a set of steak knives, and Smurfs: The Lost Village just got fired. The live-action Disney remake entertained enough guests over the weekend to earn $25 million, for a domestic total of $430 million. Internationally, the film picked up roughly $36 million, which means that Beauty and the Beast is sitting pretty at around $975 million total. In other words, it's just a couple of bucks shy (and a few days away) from breaking down the castle doors and hitting that $1 billion mark.
But things aren't looking quite so good for Sony, since its third Smurfs feature debuted to a mere $14 million domestically. The film opened a bit earlier internationally, but still, it's only earned a total of $42.1 million overseas so far, bringing the global total to $56.1 million. That probably stings a bit as Smurfs: The Lost Village cost $60 million to produce. And while Sony executives think the film will eventually make its money back, the folks at The Hollywood Reporter aren't nearly as optimistic. According to film reporter Pamela McClintock, The Lost Village had "one of the worst starts in recent memory for an animated offering from a major Hollywood studio." However, it's possible the film will make up some lost ground in Asia, as Smurfs has yet to open in China and South Korea.
But while Smurfs: The Lost Village finds itself struggling, New Line's Going in Style has been impressing pretty much everyone except critics. Sure, it's got a 44 percent on Rotten Tomatoes, but the remake of a 1979 heist flick earned $12.5 million domestically on its debut weekend, beating industry predictions by $3.5 million. Evidently, the film is doing particularly well with the middle-aged crowd, as 70 percent of the audience that went to see the Morgan Freeman and Michael Caine caper were over 50 years old. It just goes to show that teens and 20-somethings aren't the only people willing to pay for movie tickets.
Unfortunately, things still look grim for Ghost in the Shell. The Scarlett Johansson sci-fi flick debuted in second in Japan, earning only $3.2 million. In fact, the film brought in just $41.1 million internationally over the weekend, plus $7.4 million here in the states. Since its release date, the anime remake has picked up a little less than $125 million, and when you compare that to its $110 million budget and factor in marketing, well, you can imagine the people at Paramount are probably feeling a bit depressed.
In sixth place, Power Rangers fell 57 percent, earning around $6.2 million and, as Sujit Chawla of Rotten Tomatoes puts it, "Doesn't seem good enough for sequels, but we shall see." Kong: Skull Island, on the other hand, isn't monkeying around. The Warner Bros. blockbuster earned $5.8 million domestically, bringing the international total to nearly $535 million. And as Box Office Mojo points out, that means Kong is the new king of the monsters, as Skull Island just beat Godzilla's 2014 earnings of $529 million.
As for Logan, the Wolverine is still scrapping, earning $4.05 million. In the ninth position, Jordan Peele's Get Out refuses to, well, get out, picking up an impressive $4.02 million. And finally, things are getting a little divine at the number ten spot, with The Case for Christ (based on the book by Lee Strobel) debuting at $3.9 million from a total of 1,174 theaters.
Of course, Christ, Smurfs, and Going in Style aren't the only new titles that hit theaters over the weekend. FUNimation's Your Name (a Japanese fantasy blockbuster that earned $214 million in the Land of the Rising Sun) brought in $1.6 million from 294 theaters. And Chris Evans put down his Captain America shield long enough to star in Gifted, the Fox Searchlight drama about a child genius. According to Forbes, this is director Marc Webb's first film without Spider-Man since 2009, and it's made $476,000 so far, earning around $8,500 per theater.
The Anne Hathaway-kaiju comedy Colossal was one of the best-reviewed films of the weekend, attacking four theaters in New York and Los Angeles while stomping away with $125,809.
But it was another weekend dominated by a suit-wearing baby and a jacket-wearing buffalo-man. However, that could all change in the near future when Vin Diesel comes racing into theaters. The Fate of the Furious is set to debut this weekend at more than 4,200 locations. Co-starring Charlize Theron, Dwayne Johnson, and Jason Statham, the latest entry in The Fast and the Furious franchise promises to give The Boss Baby and Beauty and the Beast a run for their money. In fact, it might even leave those family films choking in its dust.
While you're waiting for Dominic Toretto and his family to kick things into high gear, be sure to check out the alternate Fast and the Furious endings you haven't seen.