Why Danny Rand From Iron Fist Looks So Familiar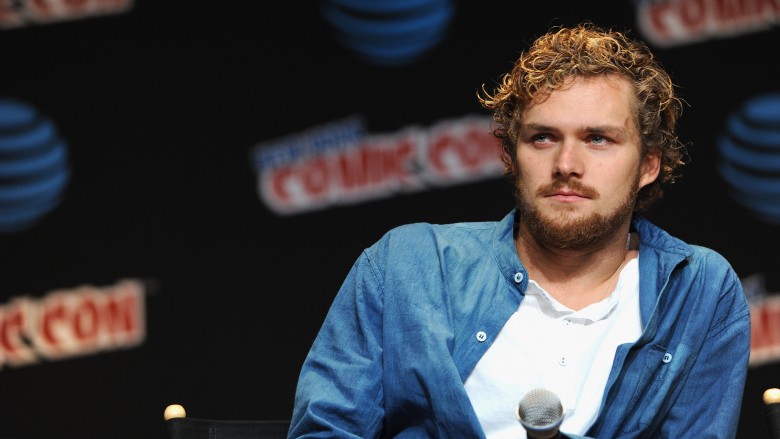 Getty Images
If Danny Rand looks familiar, it's because the actor behind the latest Netflix superhero has been playing a range of parts big and small for the last six years. A major player on British soap operas, star of low-budget fairy tale films, and an important character on an HBO staple, Finn Jones has been getting his face on your screen.
Hollyoaks Later and Hollyoaks (2009-2010)
Finn Jones made his professional debut in the night time spinoff of the long-running British soap opera Hollyoaks Later. The 21-year-old Jones played Jamie, a young dude who falls in love with Hannah and drags her into his drug-dealing business. After Jamie appeared in a storyline featuring pimps, drug deals, and dramatic escapes in an ice cream truck, Hannah left him for good. Luckily for Jones, audiences wanted more, so he got bumped up to the original Hollyoaks to try to make things right with Hannah. Hollyoaks has been on the air for more than 20 years and is still going strong in England. It's been the starting point for a number of notable actors including James Corden and Nathalie Emmanuel (Missandei on Game of Thrones).
The Bill (2010)
After Hollyoaks, Jones moved on to another incredibly long-running British series, The Bill. Pretty much the Law & Order of England, The Bill detailed the life and crimes of an East London police station. The show ran for 27 years before bringing its final criminal on its 2,425th episode in 2010. Jones got to play a troubled youth in the show's final season and now joins the ranks of the many stars who got their start as drug dealers and petty criminals on the popular police drama. James McAvoy, Keira Knightley, Ray Winstone, Sean Bean, David Tennant, Russell Brand, and (perhaps most importantly) Emma Bunton aka Baby Spice all took a turn getting interrogated during The Bill's many investigations.
The Sarah Jane Adventures (2010)
Finn Jones couldn't stay away from quintessential British shows. The Sarah Jane Adventures, a spinoff of insanely long-running British classic Doctor Who, featured Jones in a pretty important two-part episode, "The Death of the Doctor." Sarah Jane goes to find out if the doctor is really dead, some bird people try to trap her, and the doctor wasn't dead at all. You know, normal sci-fi stuff. Jones played Santiago Jones, the grandson of Jo Grant, and loved his time on the show. When Digital Journal asked if he'd ever like to return to The Sarah Jane Adventures, he replied, "If they offered me more Santiago and I'm free, then definitely. I wouldn't give it a second thought, really. Fighting aliens, being cool, saving the planet – it's all so cool. There's nothing bad about being in the world of Doctor Who."
Doctors (2010-2011)
Hollyoaks wasn't Jones' last foray into the world of soap operas. He took a guest star role in the daytime medical series Doctors. Compared to Jones' other BBC appearances, Doctors was a fairly new show, only on its 11th season (which, as we've seen, is nothing at all in the world of British TV) when Jones played Tim Hebdon, a sexually frustrated douchebag. It might not be his proudest role, but he made enough of an impression that he was brought back to play a different jerk in the show's 13th season. In that episode, Jones insults his friend's manhood and makes fun of a homeless woman for no reason.
Wrong Turn 5: Bloodlines (2012)
By this point in his career, Jones had hit all the beginning actor touchpoints. He was on a few soaps, a cop show, a medical show, something related to Doctor Who (a requirement for all British actors), and followed it up with a movie, Wrong Turn 5: Bloodlines. This isn't a very illustrious start into the world of film, but he got to smoke some fake weed and appear in a low-budget horror franchise. If you like lots of violence, cannibals, and people wearing weird and creepy makeup, the Wrong Turn series is a must. In 20 years, Wrong Turn might not show up on Jones' "best of" reel, but it was probably fun to be on set with so much fake blood. Probably.
Sleeping Beauty (2014)
Finn Jones playing a handsome hero in a fairy tale? That's some perfect casting. Sadly, Jones didn't get to appear in any kind of Disney remake of Sleeping Beauty but found himself in Asylum's rendition of the classic tale. If you're not familiar with the work of Asylum, it has created such epics as Mega Shark vs. Giant Octopus and blatant ripoffs like Snakes on a Train and Transmorphers. Since the fairy tale of Sleeping Beauty is public domain, Asylum didn't need to change the title to Dozing Lovely or Narcoleptic Pretty, but it did add zombies to the princess tale. For all the craziness, Jones takes his leading role seriously and starts to prove he's more than just a mop of curly blond hair.
The Last Showing (2014)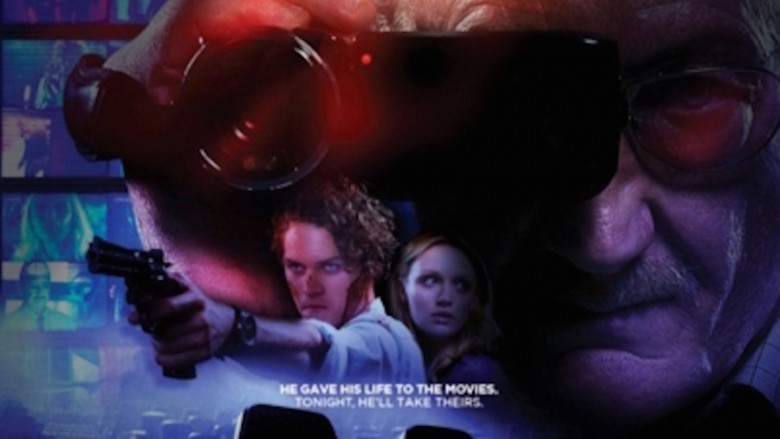 Horror legend Robert Englund stars alongside Jones in The Last Showing. Englund plays a former movie theater projectionist who loses his job as the cinema switches over to digital. So he decides to make his own movie by trapping two pretty rich people (one of whom is Jones) in the theater while he secretly films and makes them do horrible things. The UK movie didn't get a large release, but playing a leading role with one of the masters of horror had to be an educational experience. Englund had only kind words for his costar. He told Den of Geek, "There's a lot of the film where Finn is alone, and that's what really makes the movie works. It's the long silences, the plot accumulating. Manifesting itself on Finn's character. And if Finn doesn't go there, the plot doesn't move. He has to carry that burden, and I think he's just marvelous, with the arc of his character."
Life in Squares (2015)
In 2015, BBC2 produced a prestigious mini-series about the lives of the Bloomsbury Set. If you aren't familiar with the artistic and literary world of Britain in the 1920s, the Bloomsbury Set (or Bloomsbury Group) was a collection of young writers, artists, economists, and critics that included Virginia Woolf. They spoke of free love and feminism way before hippies ever came around to it and had no problem boning anyone who was interested. Jones played the nephew of Virginia Woolf, Julian Bell, and didn't have to get naked quite as much as his co-stars. The mini-series was well received and wouldn't be the last time Jones' appeared in a highly acclaimed drama with a mostly British cast.
Game of Thrones (2011-2016)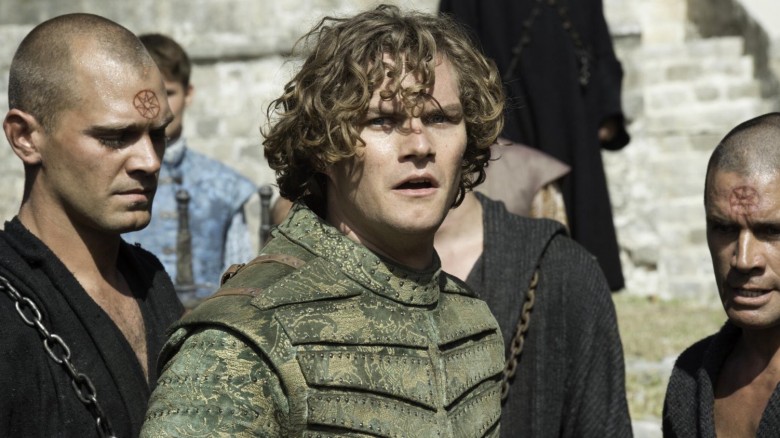 Unless you're British or a rare American Hollyoaks fan, you know Finn Jones best as Loras Tyrell from HBO's Game of Thrones. Jones played the beleaguered brother of Margaery Tyrell since the fifth episode of the hit series. Playing the character who comes second to his sister and was eventually imprisoned for his sexuality, Jones was able to bring charm, sadness, and depth to the role. Plus, his hair was really pretty. Spoiler alert: Loras never got his revenge against Renly's killers, since Cersei took him out in the big Sept explosion of Season 6. Jones was already cast as Danny Rand in Iron Fist by the time he shot the finale, so he had a major role to look forward to. Still, leaving the hit show was bittersweet. He told Entertainment Weekly, "Just from a personal point of view, I would have loved to be there to the very end. But I think the timing of it was so perfect. Better to blaze out, quite literally, than fade out in seasons to come. I was really grateful for all the time on Game of Thrones. I don't think there could be a better end for my character."
Jones' transition from bit player to Marvel star hasn't been easy. He was a fan favorite on Game of Thrones but has faced some harsh criticism for the first season of Iron Fist. It doesn't seem like Netflix is planning to replace Jones, so he'll hopefully get a better handle on the character when he shows up in The Defenders.