The Real Life Story Of The Game Of Thrones Giant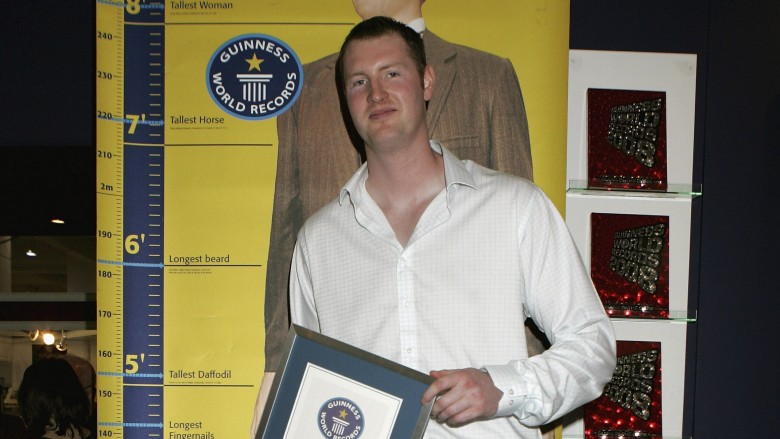 Getty Images
We were all incredibly saddened to hear that Neil Fingleton, who played Mag the Mighty on Game of Thrones, passed away on February 25th, 2017 at the young age of 36. While some people only knew Fingleton as the giant who fell during the Battle of Castle Black, he actually had a storied basketball career and several awesome roles before his untimely demise. Let's take a look at the real-life story of a man who was so much more than his Game of Thrones character.
His first big break came at 17 - as a basketball player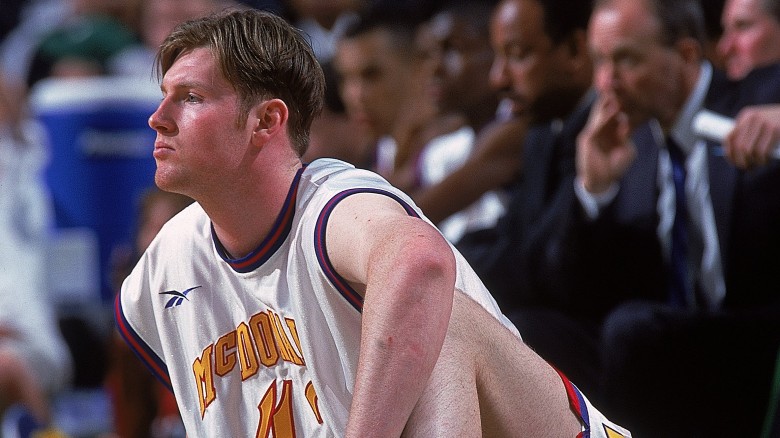 Getty Images
The New York Times did a piece on Fingleton when he was just 17 years old, writing, "He drifts to sleep in a specially designed eight-food bed, where his size 15 feet barely fit. To accommodate his 42-inch inseam, the material for his dress pants had to be purchased in France." Already nearly 7 1/2 feet tall and 270 pounds at the time, He'd grow more than two inches in the next year, reaching a total height of 7'7.56. The Times interviewed Fingleton's parents in the 1998 article, sharing that he traveled to the U.S. from his native Durham, England at the age of 16 for a summer basketball camp at the University of Connecticut. After that, he wanted to live in America, and his dad wasn't about to stop him.
At the time the Times article was published, Fingleton had only been playing basketball for a few years, but he was already pretty good—especially at dunking. According to his player bio from his time at UNC, he was part of the McDonald's High School All-America Team, was Massachusetts's state player of the year and, "as a senior, led Holy Name to a 22-4 record and the district finals." He earned a scholarship and matriculated at the University of North Carolina at Chapel Hill in 2000.
He was well-loved by his 'adopted' family in the US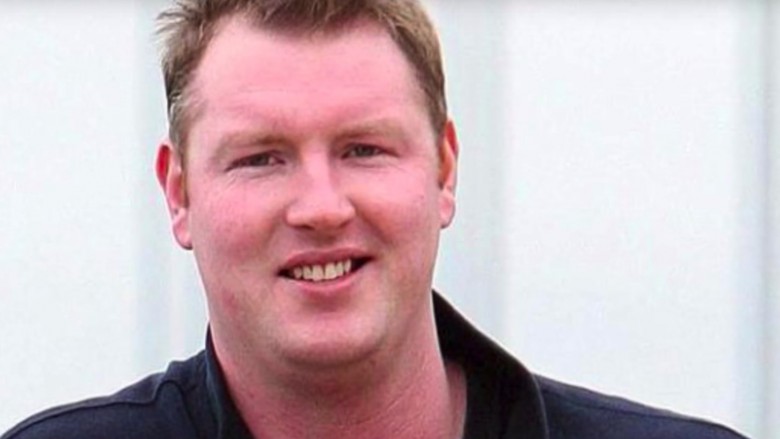 At the time of Fingleton's death, there was a tremendous outpouring from the people who knew and loved him. His parents and siblings, of course, were heartbroken—and people he knew as a teenager in the U.S. were also devastated.
A Boston Globe article tells of Phil Giarusso, a second father to Fingleton, and his first reaction when meeting the tall youth: "He came through the customs door ducking his head, and I looked at J.P. and I said, 'Holy [expletive],' our lives are never going to be the same again. ... The neighborhood took him in, and then the whole city really kind of took him in. No one cared that he was tall or that he played basketball. He really developed as a person and really got a sense of community and neighborhood. And the people were great. They knew him and they liked him."
"He was a big guy, but more importantly, he had the biggest heart," added high school friend Jimmy Moore. "He dreamed big, and he would have done anything in the world for anybody. He was just a joy and pleasure to be around."
He played for UNC as a freshman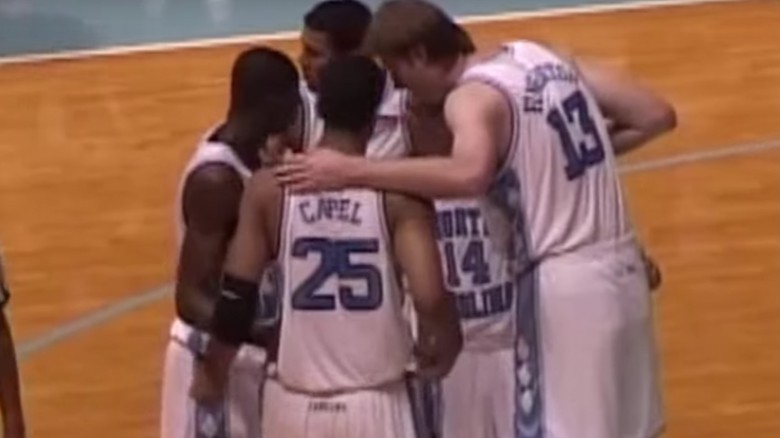 Unfortunately, soon after getting to North Carolina, Fingleton suffered some pretty serious back problems and had to have surgery after his participation in the World University Games the summer prior to his freshman year. He received a medical redshirt in his first year at UNC and in 2002 transferred to Holy Cross in Worcester, MA, to move on to pro basketball after college.
He went on to play for the short-lived American Basketball Association's Boston Frenzy franchise from 2004 to 2005, and even played with the Harlem Globetrotters for a bit before going back to Europe to play in Spain, Italy and Greece.
Basketball was bad for his health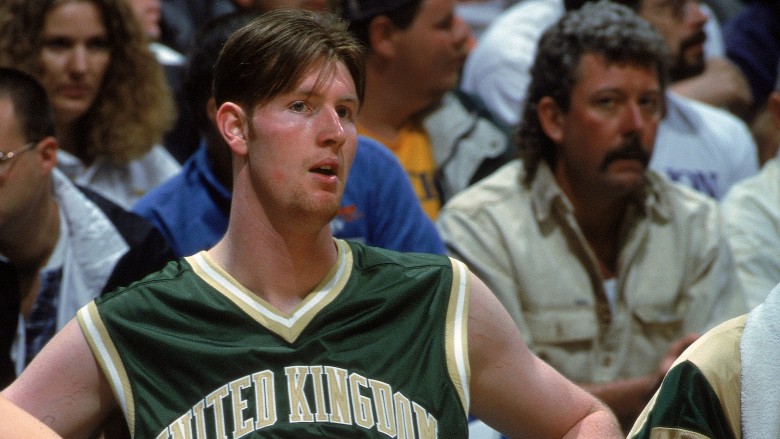 Getty Images
In a Thrillist article, Fingleton was quoted as saying, "When I was playing basketball, I was getting hurt quite a bit. Back injuries, dislocated shoulder, breaking ankles, toes, fingers—things like that. My body couldn't take it anymore, with all the running, the pounding. I just found, being my height, it was just incredibly hard to stay healthy." But even after undergoing back surgery the first year of college, Fingleton kept playing until he finally retired in 2007—and turned his eye to acting.
He had a real passion for acting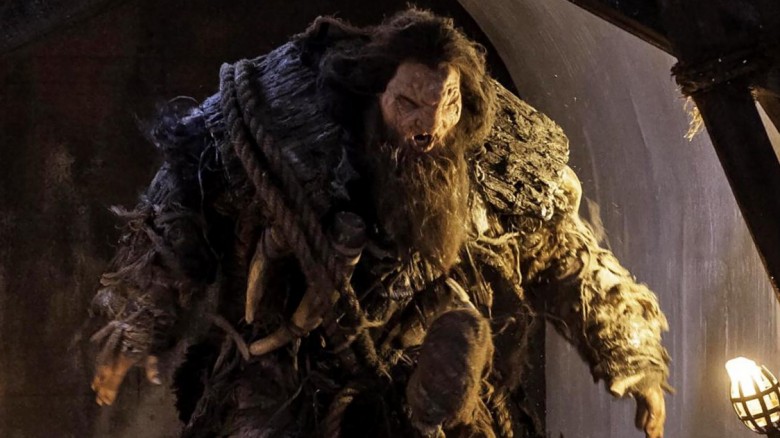 In 2011, Fingelton said, "During my time at Holy Cross, I never thought that basketball would be over for me. Holy Cross gave me the enthusiasm to express myself as a person in whatever I choose to do. Now my enthusiasm lies within acting...my ultimate goal would be to continue as a working actor." By then, he'd booked a small role in X-Men: First Class and had played himself in two British TV shows. In 2007, he lamented that he didn't get into acting sooner, as Hagrid would have been a great role for him. Sorry, Robbie Coltrane.
After that, he went on to act opposite Keanu Reeves in 47 Ronin. In an interview with the U.K.'s Daily Telegraph, he recalled, "Keanu Reeves is a really nice guy, and I got to work with him every day, as all the fights my character, Lovecraftian Samurai, were in with him." He also had a role in Jupiter Ascending, and played the Fisher King on Doctor Who after landing his role as Mag the Mighty on Game of Thrones.
He had his own clothing line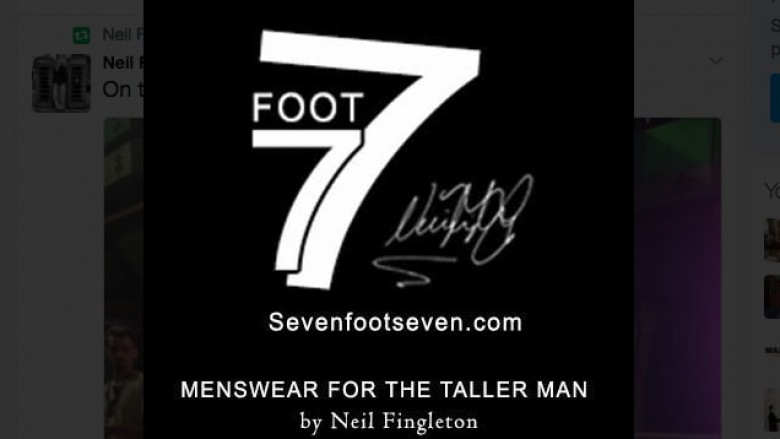 FIngleton told Holy Cross Magazine, "with my being one of the tallest men in the world and having a disadvantage buying clothes, I decided to set up my own website selling clothes to other tall men." His line, called SevenFootSeven, aimed to deliver "Menswear for the taller man by Neil Fingleton – UK's and EU's Tallest man."
As Fingleton explained in a 2014 Telegraph interview, he grew up in a time when you couldn't shop on the internet, so it was really hard to find clothes. "It was pretty heart-breaking for me sometimes, being young," he recalled. "Some of my friends would get Nike Air Max, stuff like that, but I wasn't able to because I take a size 15." Acutely aware of how hard it can be to find clothes off the rack at that size, he founded Seven Foot Seven for mean 6'4" and taller. "The whole model of my website," he added, "is that if everything on my site fits me, it can fit you, so to speak, because I am the tallest."
He did an acting workshop with one of the shortest Brits
In 2008, Fingleton shared a stage with Warwick Davis during his formal audition with U.K.-based agent Peter Burroughs—who happens to be Davis' father-in-law and business partner. Davis started Fingleton off with some dialogue and Burroughs weighed in right away, giving some direction and commenting that Fingleton must have had more life experiences than "regular sized" people. Davis asked Burroughs if Fingleton had career potential, which Burroughs confirmed. Davis noted there was hope in the sci-fi and fantasy genres, which were good for both actors.
By December 2009, Fingleton was cast in a stage role, his acting debut, as the giant in Jack and the Beanstalk. "I can't wait to start playing the giant," he enthused prior to the production. "It's like the role was written for me." Fingleton may have been the first to play the giant in the British Panto world without using stilts or puppets to achieve the height.
He played one of the most striking characters in recent Dr. Who history
In 2015, Fingleton appeared on Doctor Who as The Fisher King. In a BBC interview, Peter Capaldi said "he had a very strange, haunting kind of voice" and added that Fingleton was a great performer who made it so he didn't have to act, because anyone who was that tall really did, in fact, inspire awe. In the same clip, director Toby Whithouse says, "There's something slightly kind of tribal about the Fisher King. I wanted him to be monstrous. I wanted the character to be scary and kind of brutal."
He wasn't shy about his height
Fingleton was recognized as the tallest man in the U.K. in 2007, and said, "I have never been self conscious about my height. ... I never let my height play a negative part in my life. I always do what I want, some tall people may be restricted as they are constantly stared at or people ask the same questions over and over. This is the only bad thing about being tall—the stupid remarks and questions. Other than that, being tall is great."
In a BBC interview, he poked a little fun at his height with the host, giving him some "magic beans." He was a great sport on Toasted TV, an Australian kid's show, in search of the tallest person in Australia. They asked him questions about how he bought clothes, what kind of car he had to drive (a Volkswagen Golf, BTW), and what type of bed he needed. At the end of the segment, Fingleton said if he was short for a day, he'd go down the slides (aw!), that the most annoying thing about being tall is travel, and that he prefers marmalade on his toast. No report, however, on whether or not he ever found the tallest person in Australia.
He loved being on Game of Thrones
Thrillest revealed that playing Mag the Mighty on Game of Thrones was no easy feat. While the costume was designed to allow Fingleton to walk and run naturally, it weighed more than 75 pounds and Fingleton had to do cardio and weight training to stay in shape and avoid getting hurt while wearing it. On top of that, Fingleton had to sit in makeup for three hours each day of filming and didn't really get to interact with the other actors on set.
Fingleton told the Telegraph he'd originally auditioned for the role of Ser Gregor Clegane, the Mountain. While the role went to Hafthor Julius Bjornsson, Fingleton said, "they kept me in mind, so when they were casting for giants they clearly hadn't forgotten about me, which was good." In the same interview, he added he hoped for another giant role on the popular series. Unfortunately, he didn't live long enough to return. Rest in peace, Neil. The world is much smaller without you in it.