Don Rickles, Legendary Comedian, Dead At 90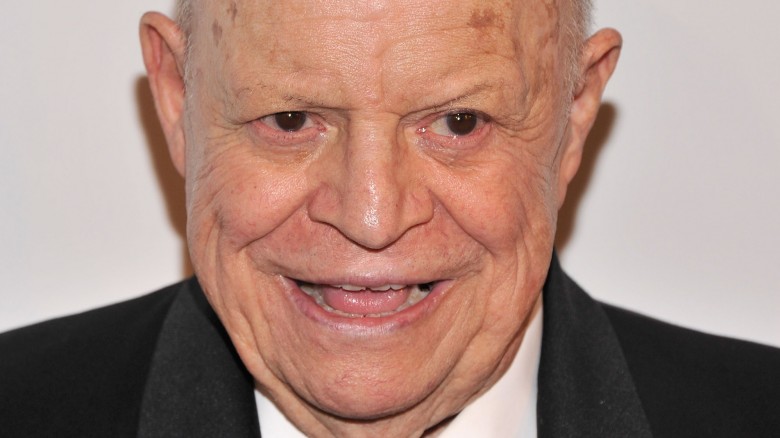 Getty Images
Don Rickles, the iconic insult comic who also made memorable TV and film appearances, died Thursday morning at his home in Los Angeles. Variety reports that his longtime publicist Paul Shefrin confirmed that Rickles died of kidney failure. He was 90.
Known for his abrasive style of comedy, Rickles had a career that spanned six decades. A regular at celebrity roasts and an honorary member of the Rat Pack, he would often take jabs at audience members with two signature phrases: "dummy" and "hockey puck."
He was a frequent guest on The Tonight Show With Johnny Carson and The Late Show With David Letterman, and he had a multitude of guest spots on TV shows like Archie Bunker's Place, The Lucy Show, Get Smart, F Troop, and Newhart. In his later years, he also showed up on Murphy Brown, The Single Guy, and Hot in Cleveland. In 2007, he won an Emmy for the John Landis-directed documentary Mr. Warmth: The Don Rickles Project.
He's perhaps best known to millennials as the voice of Mr. Potato Head in the Toy Story movies, and he also leant his considerable personality to the occasional drama, including a role in Martin Scorsese's Casino.
As recently as three years ago, Rickles publicly denied retirement rumors, and, despite failing health, he continued to perform in the years that followed.
He's survived by his wife of 52 years, Barbara; a daughter and a son; and two grandchildren. Celebrities have been sharing their condolences on Twitter, and you can see some below.



90 years with Don Rickles weren't enough. One of the sweetest and most lovely people I had the pleasure of knowing. We miss you already


— Jimmy Kimmel (@jimmykimmel) April 6, 2017



Greatest Of All Time https://t.co/b7q4wmpFX0


— Jeff Ross (@realjeffreyross) April 6, 2017



He never was Politically Correct and he never apologized for it. R.I.P. Don Rickles @DonRickles


— Gilbert Gottfried (@RealGilbert) April 6, 2017



Don Rickles has passed away.

A giant loss.


— Billy Crystal (@BillyCrystal) April 6, 2017



Don Rickles was simply the best. He created insult comedy &yet every 1 of his targets felt loved and honored. One of a kind.#RIPdonrickles


— jason alexander (@IJasonAlexander) April 6, 2017