Christopher Nolan Talks About Dunkirk Rumor And PG-13 Rating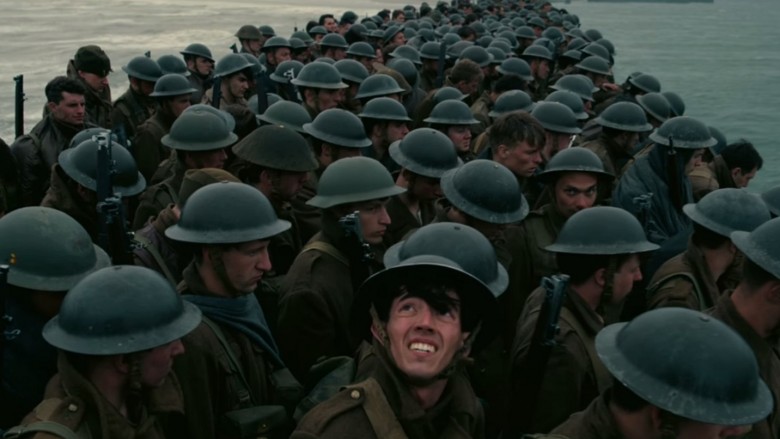 Once the creative brains behind Batman, Christopher Nolan has traded in the streets of Gotham for the beaches of France. In a recent interview with the Associated Press, the English-American director commented on his upcoming war film, Dunkirk, discussing the film's rating, as well as a crazy rumor that he was keen to shoot down.
Much like Nolan's other tent-pole movies (take The Dark Knight or Inception, for example), Dunkirk has been given a PG-13 rating, which seems a bit odd for a World War II film. But Nolan isn't trying to make Saving Private Ryan, and he's perfectly fine with the blockbuster-friendly PG-13. "It's a rating I feel comfortable with," the director explained. "Dunkirk is not a war film. It's a survival story and first and foremost a suspense film." Nolan then went on to elaborate, saying, "So while there is a high level of intensity to it, it does not necessarily concern itself with the bloody aspects of combat."
Instead of showing blood and guts, the director wanted to focus on what it would feel like to be trapped on that beach, surrounded by enemy soldiers. "It's the most human movie I've ever made," Nolan said, "because it's about the desire for survival."
After discussing the rating and his thought process behind the film, Nolan was then asked if there was any truth at all to the rumor that he'd crashed an actual $5 million Luftwaffe plane. The director adamantly denied the report, explaining that while they'd "used real antique vintage planes and flew them for the movie," the film crew had "constructed full scale models to destroy." The director then made it very clear that he'd never wreck a piece of history, as he has an enormous amount of respect for these "beautiful" and "valuable" machines.
If you're looking forward to seeing Nolan's take on one of the most amazing stories of World War II, Dunkirk hits theaters on July 21. While you're waiting, you can do a little reading on one of Dunkirk's biggest stars by checking out the untold truth of Tom Hardy.