The Purge TV Series Being Developed For Syfy And USA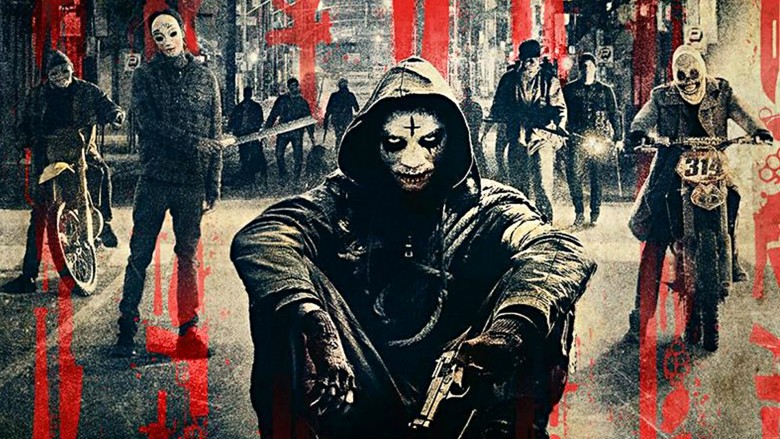 Universal
You've gotta wonder if President Trump will be watching for more slogans.
The Purge director James DeMonaco is developing an "interwoven anthology series" based on the movie franchise for Syfy and USA, according to The Hollywood Reporter. Writing is currently underway.
The idea first surfaced back in September, and here's what DeMonaco said at the time (via ScreenCrush): "I like the idea of a maybe [a] 10-hour TV thing on this," he said. "The one thing you really can't do on the films is, just because of mere real estate and time, is you can't get into the nuance and complexity that would drive someone to commit a terrible act on this night. Whether it's revenge or out of passion... what might be interesting in a TV show is with a flashback narrative, if you start on Purge Night but you go back to show how people have gotten to where they are."
He said that we would get to know the characters much more deeply, leading to higher stakes once that fateful night comes around. "Let's show everything that's led up to this moment of a husband trying to kill a wife, the cheating or the accusations of cheating or money problems. It will be interesting to show those arcs, those dramatic and complex arcs that get people to where they pick up a gun or a knife and kill someone else. I think there's something cool that we can do with the real estate of TV."
He's got a point. While the Purge movies tend to plop us right in the middle of the action, we don't have much of an emotional tie to the characters. This way, the tension could build in a way that feels organic, and more authentic.
There's no timeline for the show just yet, and no word about what this would mean for the film franchise. But we'll keep you posted.
And just in case you didn't get the Trump reference, it turns out that his announced 2020 campaign slogan, "Keep America Great," just so happens to be the tagline for The Purge: Election Year. Fun stuff.