The Walking Dead Had A Hilarious Way Of Filming Those Shiva Scenes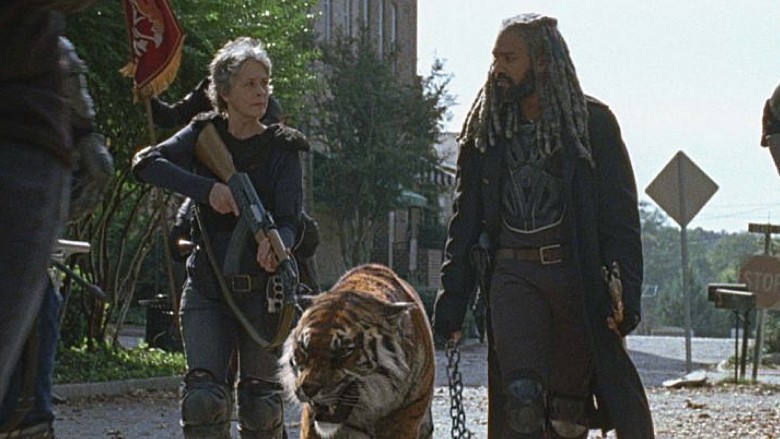 Chalk one up to TV magic, because it turns out that the real life version of those Shiva scenes from last night's The Walking Dead finale was nowhere near as intense as they appeared on screen. Series star Chandler Riggs shared a picture on his Twitter Monday morning giving a behind-the-scenes glimpse at the filming of the tiger's big moment, showing that the scary beast was actually played by a much less intimidating man in a blue motion suit.
Shiva saved Rigg's life (or, well, Carl's life) in the finale, pouncing into the fray just in time to distract everyone and rescue him from the end of Negan's bat. According to Riggs, the real version of the scene featured the man in the suit jumping off a trampoline to tackle Negan's back-up, something which he said was "the best part about filming that whole episode." Luckily, the show's ample special effects budget allowed for the rescuer to take on full tiger form, since a man in a blue suit rescuing Carl probably wouldn't have had the same effect. (For those curious about the process, AMC shared a video giving more information on how Shiva goes from blue man to tiger, which you can watch on their website.)The Walking Dead's season seven finale is setting up for the comics' All Out War arc in season eight, which showrunner Scott M. Gimple says will "melt people's minds and break their televisions." The premiere of the upcoming season, currently expected to hit screens in October, will also mark the series' 100th episode, which should mean that the episode will be a full on blow-out of zombie goodness. For now, though, make sure you're not missing anything by reading our explainer of the season seven finale.