The Boss Baby Beats Ghost In The Shell At The Weekend Box Office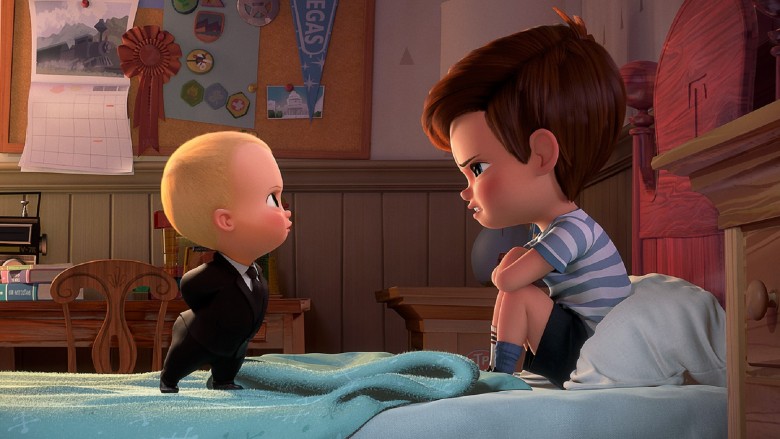 After enchanting audiences on its opening day, Beauty and the Beast finally finished second place last weekend as The Boss Baby crawled its way to the number one spot. According to Box Office Mojo, the latest film from DreamWorks Animation blew past everybody's expectations, earning approximately $49 million on its opening weekend. Critical opinion was a bit mixed, but that didn't stop the Alec Baldwin comedy from becoming the tenth largest opening ever for DreamWorks Animation.
However, things might get a bit rough in the next couple of weeks, as Smurfs: The Lost Village comes out this weekend, and Spark hits theaters the weekend after. It'll be interesting to see how The Boss Baby does with all that animated competition, but rest assured, DreamWorks isn't done raking in the dough just yet. The Boss Baby picked up $59 million overseas, and evidently, it was quite a hit south of the border, as the CGI flick just became DreamWorks Animation's biggest opening in Mexico ever. And with 44 international markets to come, there's still quite a bit of cash in The Boss Baby's future.
As for Beauty and the Beast, this tale as old as time might've come in second, but it still brought in an estimated $47.5 million. Internationally, the Disney hit pulled in $66.5 million from 55 markets, and if you look back on the film's impressive run, this Emma Watson movie has earned a staggering total of $876.3 million. And according to Rotten Tomatoes, the film is set to break $1 billion before Easter.
Unfortunately, things are looking grimmer for Paramount. Ghost in the Shell bombed with critics, and it didn't fare much better in theaters. Domestically, the Scarlett Johansson flick opened in 3,440 locations, but it only managed to earn $19 million. That's especially bad news when you compare Ghost to Johansson's last sci-fi action flick, Lucy, which opened to $43.9 million. Overseas, the anime adaptation played in over 50 markets, bringing in $40.1 million. Still, compare that $59.1 million total to the film's $110 million budget, and you can see why studio executives might be feeling a bit disappointed. It probably hurts all the worse since (as pointed out by Variety), Paramount has suffered some pretty big flops lately, e.g. Allied and Ben-Hur.
Granted, there's still hope for the future as Ghost has yet to open in China and Japan, but why is a big-budget flick starring such a high-profile star doing so poorly on the home front? Well, according to a breakdown by The Hollywood Reporter, the film was definitely hurt by the whitewashing controversy that's been raging since 2014. Sure, Paramount tried to smooth things over with a massive marketing campaign, but the brouhaha never really died down. Even worse, it seems all the negative reviews made a significant impact, as Google search results indicated an unusually large number of moviegoers were doing their homework before purchasing tickets last weekend. Couple that with all the other films vying for the number one spot, and it's easy to see why Ghost in the Shell was a major disappointment.
Fourth place last weekend went to those mighty, morphin' Power Rangers, as the film dropped 64 percent to gross an estimated $14.5 million. Kong: Skull Island wasn't too far behind, slipping 40 percent to pick up approximately $8.8 million. As for the uncanny X-Men, Logan also dropped 40 percent, collecting $6.2 million for a grand total of $585 million since its opening day.
However, the real hero last weekend was director Jordan Peele, as Get Out earned $5.8 million, bringing its total to an amazing $156.9 million, domestically. As it only took $4.5 million to produce this Universal thriller, those are some pretty incredible numbers. The film has brought in 35 times its budget, but even more impressive, Get Out recently broke a major record, dethroning one of the all-time great horror movies. As pointed out by Gizmodo, for nearly 18 years, The Blair Witch Project has held the title of highest-grossing debut for a writer-director of a movie based on an original screenplay. Back in 1999, the found footage flick grossed $140 million, but with that $156.9 million in the bank, Get Out is the new undisputed champion.
Finishing up our top ten, the sci-fi/horror film Life dropped 55 percent, only picking up $5.6 million, and the cop comedy CHiPs fell 47.5 percent, grossing around $4.1 million. Finally, Jessica Chastain's Holocaust drama, The Zookeeper's Wife, picked up $3.3 million from 541 theaters. All in all, March has been pretty amazing for Hollywood. According to comScore (via Entertainment Weekly), last month's domestic box office total broke $1 billion, making that a historic first for the month of March. And it's all thanks to an eclectic collection of movies, ranging from an R-rated superhero film to an African-American horror flick to a musical full of talking furniture. And while you're waiting for what's coming in April, be sure to brush up on all the sequels you didn't know were being made.