Rick And Morty Season 3 May Premiere This Summer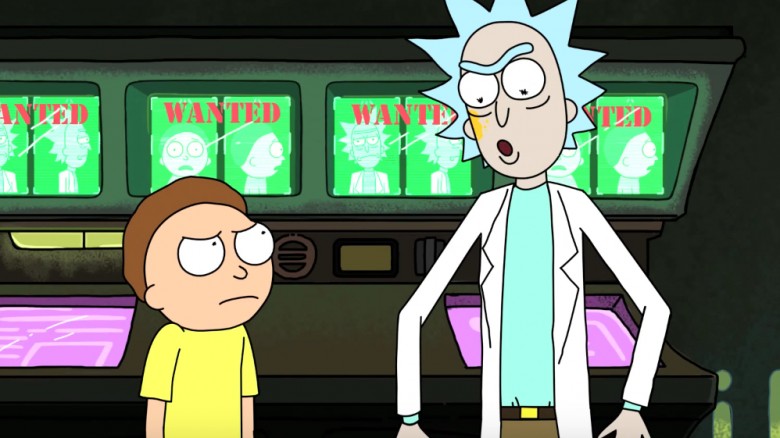 The television scene is about to get a little more schwifty.
It's been reported that the animated sci-fi sitcom Rick and Morty will make a splash on the small screen this summer. This news follows hot off the heels of the series' April Fools' Day "prank" that was actually legitimate: the Season 3 debut episode was available to stream in its entirety on the Adult Swim website on April 1. Entitled "The Rickshank Rickdemption," the premiere was pulled from the network's site when the clock struck midnight, but the official Rick and Morty Twitter account teased that fans may be seeing more in the near future.
A few hours after "The Rickshank Rickdemption" stream ended, a tweet was shared to over 400,000 of Rick and Morty's Twitter followers. "That's the way the news goes," the post stated. "Thanks for watching "The Rickshank Rickdemption"! More to come this summer."
If that wasn't enough, another post was sent out later the same day. While Rick (voiced by Justin Roiland) is now free, it'll be a few months until he dives back into mischief. The follow-up tweet said, "Rick is free, but he won't be going on more adventures until this summer." The additional detail that "a pickle will rise" was also included, perhaps teasing a possible storyline for the upcoming season.
In the past, Rick and Morty creator Dan Harmon has stressed the importance of ensuring that things look, feel, and sound exactly right in the show. This, in turn, has lengthened the team's writing process and slowed down the release of new seasons. Speaking at the 2017 Sundance Film Festival, Harmon explained (via IndieWire) the slower return rate. "I'm so sorry. I don't have a release date for Season 3. It's not that I know it and I'm not allowed to say it; it's [Adult Swim's] domain. What I will tell you is it's late because of us, it's late because of me."
Later, Harmon built upon his Sundance comments, clarifying that there's no big secret behind when new Rick and Morty content will be released. In a series of tweets, Harmon stated, "No hidden truth. We slow. Sorry. Part of what I was trying to express is that we would sit and ponder, what's the problem here, how can we write faster, why we so slow? And then we'd go 'what made us faster in season 1' and then we'd go 'we didn't sit here talking about this, let's just do this,' etc."
No set release date for Rick and Morty Season 3 has been announced, but we'll update you as news breaks. In the meantime, check out the untold truth of the show.