The Conjuring Lawsuit Could Cost Warner Bros. $900 Million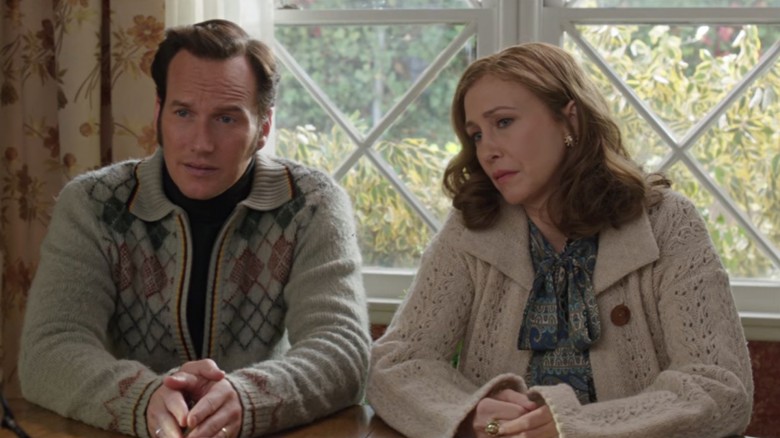 Here's some chill-inducing news for the Warner Bros. legal department. Deadline reports that the studio faces a $900 million lawsuit over alleged copyright infringement for The Conjuring.
Author Gerald Brittle claims that Warner Bros. based the horror franchise on his 1980 book The Demonologist, which tells the allegedly true stories of paranormal investigators Ed and Lorraine Warren. In a 355-page amended complaint filed in Virginia federal court, he's going after Warner Bros., New Line Productions and director James Wan. He first filed the suit back in November.
Brittle alleges The Conjuring, The Conjuring 2 and Annabelle infringe on his exclusive rights to create works based on the Warrens' cases. He said the couple agreed to a no "competing work" provision in 1978 that prohibited the Warrens from contributing to any works based on the "same subject" as The Demonologist, specifically their "lives and experiences" as paranormal investigators.
"It is very hard to believe that a large conglomerate such as Warner Brothers with their army of lawyers who specialize in intellectual property rights deals would not have found The Demonologist book or the deals related to it, or Brittle for that matter." wrote his attorney Patrick C. Henry II, adding that the "only logical conclusion" is that Warner Bros. knew about the deals and ignored them because producers thought "they would never get caught." Brittle also said that New Line specifically told screenwriters not to read his book because the studio didn't have the rights to it.
Patrick Wilson and Vera Farmiga play the Warrens in the movie series, which generated $900 million in box office revenue–thus the dollar amount Brittle is seeking. According to the complaint, Brittle's attorneys sent a cease and desist to defendants before the release of The Conjuring 2, but the studio claimed the films weren't based on The Demonologist but on historical facts.
However, Henry said there aren't many true facts in the Warrens' stories. "Lorraine and Ed Warren's claims of what happened in their Perron Farmhouse Case File, which the Defendants freely and publicly admit their The Conjuring movie was based on, does not at all jive with the real historical facts. This is a pattern of deceit that is part of a scheme that the Warrens have perpetuated for years... There are no historical facts of a witch ever existing at the Perron farmhouse, a witch hanging herself, possession, Satanic worship or child sacrifice."
A Warner Bros. spokesman told The Hollywood Reporter the studio has not yet been served with the complaint and declined further comment.
Annabelle, the first Conjuring spinoff, came out in October 2014, and the sequel Annabelle: Creation is slated to arrive Aug. 11. Corin Hardy is also set to direct the spinoff The Nun, which likely will be released in 2018.