Why Simon From The Walking Dead Looks So Familiar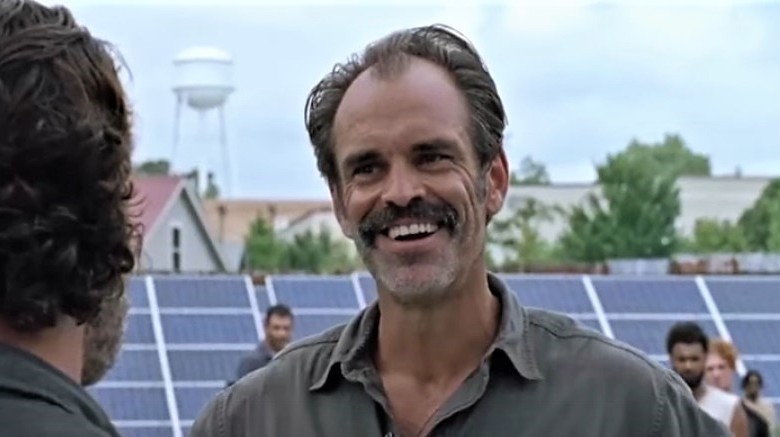 One of the most unpleasant side effects that comes with being a TV addict is that nagging feeling you get when you recognize an actor but when, no matter how hard you scratch your head, you cannot remember where you've seen him or her before. Steven Ogg, the guy currently portraying Negan's brutal right-hand man Simon in The Walking Dead, most definitely falls into that annoyingly familiar category. As a high-ranking member of The Saviors, Simon has served as the show's secondary antagonist in the latter half of Seasons 6 and 7, making him one of the prime movers in AMC's post-apocalyptic drama right now. But where exactly have you seen that mustache before? It's time we put you out of your misery.
Law and Order (2000)
Ogg's official screen debut came as an unnamed fashion photographer in "smug, oppressively talky rom-com" Giving It Up (1999), though his first role of any real weight came the following year in a Season 10 episode of long-running procedural Law and Order called "Untitled." The former theater actor managed to bag the role of Mark Vee, a highly controversial artist whose work becomes the subject of a murder investigation after a wealthy patron is found dead in the exact same circumstances as his painting "Perfect Woman Number 3"–completely naked with her hands severed.
Looking a little fresher than we're used to seeing him in The Walking Dead (it takes a moment to recognize him without the cookie-duster), Ogg captures the passion of a reclusive provocateur with the same intensity Simon brings to AMC's hit show, if a little more contained. "My art revolts you?" he asks the detectives who come to question him. "Good."
Mail Order Bride (2003)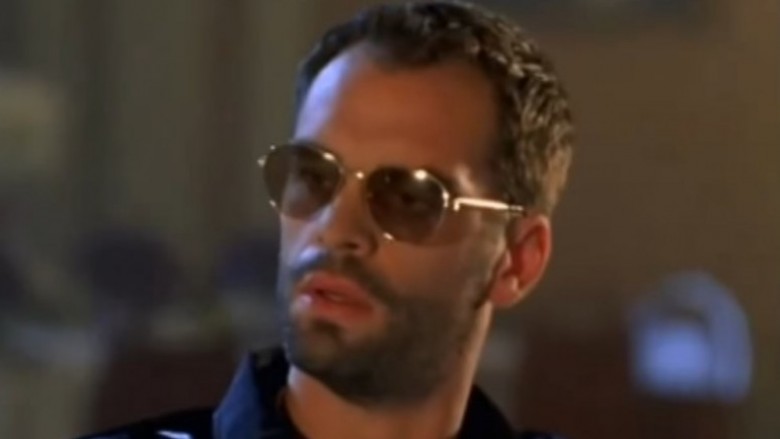 When The Sopranos came to its opinion-splitting end in the summer of 2007, the supporting cast became rent-a-gangsters of sorts, often called upon by filmmakers looking to add a bit of authenticity to their projects. Tony Sirico (Paulie Walnuts) ended up in B-movie monster flick Jersey Shore Shark Attack and Michael Imperioli (Christopher Moltisanti) revisited his mobster side in anti-hero flop The Wannabe, though both of those films are easier to stomach than 2003 gangster comedy Mail Order Bride.
The Sopranos alumni in question here is Vincent Pastore (Big Puss), who goes up against Ogg in a movie that pits both the Italian and the Russian mafia against a mail-order bride who has somehow managed to con the lot of them. Ogg plays Pavel, the No. 2 man in the Russian mob, although judging by his comically bad accent he's spent very little time Soviet-side. In his review for the New York Times, critic Stephen Holden praised Mail Order Bride for one reason and one reason only—driving another nail into the "exhausted subgenre" that is the mob comedy.
Grand Theft Auto V (2013)
Ogg's career began to stall as the noughties reached its midway point, and it wasn't until 2013 that he got the kick-start he sorely needed, though he had to switch mediums to make that happen. While he already had some experience in video games after providing the voice of Vinnie in horror-action hybrid Alone in the Dark (2008), voicing bank-robbing meth chef Trevor Philips in Rockstar's Grand Theft Auto V required much more than sitting in a booth with a mic. The whole performance was motion-captured, with Ogg and his cast mates actually acting out the narrative we see in the game.
"I have been so thrilled that the GTA fans have responded so positively to the performance," Ogg told BuzzFeed. "They have enjoyed his impulsive, psychopathic nature but have reveled in his humor." Ogg went on to reveal that Tom Hardy's performance as Charles Bronson served as an inspiration to him, praising the way the Brit walked that fine line between "psychopath and entertainer."
Unforgettable (2013)
CBS cop drama Unforgettable followed the daily exploits of Carrie Wells (Poppy Montgomery), a former New York detective who makes a return to the homicide field after developing a unique condition called hyperthymesia that gives her a highly detailed photographic memory, perfect for solving crimes in and around the Queens area. After CBS dropped it twice, the show was canceled for the third and final time by A&E in 2016, though not before Ogg popped up as sleazy receptionist Larry Yablonski in "Day of the Jackie."
The highly rated Season 2 episode sees Carrie and company slowly come to realize that the death of a businessman in a hotel room is directly linked to a larger assassination plot targeting an international diplomat. Ogg has a handful of scenes, appearing increasingly disheveled in each one. Wearing an open shirt over a string vest and sporting a wild mess of greasy hair, this is the first time the Canadian character actor showcased the kind of unkempt crazy that Walking Dead fans would later love to hate.
Person of Interest (2013)
A show created by Jonah Nolan (the lesser-known but equally talented brother of Hollywood director Christopher) and produced by J.J. Abrams seems like a match made in heaven for sci-fi fans. For four seasons on CBS, it was exactly that. Person of Interest took place in a world in which a supercomputer known as The Machine was able to provide the government with details of crimes–and the victims of said crimes–before they actually happened. Unfortunately, despite consistently pleasing the critics, the fifth season of the show failed to pull in viewers in the same numbers as years gone by, with the solid performance of rival show Elementary leading to Person of Interest getting the ax. But not before Ogg could make his contribution!
The Walking Dead villain popped up as an angry barfly named Chuck in the first episode of Season 3, picking a fight with a sailor after he hears him hitting on one of the local girls. Luckily for Ogg (who was cast simply to deliver a couple of lines before taking a punch) the authorities are already in the bar to save him from a beating when the brawl begins, as the scrappy sailor who hits him is being tracked because The Machine has named him as a potential victim.
​Broad City (2014)
Ogg made a memorable guest appearance in Comedy Central's Broad City in 2014, the same year Ilana Glazer and Abbi Jacobson's web-series-turned-cult-hit was named the second-best show on TV by AV Club, beating out stiff competition like True Detective, Fargo, and Mad Men. The two leading ladies worked hard to get their show to where it is today, and their comedic chemistry is undeniable, though some of the standout moments come when the pair of them face dilemmas together.
Such was the case in Season 1 episode "The Lockout" in which the friends get–you guessed it–locked out of their apartment and find themselves in need of a locksmith. They get more than they bargained for when Ogg's character (credited simply as Creepy Locksmith) shows up without credentials or ID and tells the girls that "the only thing you need to be a locksmith is you've got to want it ... real bad." Ogg's screen time lasts less than a few minutes, though the actor revealed that he still gets recognized in airports because of the show.
Murdoch Mysteries (2014)
Based on the series of novels by British-Canadian author Maureen Jennings, Murdoch Mysteries explores crime in 20th-century Ontario through the eyes of eponymous detective William Murdoch (Yannick Bisson). Ogg turned up on the show in Season 8 episode "Glory Days," trimming down his handlebar to a respectable shortness to play Bat Masterson, a legendary (and hilariously arrogant) frontier lawman who has tracked infamous bandits Butch Cassidy and the Sundance Kid to Toronto. Despite being a proud Canadian, Ogg played Masterson as a brash American unimpressed by law enforcement north of the border, a friction he very much intended.
"I became a big fan of Murdoch Mysteries and the writing in it," Ogg admitted, adding that he wanted to "show the difference between America and Canada. So many people come up to me and say, 'There is no difference between Canadians and Americans.' Well, I disagree."
He Never Died (2015)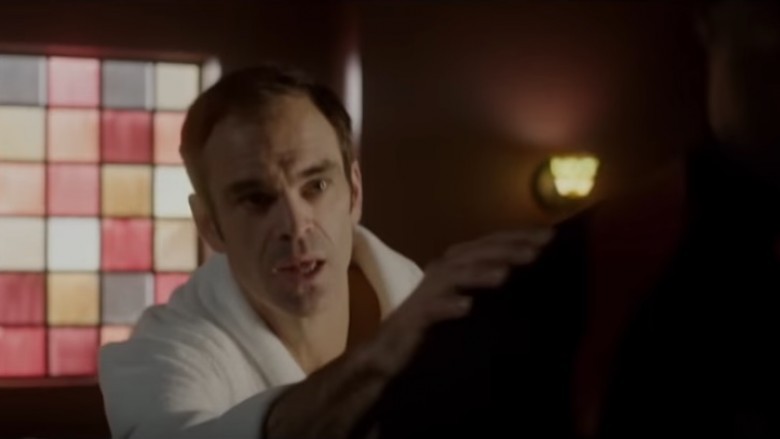 Ogg remained in Toronto for the shoot of his next big project, He Never Died. It was his first full-length feature in over a decade. The film marked a first lead role for former Black Flag frontman Henry Rollins, who starred as bingo-loving hardman Jack, an immortal cannibal whose struggle to remain flesh-free becomes complicated after his daughter is kidnapped by a local thug named Alex (Ogg). Ogg (appearing fully shaved for a change) discussed the movie in an interview with Jian Ghomeshi, explaining that the flick was much more than a horror movie. "There's no specific genre; it's not really a horror. It's very cerebral, it has sort of these Dostoevsky and Crime and Punishment sort of [themes]. ... It's really exciting."
Better Call Saul (2015)
Another of AMC's babies that Ogg has worked on, Better Call Saul has evolved from a Breaking Bad spinoff into a show more than capable of standing on its own two feet. Star Bob Odenkirk (Jimmy McGill, aka Saul Goodman) is the linchpin of the prequel's success (both seasons hold an impressive 97 percent critical rating on Rotten Tomatoes), though he is given ample help by the show's supporting cast, in particular Jonathan Banks (Mike Ehrmantraut). Ogg shared the screen with Banks in a memorable scene from Season 1 episode, "Pimento."
His character goes by the name Sobchak, and he's one of the bodyguards considered for hire by inexperienced pill peddler Pryce (Mark Proksch), who holds a parking lot interview with him, Mike, and a huge guy known only as Man Mountain. In a move that so many characters in the Breaking Bad universe have made at their peril, Sobchek severely underestimates ex-cop Mike, calling him useless for not bringing a gun to their meeting and asking for him to be dropped from the job. He ends up disarmed and clutching his partially crushed throat.
The Escort (2015)
Dark indie romance The Escort is the story of two sex addicts brought together by a mutually beneficial arrangement—a down-and-out journalist (Michael Doneger) in need of a good story and a Stanford-educated prostitute (Lyndsy Fonseca) in need of protection from her clients. As reporter Mitch writes what he hopes will be his comeback expose on the beautiful Natalie (aka Victoria), the pair begin to develop feelings for each other, but not before bumping into a few perverts along the way. You could feel it coming. That's where Ogg comes in.
The film boasts a pretty varied cast that includes Evil Dead legend Bruce Campbell and Bruce Willis' daughter Rumer, though it is Ogg in the minor role of Warren who's most effective in supporting terms, creating a truly uncomfortable scene as he hits on Natalie at a bar. Warren and his work buddies are out to celebrate a colleague's promotion, which is why Natalie's services are required. When she refuses to accommodate them all, things get nasty. In a most un-Simon-like move, Ogg's character backs down when confronted by the watchful Mitch.
Westworld (2016)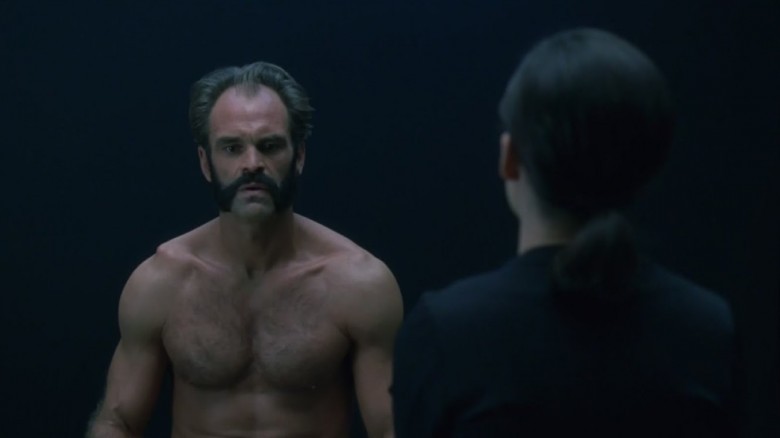 We saw a lot of Steven Ogg in Westworld. Not a lot in terms of screen time, but a lot of Ogg himself. The actor shot scenes naked for HBO's adaptation of Michael Crichton's 1973 film of the same name. The critically acclaimed sci-fi series takes place in a near-future, Old West themed amusement park populated with interactive 'hosts' whose purpose is to be used by paying guests in any way they see fit. Rebus (Ogg) is one such host, part of the original wave of androids created to bring the park to life. When he isn't getting repaired in the nude, he's a villainous cowboy who plays a major part in a narrative involving fellow host Dolores Abernathy (Evan Rachel Wood).
Old Spice ads (2016)
In 2016 Ogg began portraying the so-called King of Products Bob Giovanni in an advertising campaign for the "Hardest Working Collection" range, a new series of deodorant from retro men's groomers Old Spice. The company devised a tongue-in-cheek plan to go back to the days when it offered a money-back guarantee if Old Spice wasn't up for the job, resurrecting its 1-800-PROVE-IT hotline and launching some hilariously bad parody ads starring Ogg.
The actor was in the buff again as he promoted the new range of products from a live studio shower, giving a glowing review to the all new Dirt Destroyer shower gel. "Dirt Destroyer is a strong, dirt eliminating body wash that takes no prisoners, drop-kicking dirt and odor with no mercy or regards for odor's dumb feelings." He was back with even more manly goodness in a second infomercial for their new Odor Blocker roll-on deodorant, complete with demonstrations. "As you can see, Odor Blocker works under extreme circumstances. Its particles migrate like flocks of armpit ninja geese into your ducts, forming a plug against sweat."
Rush: Inspired by Battlefield (2016)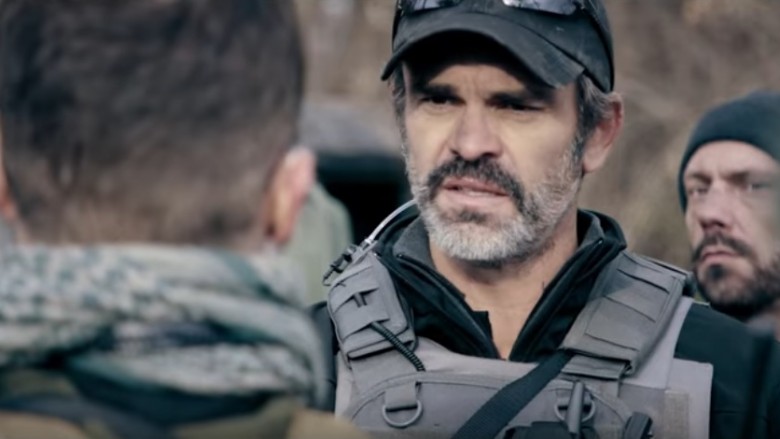 After his previous experience in the world of video games raised his profile considerably, Ogg wasn't about to turn down the chance to appear in an on-screen adaptation of the Battlefield franchise, though this time there was no motion capture involved. This 10-episode live-action web series came from the minds of Sam Gorski and Niko Pueringer (the duo behind the first-ever SnapChat scripted series SnapperHero), who were signed up for the Verizon go90 project after a Battlefield 3 commercial they helped create went viral and ended up being used as part of the national ad campaign.
Ogg appears in all 10 episodes as James Braddock, one of a group of skilled soldiers deployed to the fictional Eastern European nation of Cherna, a hotbed of terrorists nestled between the Russian and Ukrainian border. It's a much meatier role than perhaps he has gotten used to in all his years as a character actor, and his intense approach suits the genre well, though the lesser-known digital platform and the lack of well-known actors in the cast (the biggest name besides his is probably Lou Ferrigno Jr.) has seen this show go largely unnoticed.