Director Andres Muschietti Talks It Remake's Evil Pennywise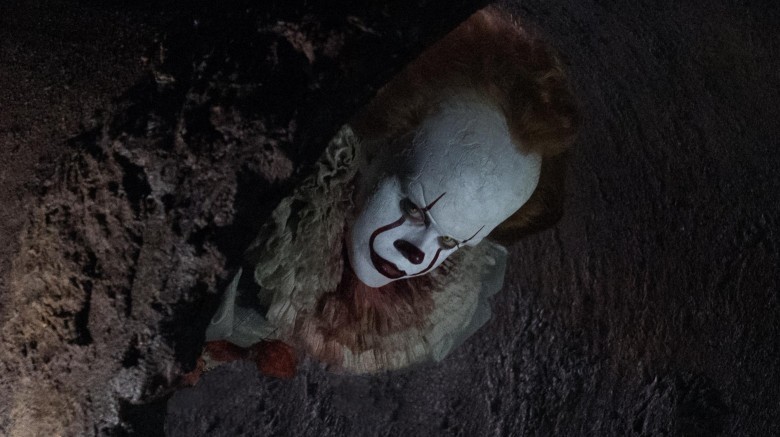 With several months still to go before the big-screen adaptation of Stephen King's classic horror novel It arrives in theaters, there remain plenty of surprises we'll just have to wait to see. But in a new interview with USA Today, director Andres Muschietti dropped a few tidbits about his version of the story's creepy antagonist, Pennywise the Clown—and revealed a few photos offering glimpses of the action.
As fans of the book (and its 1990 TV version) are aware, Pennywise is just one freaky manifestation of the lethal being known simply as It—a convenient guise for the creature who returns to the town of Derry, Maine every 30 years to feed on children. Played memorably in the earlier adaptation by Tim Curry, Pennywise will be brought to life in the film by Bill Skarsgård, and a change in appearance isn't the only difference between the two versions. As Muschietti told USA Today, he's given some thought to the character's psychology and behavior.
"It's established that Pennywise takes the shape of your worst fear," Muschietti pointed out. "He doesn't have a steady behavior, he doesn't expose how he thinks, and that's what makes him really unpredictable."
It is, however, predictably lethal—and Muschietti underscored the reasons for that, saying, "It's a tiny bit of information, but that sticks with you so much. Maybe It is real as long as children believe in It. And in a way, Pennywise's character is motivated by survival. In order to be alive in the imagination of children, he has to keep killing."
This fall's It is envisioned as just the first half of a two-part saga which, like the book, will follow the perilous adventures of Derry's Losers Club as they face off against Pennywise as kids, then reunite for a final showdown with It as adults. The first chapter, which moves the book's action up from the '50s to 1989, stars Finn Wolfhard, Chosen Jacobs, Jaeden Lieberher, Sophia Lillis, and Jeremy Ray Taylor. And while King's books have had something of an uneven track record in Hollywood, Muschietti seems to have a pretty clear idea of what fans have always responded to in the story.
"It happens in the book, this coming of age and kids facing their own mortality, which is something that in real life happens in a more progressive way and slowed down," mused Muschietti. "There's a passage (in It) that reads, 'Being a kid is learning how to live and being an adult is learning how to die.' There's a bit of a metaphor of that and it just happens in a very brutal way, of course."
It is scheduled to arrive in theaters Sept. 8. Take a look at the latest official stills from the film below.