Paul Greengrass To Direct Eliot Ness Film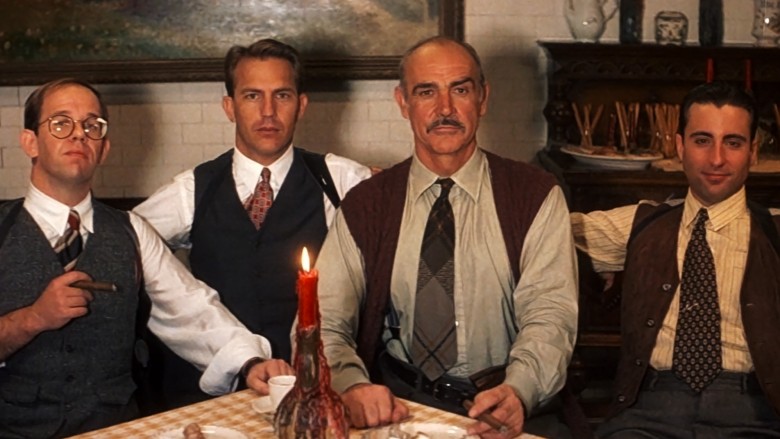 As the man who helped bring down Al Capone, Eliot Ness is often considered one of the greatest American lawmen. The Prohibition agent was memorably portrayed by Kevin Costner in The Untouchables (pictured above), but Paul Greengrass thinks it's time to revisit the man's storied career. Only instead of focusing on his battle against the mob, the Oscar-nominated director wants to look at the time Ness was forced to match wits with a brutal serial killer.
According to Deadline, Greengrass plans on directing Ness, an adaptation of Torso, a graphic novel by Brian Michael Bendis and Marc Andreyko. The comic tells the story of Ness's attempts to catch the Cleveland Torso Murderer, a real-life psychopath who preyed on both men and women in the 1930s. For those who've never heard of this guy, the Torso Murderer killed at least 12 people, and his victims were often found beheaded, mutilated, and covered in chemical burns. And just like the legendary Zodiac, the mysterious murderer was never caught.
Of course, that isn't going to stop Greengrass from putting Brian Helgeland's screenplay on the silver screen. (Helgeland is the Oscar-winning writer of L.A. Confidential, not to mention Mystic River and Man on Fire.) However, comic book fans and true crime junkies should be aware this isn't the first time someone has tried to adapt the Eisner-winning graphic novel. David Fincher almost took the project in the mid-2000s, and David Lowery (of Pete's Dragon and Ain't Them Bodies Saints) was attached in 2013.
Still, if Greengrass could finally get Ness to the screen, there's no denying it would be a bloody good film, as Greengrass is the brains behind thrillers like The Bourne Ultimatum and Captain Phillips. And if Greengrass is actually successful, then Paramount Pictures is interested in turning Ness into a franchise. But while we're all hoping Greengrass can bring the lawman's story to life, be sure to read about the times when great books were turned into awful movies.