Watch The Latest Pirates Of The Caribbean: Dead Men Tell No Tales Trailer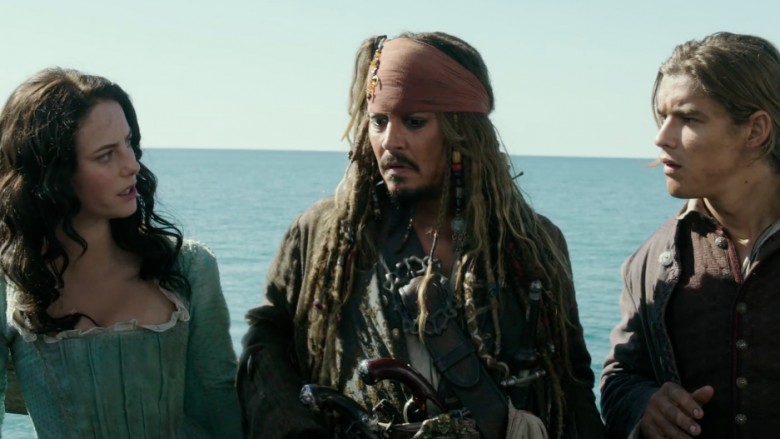 A rising sun isn't the only things that lingers on the horizon in Pirates of the Caribbean: Dead Men Tell No Tales.
In the newest teaser for the fifth and ( final Pirates film, two of the most powerful pirates in history go head-to-head in a heated rivalry. The 60-second clip was unveiled via the movie's official Facebook page, and it shows the ghostly Captain Salazar (Javier Bardem) vowing to take out the infamous Captain Jack Sparrow (Johnny Depp).
Though we were only given hints at their deadly contention in previous trailers, this new look gives a bit more insight into what sparked their hatred in the first place. In short, Salazar was cursed and he's none too happy about it. "Pirates had infected the seas for generation, so I vowed to eliminate them all," he says. "Jack Sparrow cursed me. I will have my revenge."
A baby-faced Sparrow is also featured, presumably achieved through a blend of CGI and live-action motion capture, providing further evidence that the feud goes back  a few decades. Watch Salazar swear revenge on Sparrow in the video below:Beyond the main battling men are additional looks at Kaya Scodelario's Carina Smyth, the supposed Elizabeth Swann-adjacent character for the fifth installment. By the looks of the new teaser, Carina will be a lynchpin in the "save Sparrow from Salazar" initiative likely at the center of the film, as she's seemingly the only one unafraid of ghosts. While a horde of spooky spirits chase the famous pirate, Carina states, "I'm a woman of science. I choose not to believe in ghosts."
Pirates of the Caribbean: Dead Men Tell No Tales sails into theaters on May 26, and will also star series alum Orlando Bloom and Geoffrey Rush, along with Brenton Thwaites, David Wenham, Golshifteh Farahani, and Kevin McNally. While we wait to see who will win in the Sparrow versus Salazar fight, read up on the hilarious improvised moment that popped up in a past Pirates movie.