Rogue One's Scarif Got Its Name From The Most Unusual Place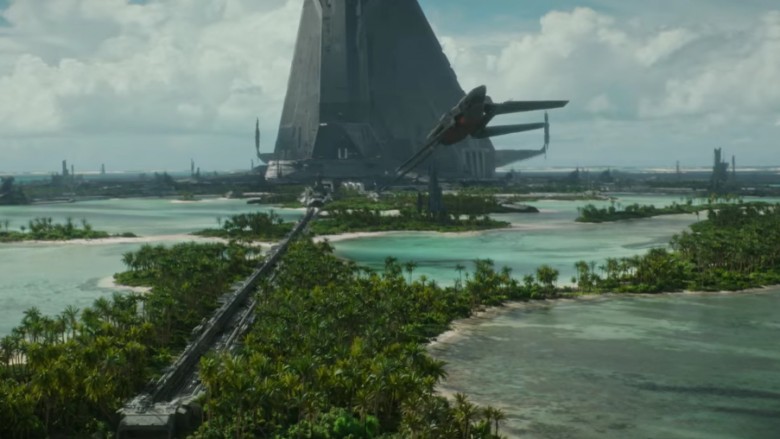 Inspiration can come in unexpected places, but for Rogue One: A Star Wars Story director Gareth Edwards, it hit in a coffeeshop.
Rogue One writer Gary Whitta took to Twitter to reveal a beloved story from his time working on the project: how the film's end planet nabbed its name. The "improbable story of how Scarif was named is one of my favorite anecdotes from my time on Rogue One," Whitta wrote. "And Gareth tells it well." Whitta included in his tweet a screenshot of an interview excerpt that shows Edwards discussing how it all went down.The Star Wars franchise apparently has a long-standing tradition of naming characters, locations, and even mechanics and weapons after the creative minds behind each film installment. Edwards sat down with CNN to talk all things behind the scenes of Rogue One, including what he got to name in the spinoff movie. When asked how he followed in the footsteps of flexing iconic naming muscles, Edwards stated that he was initially nervous when Whitta asked him to name the final planet in Rogue One's third act.
"I was like, 'OK, let me think about it. OK, give me a moment,'" Edwards began. Trying to mull things over, he went out for coffee, and something unexpected happened.
"I go over to get a coffee from Starbucks. I'm thinking, 'What could be the name? It could be this. Maybe we could use that?'" he said. "Then at the very end, [the barista] gives me the drink and they must have asked my name and I must have said, 'It's Gareth,' but they heard 'Scarif.' They wrote Scarif on the cup and I was like, 'That sounds like Star Wars."
History was made in that moment, as Edwards went directly to Whitta and said, "It's called Scarif." It seems the barista's blunder paid off. Rogue One has amassed over $1 billion worldwide since its opening in December, and features one of the strongest women in the Star Wars universe: Jyn Erso.