K-2SO Almost Met A Different Fate In Rogue One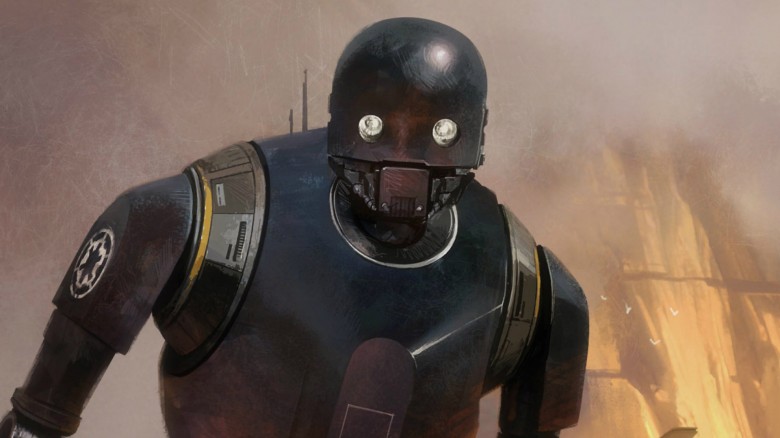 Abrams Books
Contains spoilers for Rogue One
By now, it's common knowledge that Rogue One: A Star Wars Story almost had a much happier ending than the one we saw. But it was apparently never going to be all that happy for the droid K-2SO.
In the theatrical version, the sarcastic Imperial droid turned Rebel aid gets gunned down by unnamed Stormtroopers in the Imperial security complex during the Battle of Scarif. But actor Alan Tudyk recently told Collider, that an early draft of the script saw his character fall at the hands of a much more significant enemy.
"I got shot by Krennic," Tudyk said, referring to the movie's main antagonist Orson Krennic (Ben Mendelsohn). He also pointed out that K-2SO wouldn't have had a blaster, unlike in the final cut.
However, Tudyk said that this wasn't just one change in the early draft. It originally featured the Rebel team finding a different way into the base. Since the filmmakers decided to go a different way early on, they never shot this alternate version of K-2SO's death.
But we think the end of Rogue One works great the way it is (depressing as it may be). There had been talk of allowing Jyn Erso (Felicity Jones) and Cassian Andor (Diego Luna) to escape the Battle of Scarif in a pod, but screenwriter Gary Whitta told Entertainment Weekly that the idea was met with some resistance. "The fact that we had to jump through so many hoops to keep them alive was the writing gods telling us that if they were meant to live, it wouldn't be this difficult."
Check out how the original Rogue One ending would have changed everything.