Arnold Schwarzenegger's Terminator Franchise Reportedly Finished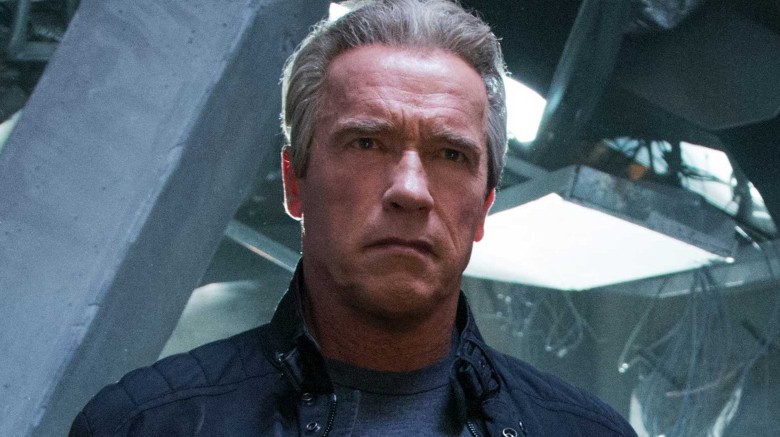 Terminator: Genisys may have marked the end of Arnold Schwarzenegger's tenure with the blockbuster saga—and it could serve as the closing chapter in the long-running franchise, too.
Citing unnamed sources behind the scenes, the New York Daily News reports that execs at Paramount have declined to pick up their option on Schwarzenegger and his Genisys co-star, Game of Thrones vet Emilia Clarke. Despite a story that was supposed to serve as the opening chapter in a whole new trilogy that would reboot the franchise after Terminator: Salvation's disappointing returns, it appears Schwarzenegger's version of the title character—a cornerstone of the Terminator films since James Cameron's 1984 original—has seen his last adventure.
In fact, according to the NYDN, Paramount could be wiping its hands of the whole franchise. "The studio has taken the sequel off the production slate completely, meaning there is no preproduction or any plans for another sequel. The talent had been offered long term deals, but this is not happening," the paper's source is quoted as saying. "The Genisys movie was seen as a way of reviving (the franchise), but the critics were not happy and somehow the studio bosses fell out of love with making more, even though they made huge profits."
As noted by the unnamed source, Genisys made a pile of money: although U.S. grosses petered out at a disappointing $89.7 million, the movie raked in an additional $350.8 million worldwide, bringing the picture's overall haul to an impressive $440.6 million. While critically speaking, it's among the most poorly received entries in the franchise, it ranks second behind Terminator 2: Judgment Day in terms of the series' all-time worldwide grosses.
All of which would seem to indicate there's at least a little hope for long-suffering fans who've waited patiently for a return to Terminator's glory days, but on the other hand, this franchise has seen no shortage of behind-the-scenes trouble over the years, and after bouncing from studio to studio more than once, it might be time to say (ahem) "hasta la vista, baby" to the series. Either way, Schwarzenegger seems like a long shot to return—as the paper notes, he'll turn 70 this year, and his days of convincingly playing time-traveling, death-dealing robots are most likely over regardless of the studio's plans.