Dave Bautista Talks Drax Makeup In Guardians Of The Galaxy Vol. 2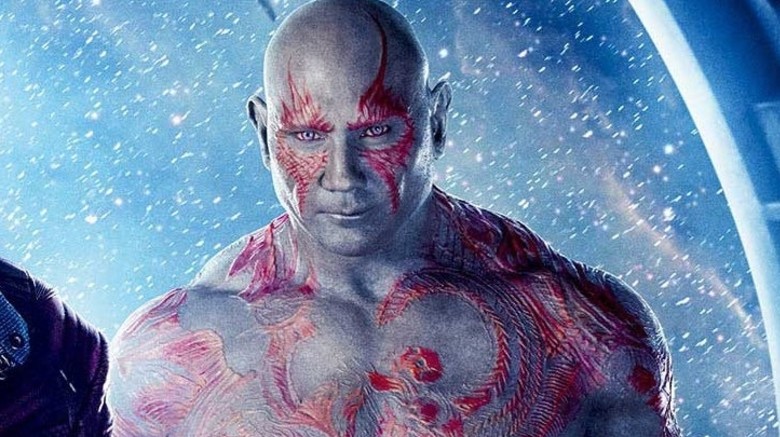 Groot isn't the only Guardian sporting a different look in the upcoming sequel; Drax the Destroyer is, too.
In an interview with Comicbook.com, the actor behind Drax, Dave Bautista, discussed what it takes to transform into the blue-skinned galaxy defender, and how the process is changing for Guardians of the Galaxy Vol. 2.
Because the translation from comic book to screen was quite faithful, Batista endured long hours in the makeup chair on the set of the first Guardians film. However, Drax's makeup reportedly took a lot less time to complete the second time around and will look noticeably better on screen.
According to Batista, the entire actor-to-character process has been pared down and streamlined, and the makeup is sleeker than ever before. Bautista said of the new system devised by the Guardians Vol. 2 hair and makeup team: "It's so easy, you wouldn't believe it. I'm not kidding. It takes like an hour and a half now. The last one, they got it down to four hours and everyone was celebrating. This, literally they attack me with paint rollers all over. And it looks better too. It looks way better."
However, though the first half of the makeup transformation is considerably shorter and easier, the removal process is much longer. Bautista explained that the makeup "goes on really great and... looks really great," but taking it off is a challenge. To combat this, the film's beauty department devised a plan.
"They stick me in a sauna at the end of the day. They literally have to melt it off of me," Bautista said, laughing. "During the test we found out it's so abrasive, they literally have to scrub it off of me... so they came up with the sauna thing, and I literally have a portable sauna that travels around with me and I get in at the end of the day."
Bautista is a good sport about it all, as he made light of how silly it is to have three other people climb into the sauna to help him remove his makeup.
Fans will get to see Drax's new-and-improved look in Guardians of the Galaxy Vol. 2 when it hits theaters on May 5. In the meantime, check out how the other Guardians compare to their comic book counterparts.