Kate McKinnon, Mila Kunis To Star In The Spy Who Dumped Me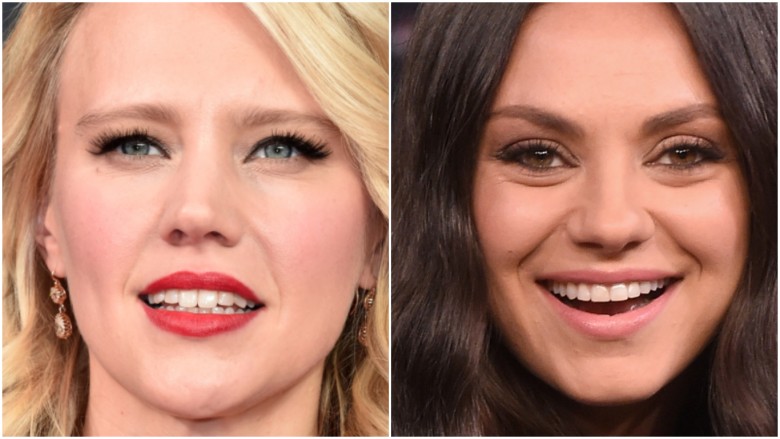 Getty Images
Funny ladies Kate McKinnon and Mila Kunis are reportedly going to snag the leads in the upcoming action-comedy The Spy Who Dumped Me.
Featuring a play on the title of the 1977 James Bond flick The Spy Who Loved Me, The Spy Who Dumped Me was acquired earlier this week by Lionsgate following a hot bidding war for the Susanna Fogel-penned script. Fogel is set to direct the film, which currently has no release date, which focuses on a recently dumped woman who discovers that her ex-partner was a spy. Unfortunately, he's been killed, leaving her and her best friend (the only people who know the truth behind his identity and his life) to finish what he started.
The Hollywood Reporter reports that McKinnon and Kunis are in talks to fill those leading lady slots, though no information has been given on which actress would snag which role.
Kunis has been a big name in the entertainment industry since her days as Jackie Burkhart in That '70s Show, but fans likely recognize McKinnon from her work on Saturday Night Live and from last summer's Paul Feig-directed Ghostbusters reboot. McKinnon, who teamed up with Jennifer Aniston and Jason Bateman for Office Christmas Party. is also set to appear in the raunchy comedy Rough Night with Scarlett Johansson, which lands in theaters June 16.
No additional details have been given on The Spy Who Dumped Me, but director Fogel is well-versed in female-led forays. She wrote and directed Life Partners, a 2014 flick starring Leighton Meester and Gillian Jacobs, and she served as an executive producer role on the television series Chasing Life.
While we wait for more information, check out how Mila Kunis went from a scream queen to an A-list celeb.