Baby Groot Will Be Even Better In Guardians Of The Galaxy Vol. 2, Says James Gunn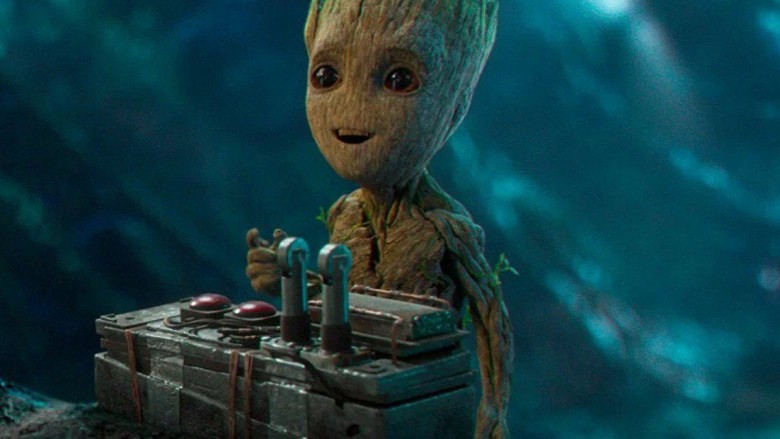 It's kind of hard not to love Baby Groot, and director James Gunn reveals why fans will hardly be able to contain their adoration for the tiny Guardian in Guardians of the Galaxy Vol. 2.
We all know what happens to Groot during the climax of 2014's Guardians of the Galaxy. It's the famously heart-breaking "We are Groot" scene in which the mild-mannered hero sacrifices himself to save the others and ensure the wellbeing of the galaxy. Thankfully, not all was lost, and Groot slipped out of the incident to start anew as a sapling tree that dances to the Jackson 5's greatest hits.
But where does that leave him for the upcoming sequel?
In an interview with Comicbook.com, Gunn revealed that Baby Groot became a "better-written character" following his initial popularity, and it shows in Vol. 2.
According to Gunn, the Guardians team had doubts about Groot, particularly because he isn't a real-life actor like Chris Pratt as Star-Lord or Zoe Saldana as Gamora.
"A lot of times on the first movie we were like, 'Are we even putting Groot in this movie?'" Gunn explained. "The guy playing Groot was a stand-in on the last movie and so we just kind of always forgot he was there. He doesn't talk very much, so you're doing all these scenes and when we have the scenes in the movie where they turn to Groot and Groot's like, 'Why are you forgetting me?' That's really what we felt like while we were shooting the first film."
This time around, it's a different story. Guardians of the Galaxy Vol. 2 will see Baby Groot at the forefront, not to be forgotten. "Everyone knows Groot so well that we have much larger awareness, me and the cast, of a baby Groot being there at all times," Gunn stated.
Not only will fans be getting a lot more Baby Groot, they'll also be seeing a more complex, rich character in the sequel. Gunn says of Baby Groot's strengths, "I think he's a better-written character than the first Groot in some ways. Not that he was poorly written at all, but I think he's just more complete character."
Sadly, Guardians lovers will have to wait until May 5 to see Baby Groot in his even-better glory. While you pass the time, find out why the diminutive character is more important than you think.