Guardians Of The Galaxy Will Play An 'Integral Part' In Avengers: Infinity War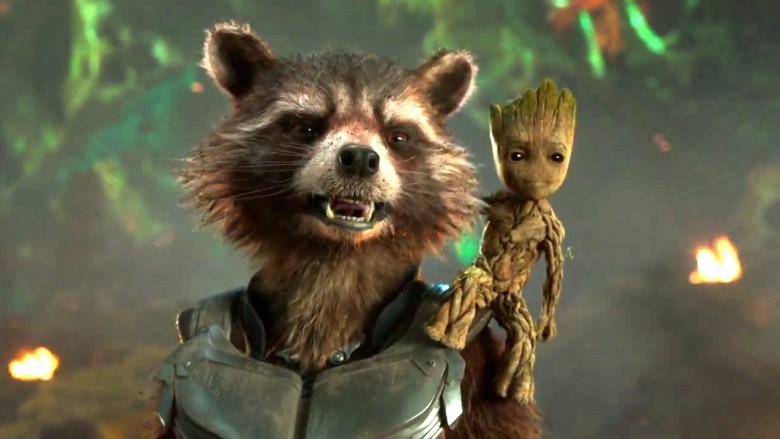 The director of Guardians of the Galaxy revealed the role the space-saving, sassy superheroes will play in the upcoming Avengers: Infinity War.
In an interview with Complex, James Gunn dropped a few juicy details on how the Guardians will fit into the Marvel movie. According to Gunn, because their involvement with the Avengers is pretty direct, the Guardians' link to Infinity War will be fairly important.
Gunn first mentioned he doesn't think anyone "should overstate things that it is an Avengers movie," and then gave up the GoTG goods. "[The] Guardians are a part of the cosmic universe," he said. "They're a part of Thanos' stories, so they are in there and they have, not the biggest, but an integral part to that."
Additionally, Gunn recently opened up to io9 about his heavy involvement "in what the Guardians do in Avengers: Infinity War." He explained that he gave directors Anthony and Joe Russo "tons of advice on how to direct the actors" and "talked to the actors a lot during the shooting to make sure that the Guardians are staying authentic."
It sounds like while the Guardians aren't necessarily going to be front-and-center in the film, they will undoubtedly bring a noticeable influence to what unfolds in the film, all while maintaining their unique charms.
You can catch Guardians of the Galaxy Vol. 2 in theaters on May 5, but we'll have to wait until May 4, 2018 for Avengers: Infinity War. Since we know it's quite a bit of waiting to do, we've got you covered with a list of every superhero you can expect to see in Infinity War.