Underrated TV Shows You'll Soon Be Talking About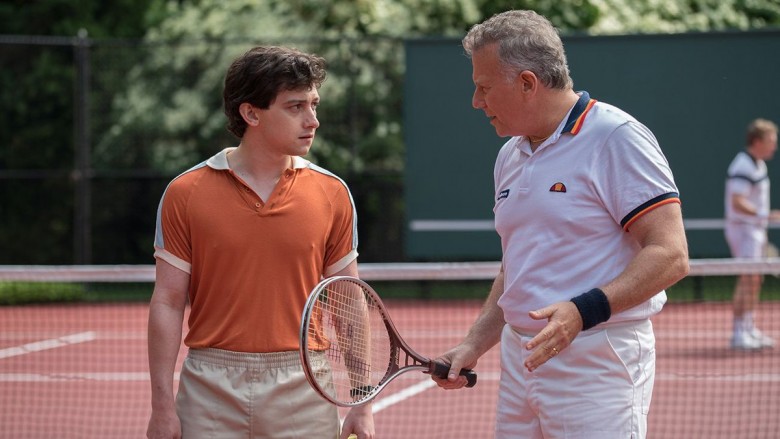 You can't deny it: there's something secretly satisfying about loving a film, a television show, or even a band "before everyone else does." Though the hipster-adjacent attitude has often been mocked, finding a hidden gem ahead of its inevitable time in the limelight is special, so much so that you're often urged to pull a Connie Francis and climb to the tip-top of a steeple and tell the world how much you adore your latest discovery.
Whether you're a full-fledged Netflix addict who's mastered all the streaming service's hacks, or you're a classic cable lover with a knack for surfing the lesser-known channels, there's still a vast territory of untapped television series waiting to be seen. Underrated but undoubtedly on their way to the mainstream, here are some below-the-radar TV shows you'll soon be talking (at any chance you get) about.
Sneaky Pete
This David Shore/Bryan Cranston-created series is much like a friend who just gets you, or an adorable, shaggy-haired dog that nearly trips over its own paws as it runs to greet you. Okay, so that's a bit of a mixed-up comparison, but what we mean is that Sneaky Pete, the sizzling crime drama starring Giovanni Ribisi, is instantly and overwhelmingly likeable.
Sneaky Pete follows locked-up con man Marius Josipovic on the brink of release, who devises an appropriately sly plan to live a law-avoiding life post-prison. Taking on the identity of his cellmate and the series' namesake, Pete Murphy, Marius dodges debtors, makes friends of a brand-new family (played by Shane McRae and Margo Martindale), and warms up to a 9-to-5 working life in the bail-bond biz. Of course, things don't remain peachy-keen for the pretend Pete — as the story unravels, so does Marius under his guise and the crushing weight of his overdue payments.
Exclusive to Amazon Video, this series pulls together best of all worlds: the ease of comedy, the scintillation of drama, and the blood-boiling tension of crime capers. Sneaky Pete is a smash, blending together a premise almost too off-kilter to land (but it does, and exquisitely so) with pin-prick emotional moments amongst scenes that bring about subtle bravado and belly laughs in kind. If you're itching to give it a watch (which we totally know you are), you can check out the first episode on Amazon Video's YouTube channel.
Legion
As self-proclaimed geeks, we generally have our finger (or entire hand, if we're being honest) on the pulse of all the happenings in the superhero world. That said, Legion sort of snuck up on us. Approaching the iconic X-Men canon with a darker and fresher outlook, this latest foray from FX zeroes in on David Haller (Beauty and the Beast's Dan Stevens), a mutant diagnosed with schizophrenia, as he grapples with the possibility that a devastating mental illness may not be the entire story behind his suffering. Heck, even being a human could only mark the beginning of Haller's identity.
The Marvel-FX collaboration spins the original story by Chris Claremont and Bill Sienkiewicz into uncharted lands, dipping its toes into unreliable, erratic narration, a rollercoaster-like mode of storytelling that unclicks itself from the straight and narrow, and gorgeous aesthetics unable to be pinned to just one time period. Legion has a zip and a bite so strong, it'll only take the pilot episode to pull you in.
Search Party
"Millennial" has nabbed a, we'll say on-the-fence reputation lately, but Search Party proves that the generational label isn't a dirty word. Well, not totally.
Starring Arrested Development and Green Room darling Alia Shawkat, the TBS-backed series centers around a band of egotistical and slightly apathetic twenty-somethings: the featherhead born with a silver spoon in his mouth, Drew (John Reynolds), self-proclaimed narcissist-and-proud-of-it mastermind manipulator, Elliott (John Early), and the impulsive actress who seeks attention and thrills alike, Portia (Meredith Hagner). Shawkat plays the lead as Dory Sief, a college grad shackled to the assistant's life, toting around purse-sized dogs and soy/dairy/gluten/everything-free lattes, and she does it without so much as a pinch of difficulty.
All seems as right as post-grad life can be for the young adults, until a former kind-of friend from college mysteriously vanishes. With the help of Dory's ex-beau, Julian (Brandon Michael Hall), and his journalistic skills, the gang unravels Chantal's (Clare McNulty) disappearance, and the fringes and rusty hinges of their own lives along the way.
Creators Sarah-Violet Bliss, Charles Rogers (Mozart in the Jungle), and Michael Showalter (Wet Hot American Summer) burst through the cut-and-dry confines of traditional procedurals to dish up a slick black comedy that just so happens to involve cops, creeps, and quick-pace reports. The pay-off in Search Party is satisfying, but it's made even sweeter by the underlying sentiment of self-discovery and sympathy. Don't go missing on this one.
Love
Everyone loves love. And soon, they'll love Love, too. It's lovely.
Of course, we're talking about the underrated rom-com series that made its Netflix debut early last year. Led by an unlikely duo, who brilliantly balance one another out, Love is an unembellished-yet-enchanting look at the topsy-turvy world of dating.
Community's Gillian Jacobs slips into the role of Mickey Dobbs, the partner to Gus Cruikshank's (Paul Rust) relationship crimes. As the duo roam the expansive, and sometimes completely un-navigable, lands of love, they stumble (usually face-first) into embarrassment and some unexpected intimacy, and learn a thing or five about the way their big, beating chest organ operates, what makes it shrivel, and what makes it sore.
Created by filmmaking super-force Judd Apatow, who's had a hand in a number of heartfelt flicks, Love collides a slightly shy geek with the queen of extroverts to create a criminally under-appreciated series that bursts at the seams with chemistry, compassion, and comedy.
Red Oaks
Sex, nostalgia, and ... tennis? The Gregory Jacobs and Joe Gangemi-created series Red Oaks combines those seemingly discordant themes together in an affectionate, affecting 1980s-set comedy sure to have you threatening to spit your drink out at least twice per episode. If the sprinkling of sex-based innuendos doesn't get you, then the sharp-tongued rapport of the Red Oaks Country Club members will.
Starring Craig Roberts (Submarine, The Fundamentals of Caring) as David, a down-on-his-luck New York University student who's just landed a gig coaching tennis at the titular club, Red Oaks tackles a ton of turf. With a mother (played by Jennifer Grey) who's grappling with her sexual identity, a father (Richard Kind) who longs for the woman he met during his tour in the Korean War, and a twinge of self-doubt bubbling below the surface, David and his upper-middle-class family are turned inside out over the sizzling summer.
The Amazon-exclusive show is an undeniably cool '80s romp, but its clever writing and lovable characters push it into the premiere tier. Don't be surprised if you soon start hearing others dish about the in-show scandals. It's almost too hard to resist.
Channel Zero
Now entering Spooks-ville. There's no skirting around the obvious here: Channel Zero is totally terrifying. In a vein similar to the much-beloved American Horror Story series co-created by Ryan Murphy and Brad Falchuk, this Syfy-exclusive show brings gore and grit to its viewers by the barrel, serving it up in an anthology that slow-burns, but sinks its teeth in deep. It may appeal to an entire bundle of watchers who are fanatics of fright, as Channel Zero's plot-lines are based on "creepypasta" stories popular in the horror community.
Developed by Nick Antosca, Channel Zero's first installment hit television screens late last year, but only gained an underground following. 2016's "Candle Cove" follows a grief-ridden child psychologist Mike Painter (Paul Schneider) who seeks to piece together what exactly happened to his twin brother all those years ago. Sucked in by his nagging curiosity and need to know the truth, Mike investigates further into the missing children also taken, or who had vanished around the same time his brother did. What he discovers is horrifying on levels most viewers may not have ever thought imaginable.
A second season, entitled "The No-End House," is on the horizon for Channel Zero, which is a fantastic thing, considering how gripping its first was. The series takes a gutsy (literally) approach to the horror genre as it strips back the paper-thin layers of childhood fears and grabs them with a clenched fist, making this show severely underrated. We just advise that you watch Channel Zero with a friend ... or twenty.
High Maintenance
Despite its name, High Maintenance is incredibly easy to love, so long as you find and watch it. Another hidden-below-the-surface find, this comedy show was crafted by a real-life husband and wife duo, and actually began as a Vimeo web series back in 2012. All the trappings of High Maintenance were picked up by prestige television broadcast network HBO (home to the not-quite-underrated Game of Thrones) in 2015, and the rest was history ... or, more aptly, a history lesson in marijuana consumption and distribution.
Ben Sinclair and Katja Blichfeld string together a refreshingly intimate (and not just because Sinclair plays the pot aficionado at the center of the series) look at human interaction, social collisions, and tendencies to hide behind masks of carefully-crafted, extraneous personas.
Short but oh-so-sweet, High Maintenance isn't just cheekily-titled — it's charming in its construction. Sophistication and dexterity are always high (pun totally intended), especially when navigating the tricky waters of themes like isolation, loneliness, mental illness, and trauma. But there's also a constant purr of humor that leave your cheeks stinging for hours on end. It seems to forever oscillate between laughter and luxury, something that has us questioning why the whole world isn't watching this show.
It almost goes without saying — you don't have to light up to be lit up by High Maintenance.
Insecure
You know those actors you can almost feel about to break through into the mega mainstream, given how jaw-droppingly talented they are in an under-the-radar show? Yeah, that's Issa Rae, creator of the webseries The Mis-Adventures of Awkward Black Girl, in HBO's Insecure.
Loosely based on Rae's work with the YouTube series, Insecure focuses on giving a voice to women of color, and people of color in general, who deserve to be heard. Exploring everything from sexuality, self-identity, racial tensions, social norms and confines, and the barriers of the economic hierarchy, the show (co-created and written by Rae herself, alongside comedian and political commentator Larry Wilmore) is teeming with important discussions, deeply rooted in reality.
But it's also laugh-until-your-sides-ache funny. Rae as Issa Dee and Yvonne Orji as Molly Carter will practically rip the giggles from your throat with their raunchy-but-real talks, their friendship embellished with an unbreakable bond, and moments of self-affirmation that are all-too relatable.
Insecure has been described as the answer to the heavily-criticized one-tone (literally) nature of Girls, as it brings up a bevy of uniqueness that looks, feels, and acts true to life. Even Rae herself agrees with that sentiment: "[With Insecure,] we're just trying to convey that people of color are relatable. This is not a hood story. This is about regular people living life."
Keep an eye on the former "awkward black girl." Soon, she's all you're going to hear about.
The Fall
X-Files alum, and all-around badass actress, Gillian Anderson takes the lead in this British-Irish crime series, one with a deep etymology that includes T.S. Eliot poetry and a whole litany of Stella and Gibson guitars.
The Fall stars Anderson as English Detective Superintendent Stella Gibson, sent off to Northern Ireland to review (and hopefully wrap up) a murder investigation involving one Paul Spector (Fifty Shades of Grey's Jamie Dornan). Stella and Paul play a cat-and-mouse game: as one inches toward resolution, redemption, or revenge, the other swoops in to complicate the structure and send things reeling farther into chaos.
Bundled up with some seriously unexpected twists and personal revelations, The Fall takes all the aspects that make a crime drama exquisite and injects them with a concentrated dose of anticipation, thrills, and eyes-widening moments.
Though Dornan steps quite far away from his BDSM bad boy role in the erotic novel film adaptations, The Fall remains unapologetically sexy amongst the more sinister elements, making for a juicy-on-all-fronts show that we can't recommend enough.
One Day at a Time
Ah, a good ol' reboot. Based on the same-name series that ran from 1975 to 1984, One Day at a Time gets a modernized refresh in the 2017 Netflix-exclusive show.
The show revolves around a Cuban-American nurse, Penelope (Justina Machado), heading up her lively family and trying to make ends' meet living in Los Angeles. With a brilliant, unbridled daughter, Elena (Isabella Gomez) and socially-shy-but-sweet tween son (Marcel Ruiz), Penelope has a full plate. Thankfully, her mother (the unparalleled Rita Moreno) steps in to lend a much-needed hand.
Though separated from her husband and struggling with sexism, social tensions, and bouts of depression, Machado's Penelope shines, which places the whole of One Day at a Time under sunny lens. Like any good sitcom, the series is stacked with life lessons, lots of laughs, and, of course, love above all. One Day at a Time is easy and enjoyable television viewing, and will likely make you feel fuzzier inside than you ever have before, and will have you humming the theme tune to yourself long after you finish the latest episode.
Speechless
This show will render you the very word it's titled ... at least until you run off to spill all your feelings to your closest friend. You'll either be laughing entirely too hard, or choking back tears at the more tender moments, to muster up so much as a single word — that's how hard Speechless hits you.
Rather than the dark dramas or the winsome rom-coms aforementioned, the Minnie Driver-led show documents the DiMeos, an oddball family who are as different in character as they are the same in heart. At the apex of it all is JJ, the DiMeos' quick-witted, and genuinely hilarious, son who has cerebral palsy and is unable to speak. After moving to a new part of town in hopes of getting JJ set up with a personal speech aide, some jimmies get rustled, and the lion's share of antics ensue.
What's so special about Speechless's depiction of JJ's condition and all that comes with it, is that the story never slopes into sadness because of it. In the face of the slumps and soars of life, nothing holds down Mama Bear DiMeo and her familial pack of strong men and women, not even awkward Thanksgiving dinners and some nasty gymnastics accidents.
Never cloying and always clever, Speechless seeps into every nook and cranny of your soul before you even realize you've been touched.