Jenna Fischer Dishes On One Of The Office's Biggest Stunts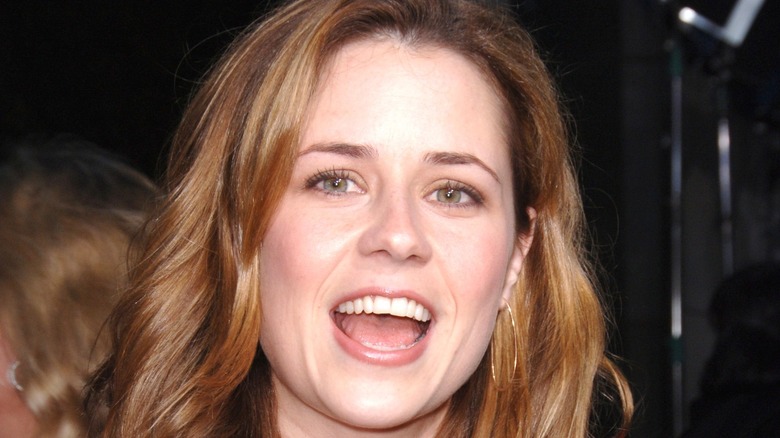 Paul Smith / Featureflash / Shutterstock
From awkward social interactions to having too much to drink, work Christmas parties can often be disastrous. Chaos is typically an integral part of the job description for "The Office" characters working at Dunder Mifflin, but their Season 5 Christmas party raised the bar.
In "Moroccan Christmas," the coworkers gather to celebrate the holidays. However, with Michael Scott (Steve Carell) behind the bar, things spiral out of control. The episode features the show's usual staples: Jim Halpert (John Krasinski) and Pam Beesly (Jenna Fischer) flirting, a mean-spirited scheme by Dwight Schrute (Rainn Wilson), and the other characters being quirky on their own.
Downing drinks made with "equal parts scotch, absinthe, rum, gin, vermouth, triple sec, and two packs of Splenda," Meredith Palmer (Kate Flannery) quickly becomes intoxicated. She winds up swinging her hair through a lit candle while she's dancing around a conference room and is sprayed with a fire extinguisher.
The episode received mixed reviews for its portrayal of alcoholism, but the burning hair sequence is one of the more intense stunts "The Office" pulled off (via New York Magazine). So, how did they do it?
Red-hot wigs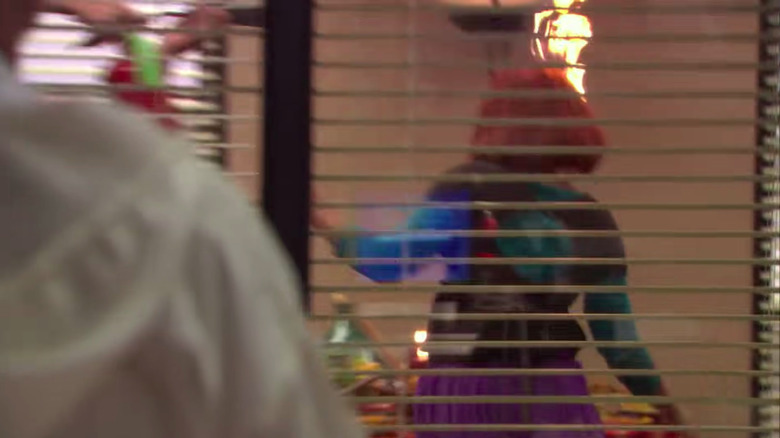 NBC
On the "Office Ladies" podcast, Fischer and co-host Angela Kinsey dished about how they safely set one of Flannery's signature red wigs on fire. Kinsey, who portrayed Angela Martin, called it "one of the biggest stunts" the show had ever done.
Flannery often did her own stunts on the show, but a stunt double was brought in for the fire scene (via Mashable). Marie Fink, her stunt double, worked with stunt coordinator Scott Leva, who had to submit the plan to the NBC Universal Safety Department for approval. According to Fischer, safety officers, a special effects crew, and the Los Angeles Fire Department were present.
To pull off the scorching stunt, Fink was alone in a conference room to make it safer for everyone. She wore a "full fireproof bodysuit ... called like a Nomex," said Fischer. "And she wore like a head stocking that was flameproof and then she put on Kate's wardrobe."
"I guess these Nomex suits are what race car drivers wear when they're racing, you know, in case their car burst into flames," she added.
While the stunt was a success, Flannery told Kinsey, "I had to wear the stinkiest wig the whole rest of the week because, you know, when you burn hair, you know the smell."
Hairstylist Kim Ferry shared a smiling behind-the-scenes shot of Flannery from Season 5 posing with her burnt wigs and gushed about their "adventures in burnt hair fun!" and said, "3 cheers for Kate Flannery!!!"