Here's Where You Can Watch Rambo: First Blood Part II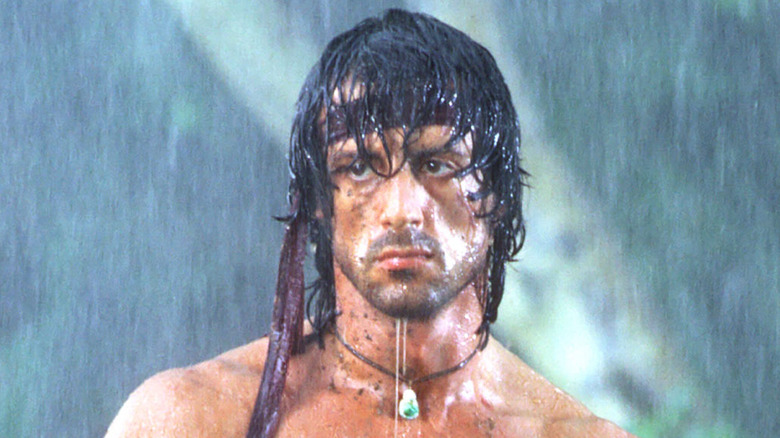 Tri-Star Pictures
Based on the David Morrell novel of the same name, 1982's "First Blood" was a landmark achievement in filmmaking, if for no other reason than introducing the world to the character of John Rambo (as portrayed by Sylvester Stallone). In the film, Rambo — a downtrodden Vietnam vet — is forced to use his skills as a Green Beret in a battle against small-town cops and government troops. Although the police instigated the conflict with their brutal treatment of Rambo, his revenge tour ultimately results in death and destruction.
The follow-up, 1985's "Rambo: First Blood Part II," picks up with Rambo serving time at a labor camp for the carnage he caused in the first movie when the government approaches him with a deal. In exchange for a pardon, he is enlisted to help the military in an investigation to confirm the survival of a small group of POWs. However, Rambo eventually decides to break protocol, violating a direct order to stand down and instead engages on a one-man mission to free the prisoners himself.
Although it is not as well-remembered as its predecessor — it currently holds a Rotten Tomatoes critics score of just 33%, compared to 85% for the original — "First Blood Part II" cemented the Rambo character as a cinematic icon and kept Stallone in his spot as one of the kings of '80s action flicks. 
For fans looking to experience the film today, there are a handful of streaming options on the table.
First Blood: Part II isn't on Netflix, but there are streaming options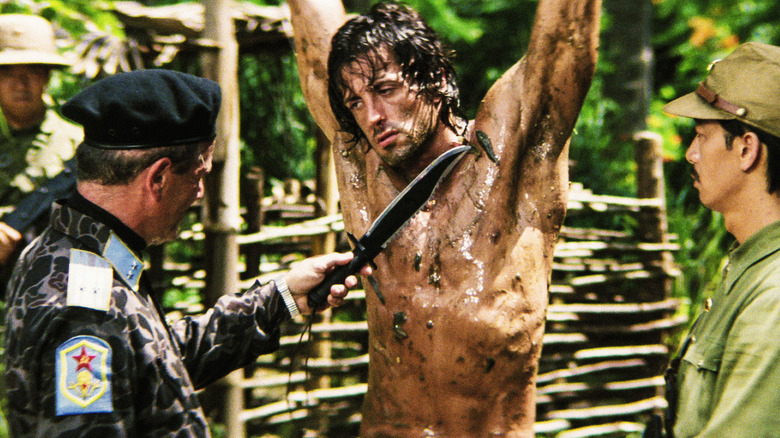 Tri-Star Pictures
If you were looking to Netflix and chill with the first "Rambo" sequel, you are unfortunately out of luck — it's not currently available on the king of streamers. However, there are a handful of subscription streaming options for the film.
"First Blood Part II" is available via fuboTV, which largely focuses on sports programming, i.e. NFL, NBA, MLB, NHL, MLS, international soccer, etc., but is also a good option for movies, TV series, and news. As of this writing, the starting monthly price for a fuboTV subscription is $64.99. Users have access to 100-plus live TV channels, cloud DVR with 30 hours of space, as well as the ability to simultaneously stream to two screens. 
The film has also popped up on AMC+, which can be subscribed to directly or accessed through Amazon Prime, Apple TV, Roku and cable/satellite providers for $8.99 per month. It offers the best of AMC, BBC America, IFC, and Sundance TV, as well as access to Shudder, Sundance Now, and IFC Films Unlimited.
"First Blood: Part II" is also available to own in 4K for as low as $5.99 via Amazon and Vudu. It is available for purchase on most other major services as well, and can be rented in standard-def for as low as $2.99.