Get Your First Look At Netflix's Bob Ross Documentary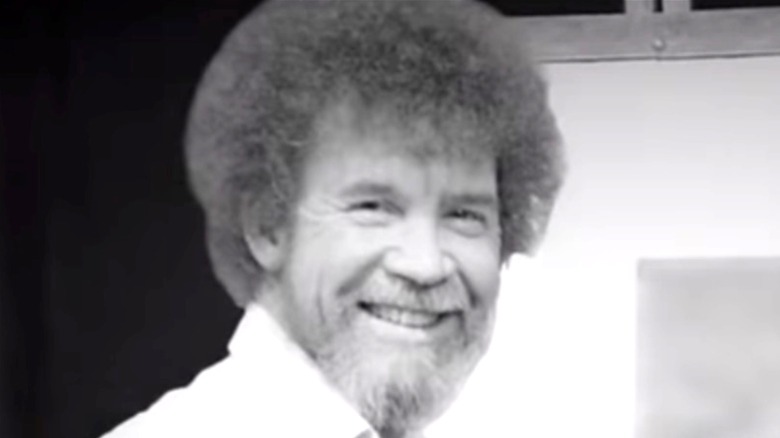 Netflix
If you're familiar with the famed television painter Bob Ross from his public television show "The Joy of Painting," then chances are you have an expectation of what a trailer for a Bob Ross documentary would look like. Gentle music. Soothing voiceover. Happy trees. 
Netflix likely knows this, and so the streaming giant has worked hard to thwart those expectations with the release of a cryptic teaser for its upcoming documentary, "Bob Ross: Happy Accidents, Betrayal & Greed," directed by Joshua Rofé. The clip is short, just 35 seconds long, and features a single still image of Ross at his easel as text appears overlaid on top of him. It reads, "We want to show you the trailer for "Bob Ross: Happy Accidents, Betrayal & Greed. But we can't." As the last three words appear, the image of Ross fades away.
Then a voice –– we're given no clue as to whose it might be –– says "I've been wanting to get this story out for all these years." The text on screen returns, telling viewers they can "Find out why August 25."
What's the scandal behind the new Bob Ross documentary?
There are some hints out there as to what exactly the "Betrayal & Greed" part might be referring. Netflix's page for the film includes the logline, "Bob Ross brought joy to millions as the world's most famous art instructor. But a battle for his business empire cast a shadow over his happy trees."
Earlier in 2021, The Daily Beast published a longform look at the contentious afterlife of Bob Ross' name, company, and image under the headline "Sex, Deceit, and Scandal: The Ugly War Over Bob Ross' Ghost." That story covers the conflict waged between Ross and his longtime business partners in Bob Ross Inc. in the final years of his life before his death from cancer in 1995, and the ensuing legal battles between his partners and the heirs he designated in his will.
What the Netflix preview could be getting at when it says it can't show you the trailer is how tremendously complicated the battle over Ross' image and likeness rights have been. While originally those image rights were used largely to sell paint and art supplies, the new uptick in nostalgic interest in Ross (the Rossaissance?) over the last decade has led to countless products being marketed with his name and likeness. Deadpool has made Bob Ross jokes. An actor played him in a Mountain Dew commercial. Audiences will have to wait until August 25 to find out what that means for the film.