Analyzing David Rossi's Dating Life At The End Of Criminal Minds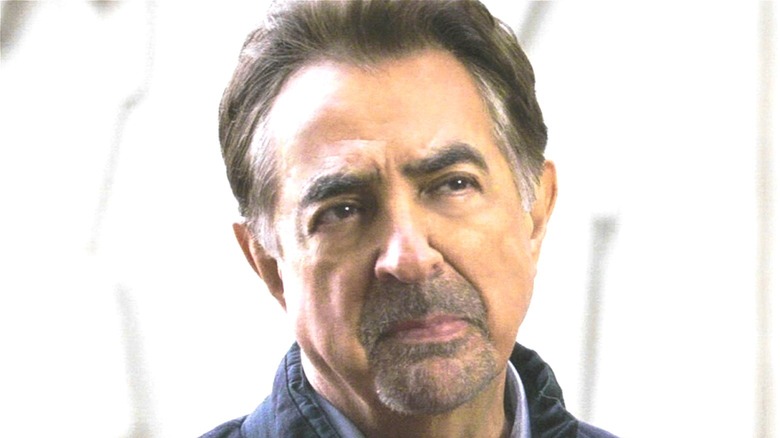 CBS
On "Criminal Minds," the members of the FBI's Behavioral Analysis Unit (BAU) spend a great deal of time hopping on planes and flying to gruesome crime scenes, typically at a moment's notice. On several occasions, the team hadn't even unpacked their suitcases before going "wheels up" once again, jetting off to the next horror.
Over its 15 seasons, the series regularly explored how the characters' respective personal lives were affected by the near-constant travel and the psychological and emotional weight of the BAU's cases. The collapse of Special Agent Aaron Hotchner's (Thomas Gibson) marriage was a prominent storyline for much of the show's early years. In another early episode, Special Agent Jennifer Jareau (A.J. Cook) struggled to compartmentalize the trauma of a particularly emotional case and her roles as both mother and wife. Unit supervisor David Rossi (Joe Mantegna) also found himself on love's rollercoaster, experiencing marriage and divorce multiple times.
Rossi's first two marriages ended in divorce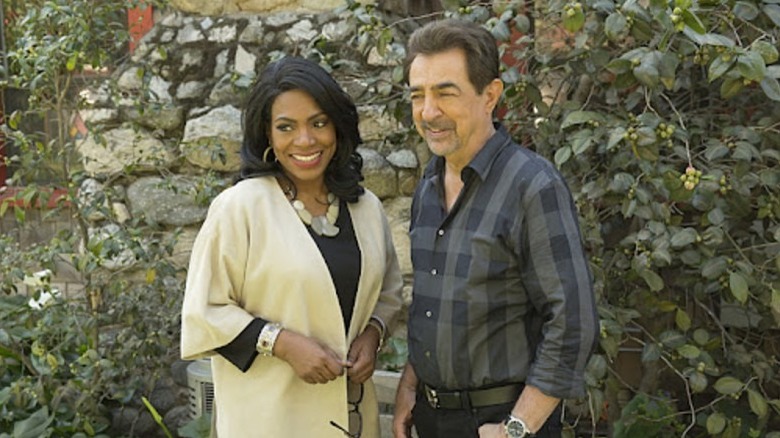 CBS
When Rossi joined the team in Season 3 after the abrupt departure of Jason Gideon (Mandy Patinkin), he already had a string of unsuccessful marriages. The Vietnam vet was first married to Carolyn Baker sometime in the 1970s. The couple had a son, James, who sadly died shortly after birth. The heartbreak of losing a child, and Rossi's dedication to the FBI, placed insurmountable strain on the marriage. Rossi was very much an absent husband, even when he was physically present. Eventually, Carolyn ended the marriage, but the two remained close friends until her death by suicide in Season 7.
After his divorce from Carolyn, Rossi eventually began dating, and would later marry, Hayden Montgomery (Sheryl Lee Ralph), a U.S. diplomat for the French embassy. Once again, Rossi's professional life spurred the collapse of their relationship. With Hayden living in Paris, and Rossi focused on climbing the ladders within the FBI, neither were able to fully commit to the other. The marriage lasted less than a year, though Hayden would become pregnant before the split. Believing Rossi could never commit to being a father, Hayden hid the pregnancy and birth from him. It would be some 30 years later before Rossi became aware of his daughter Joy's existence. However, once they met, Joy became an important part of his life.
If you or anyone you know is having suicidal thoughts, please call the National Suicide Prevention Lifeline​ at​ 1-800-273-TALK (8255)​.
Rossi won the relationship jackpot in Vegas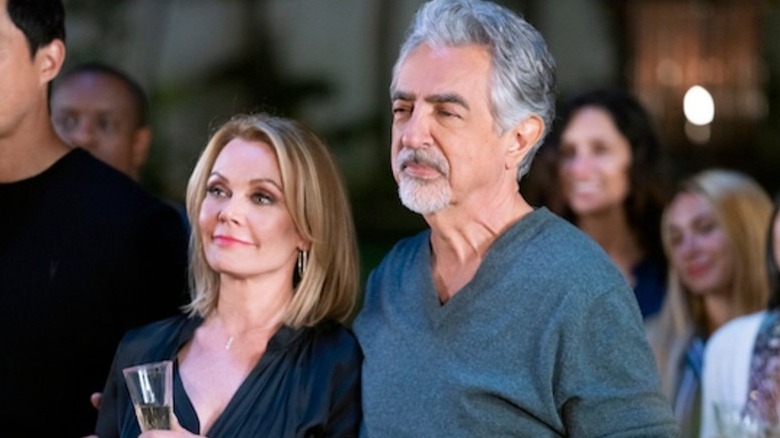 CBS
Rossi met Wife #3, Krystall Richards (Gail O'Grady), while playing blackjack in Las Vegas. Richards was the dealer at Rossi's table, and the two had instant sparks. Fueled with some alcohol, the duo spent their first night together getting married in a Vegas wedding chapel. Of course, as is likely common in Vegas, the newlyweds woke up the next morning with sore heads and regretful hearts. The marriage was quickly annulled, but Rossi and Richards kept in infrequent contact in the years after.
Richards went on to marry another man, with whom she had a daughter named Portia. She eventually divorced her husband and raised Portia on her own. Years later, as Portia planned to wed in Washington, D.C., Richards decided to meet up with Rossi while in town. Rossi and Richards spent much of Season 13 and 14 rekindling their old feelings, growing closer and closer until Rossi proposed. The couple remarried in the Season 14 finale and ended the show as a married couple.
Though Rossi experienced several heartbreaks and tragedies in his personal life, he apparently won big when he met Richards in Vegas. It may have taken a couple decades for the two to get their "happily ever after," but their eventual reunion was a bright spot in an ofttimes dark show.