Triple Threat Brings Together Tony Jaa, Iko Uwais, And Tiger Chen For First Time Ever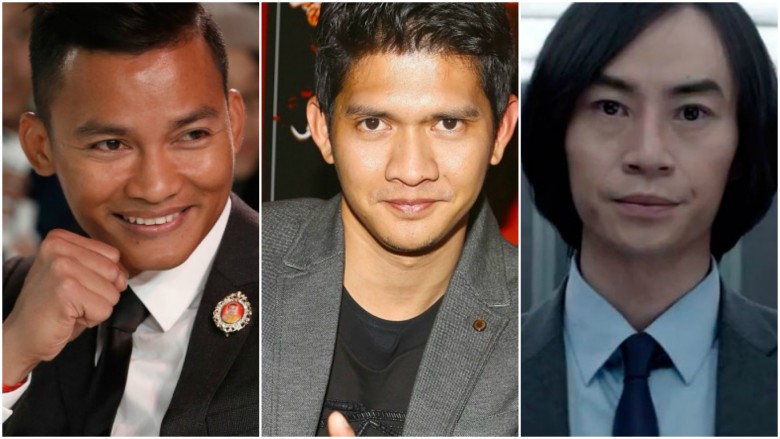 Getty Images/Getty Images
Action movie legends Tony Jaa, Iko Uwais, and Tiger Chen are teaming up to create a trifecta many film-lovers may be head-over-heels about.
The Hollywood Reporter reports that an upcoming film directed by Jesse Johnson and backed by Arclight Films entitled Triple Threat will bring the three stars together.
Thai actor Tony Jaa has been in the action flick game since 1994, appearing in Spirited Killer, Ong-Bak: Muay Thai Warrior, Furious 7, and XXX: Return of Xander Cage. Uwais made a similar name for himself with standout roles in 2009's Merantau, 2011's The Raid (along with the sequel three years later), and 2016's Headshot. Tiger Chen, the man who taught Keanu Reeves' everything he knows (about the martial arts, at least) was the choreographer for The Matrix, Charlie's Angels, and Kill Bill. He also served as Uma Thurman's stunt double.
Triple Threat will also feature a second pack of three, just as threatening as the Jaa/Uwais/Chen combination. Zero Dark Thirty's Scott Adkins, seasoned action movie actor Michael Jai White, and UFC middleweight champion Michael Bisping will reportedly play the film's gang of antagonists.
Here's a synopsis of the plot: "The action [of Triple Threat] kicks off after a billionaire's daughter becomes the target of a mercenary cartel. Her only protection are two down-on-their-luck fighters and a third who has vowed revenge against the others."
Not only is the news that the three acting icons are banding together quite exciting, it's also great to hear that the project is kicking up again after falling apart last year. Of the re-up, Jaa stated, "I cannot tell you how excited I am about this film. It is unique. I don't think that anyone has seen a cast like this in a generation."
Triple Threat doesn't have a release date yet, but while we wait for more details, satisfy your craving for action by checking out some of the most daring scenes you'd never believe are real.