The Office: Did Jenna Fischer Fall In Love With John Krasinski On Set?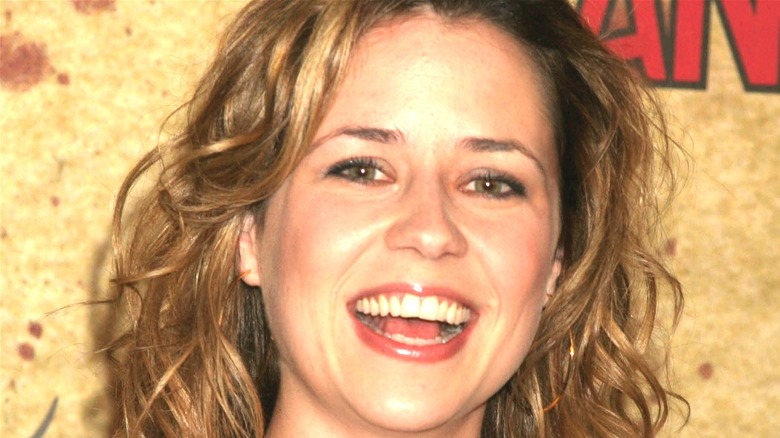 Shutterstock
We all know the answer everyone wants to hear when it comes to that question. The relationship between Pam Beesly (Jenna Fischer) and Jim Halpert (John Krasinski) on "The Office" is one of those G.O.A.T. romances. Sure, it follows a predictable trope seen on TV shows and in movies since the dawn of film, involving two obviously meant-to-be characters and an unrequited love that flip-flops from one to the other. But this romance serves as a beautiful example of why certain tropes work. Anyone with a heart will root for this couple—from the early days of Pam's engagement to Roy (David Denman) to the Season 3 scene where Pam sobs over Jim's romance with Karen (Rashida Jones) to their eventual rock-solid marriage.
Pam holds out for so long it's painful not only for her, but for everyone watching, and we can all breathe a sigh of relief knowing she and Jim finally wind up together. As witnesses to Pam's genuine emotion throughout the show, however, we have to wonder where Fischer is coming from in all this. Just how deep did she have to dig to play a character in love with her co-star? Is it all just acting? Or could some of those feelings be for real?
Jenna Fischer got married, but not to John Krasinski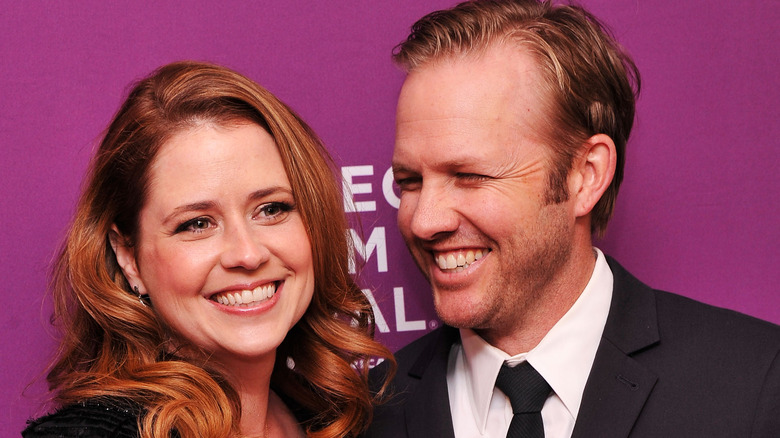 Stephen Lovekin/Getty Images
One thing is clear: Fischer did not join the cast of "The Office" in 2005 with romance on her mind. Since 2000, she'd been married to filmmaker James Gunn. But two years into her "Office" gig, in 2007, the couple announced their split. Was she falling for Krasinski?
Judging by the way Fischer and Gunn remained not just cordial, but actual friends (via Pajiba), it seems highly unlikely anything shady was going on. "I'm proud of the good relationships I have with most of my exes, but especially Jenna," Gunn wrote on Facebook in 2016, as quoted by CheatSheet. "She's a great person, a true and wonderful friend, and she'll always make me laugh."
For at least a few years, Fischer and Krasinski were single at the same time while working together on the show. Surely Fischer wouldn't have followed Pam's example, ignoring and denying her true feelings and letting him slip away. But the pair never dated in real life and by 2010, both actors had found love with other people. Fischer married writer and director Lee Kirk (via The Knot), while Krasinski married actress Emily Blunt.
That would appear to settle any questions about Fischer's feelings for her on-screen partner. But it wasn't the end of this love story.
Fischer and Krasinski were meant to be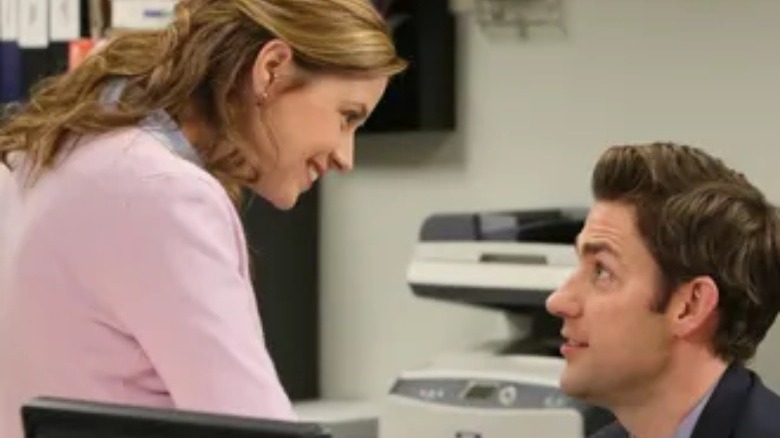 NBC
In 2016, Fischer finally came out with it during an episode of "Watch What Happens Live with Andy Cohen," telling a caller that "John and I have real chemistry." "There's like a real part of me that is Pam and a real part of him that's Jim, and those parts of us were genuinely in love with one another," she added.
So she was in love with him! Still, acting is a job that's quite unlike, say, working as an administrative assistant or receptionist in an office. Fischer had to access authentic emotions in order to deliver her work on the show. That didn't necessarily mean she should carry those feelings over into her real life. Being a professional, she knew that. And she knew she and Krasinski wouldn't make it as a couple. After years in an unusually intimate working relationship, they were meant to be the best of friends.
"In real life, we aren't totally Pam and totally Jim. So in real life, we're like not the perfect match," she acknowledged. "He was like a type of spouse that I had for a long time ... We will always be close because of it."