Fans Are Going Crazy Over This First Look At Clerks III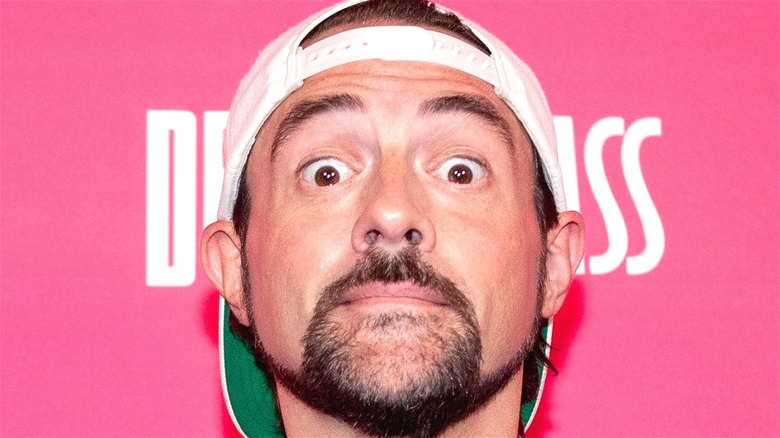 Paul Butterfield/Getty Images
The upcoming "Clerks III" won't premiere until sometime in 2022, but director Kevin Smith and the View Askew-niverse gang are currently hard at work filming, and now we can share a first look at Smith and the cast.
Both the "Clerks" series and Kevin Smith have matured quite a bit since "Clerks" premiered in 1994. The first "Clerks" was shot entirely in black and white, and followed a day in the life of two shop clerks with dead-end jobs, Dante (Brian O'Halloran) and Randal (Jeff Anderson). "Clerks II" returned to the world in 2006, and saw the characters a decade older but not much wiser. In that movie, Randal considered moving to Florida before ultimately deciding to buy the Quick Stop convenience store with Dante. It was more of a downer ending than you might remember, since Dante and Randal basically ended up in the same place they started.
Now, coming into "Clerks III," Smith and the cast are another fifteen years older and still stuck working at the Quick Stop. But according to the movie's logline, and comments by Smith, "Clerks III" will have a more upbeat message. This time around, a heart attack scare forces Randal to confront his own mortality and question the meaning of his life. And in a meta twist, this inspires the guys to film their own "Clerks"-style movie about themselves.
We'll have to wait for "Clerks III" to see how that unfold. In the meantime, this first-look photo of the "Clerks III" gang is giving fans a little taste of the "Clerks" series' grand finale.
The Clerks gang is together again for one last ride, and fans can't wait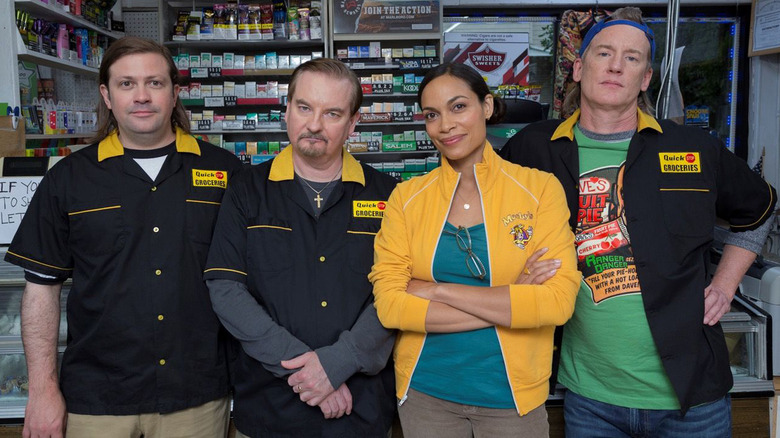 Lionsgate
The photo shows the four main members of the Quick Stop crew, including O'Halloran and Anderson as Dante and Randal, as well as returning cast members Trevor Fehrman, who plays Quick Stop employee Elias, and Rosario Dawson, who plays Dante's wife Becky. 
Kevin Smith shared the photo on Twitter, along with a photo of the same cast members taken on the set of "Clerks II." In response, lots of fans expressed their excitement for the final chapter in the "Clerks" saga. "I. Truly. Can't. Wait. To. See. It," wrote Twitter user @Rico3Carte. 
"Man!  I can't wait to see the Clerks trilogy wrap up!" wrote Twitter user @AbbitJay. "I remember watching the original in junior high and I can't believe I'll be in my 40s watching the same characters."
Many fans commented on how much the cast members have aged in the past fifteen years — or in Rosario Dawson's case, haven't appeared to age at all. "ok am I the only one or @rosariodawson hasn't aged a day? Look at other gentlemen in the before/after pic and then see Ms. Dawson," wrote @NeedForReview. 
"Does @rosariodawson discover the holy grail in this one because it looks like she chose wisely... REALLY wisely!" wrote @SpencerCosford. 
"How TF is Rosario aging BACKWARDS!?!?!" wondered @AceCruz24. 
And some fans just wanted to show their appreciation for a movie series that has always been considered a generation-defining film. In reply to a tweet of the photo from Vanity Fair, @JoeYerdon wrote, "Every time I watch 'Clerks' I always feel like it was made for people around my age and reading this about 'Clerks III' makes me believe they'll do it again."
"Clerks III" may not premiere for another year or so, but fans are clearly ready and waiting.