Dylan O'Brien Is Unrecognizable In A New Image For Hulu's Not Okay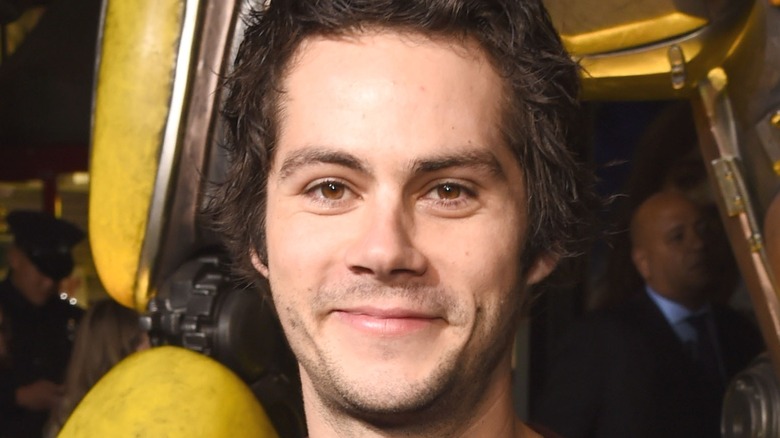 Michael Kovac/Getty Images for Paramount Pictures
Dylan O'Brien is not okay. Or, rather, he's in a film named "Not Okay." We're sure the actor is doing quite well.
The actor behind the lupine Stiles Stilinski in the "Teen Wolf" series from 2011 to 2017, as well as more recent film roles in 2018's "Bumblebee" and 2020's "Love and Monsters," O'Brien is playing Colin in the upcoming Hulu original movie, "Not Okay," which began filming in July 2021.
O'Brien will appear alongside Zoey Deutch ("The Suite Life on Deck," "Set It Up") playing Danni, as well as Embeth Davidtz ("The Amazing Spider-Man," "Old"), Nadia Alexander ("The Sinner," "Seven Seconds"), Negin Farsad ("The Watch List," "The Muslims Are Coming!"), Karan Soni ("Deadpool," "Pokémon Detective Pikachu"), and more, according to Variety. Quinn Shephard, who previously had her directorial debut in the 2017 film "Blame," is writing and directing the film.
However, O'Brien won't be appearing as his usual dark-haired self. On the movie's official Instagram page, they show the actor with a completely new look, one that makes him appear nearly unrecognizable.
Dylan O'Brien's new character has blond hair and some wild tattoos
The first image of Dylan O'Brien's new look for Colin shows the actor with short, blond hair and a thin, undyed beard, along with some snazzy shades and some odd-looking tattoos on his arms, which include a three-eyed cat, a yin and yang symbol, a slice of pizza, the "Cool S," a heart with crossed bones behind it, tentacles, a flower that appears to have a flute coming out of it and ... a carrot wearing shades? They're a bit of a Rorschach test. He also wears a simple chain necklace and an orange t-shirt with some strange-looking symbols, with another tattoo on his neck.
We don't know a lot about the character, as the official description only describes a young woman, likely Danni, who fakes a trip to Paris to grow her social media following before a "terrifying incident takes place." Colin's unique look might lead one to suggest that he's a fellow social media star, but looks can be deceiving.
Following the viral success of the first photo, the same account posted a "before and after" video of O'Brien getting into his character's look, hilariously set to a clip from "Legally Blonde" of its titular character saying, "You're breaking up with me because I'm too... blonde?!"
"Not Okay" will release exclusively on Hulu, with its release window being unannounced.