Tangled 2 - Will It Ever Happen?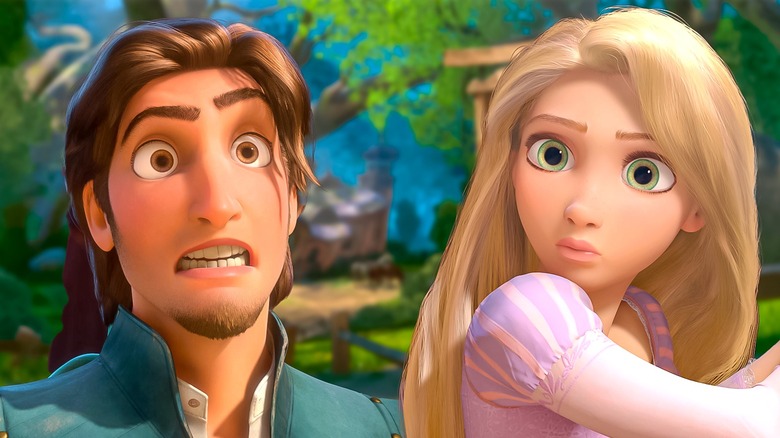 Static Media
As Disney fans will know, most of the studio's films end with a happily ever after — but that doesn't mean that we're not left wanting more when it is all over. Since its release in 2010, "Tangled" has become a firm fan favorite, and despite the neatly wrapped-up ending, many feel that there's more to the story and would love to see Rapunzel (Mandy Moore) and Flynn Rider (Zachary Levi) return for more hair-raising adventures.
Theatrical sequels used to be a rarity for Disney — particularly in the "Walt Disney Animated Classics" canon — but that changed with the back-to-back sequels "Ralph Breaks the Internet" and "Frozen 2" in 2018 and 2019 respectively. These two movies broke an almost 30-year sequel dry spell for Disney, marking the first follow-ups (not counting direct-to-video fare or Pixar films) since 1990's "The Rescuers Down Under," the follow-up to 1977's "The Rescuers." While Disney honored the video game-inspired "Wreck-It Ralph" and musical mega-hit "Frozen" with sequels, "Tangled" — released just two years before "Wreck-It Ralph" — was overlooked for a part two.
"Tangled" is still considered to be a groundbreaking moment for the Mouse House — marking a huge and expensive leap forward in animation techniques — and there are plenty of diehard Disney devotees who are still desperate for a sequel. But will it ever happen? Let's take a look at the likelihood of a "Tangled 2."
Why isn't Tangled 2 happening yet?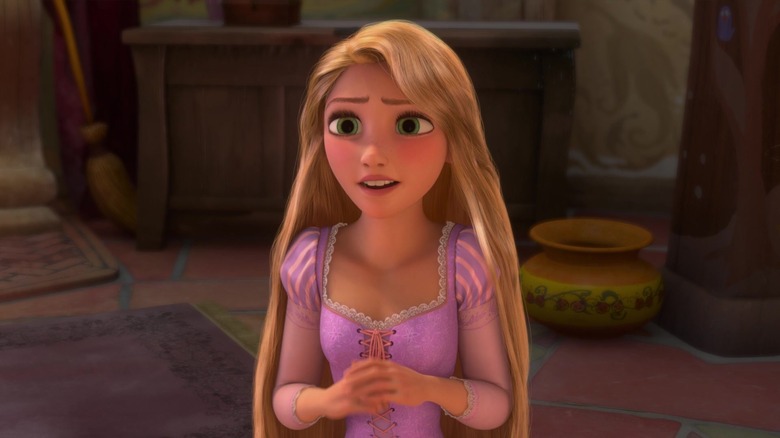 Walt Disney Animation Studios
While this has started to change recently, there have been multiple periods where Disney has gone on hiatus from sequels and focused on original stories. After "The Rescuers Down Under," Disney Animation Studios went 28 years without another sequel, and after the double whammy of "Ralph Breaks the Internet" and "Frozen II," they went back to standalone films, a la "Raya and the Last Dragon," "Encanto," "Strange World," and "Wish."
In other words, it seems that Disney has been putting more of a priority on fresh new movies, which might explain why we haven't gotten a "Tangled 2" yet. With that being said, things seem to be changing at the studio. In 2023, Disney CEO Bob Iger confirmed that there would be at least two proper Disney sequels in the near future — "Frozen III" and "Zootopia 2" — in addition to a "Toy Story 5" from Pixar. That signals a pretty drastic switch back to revisiting some of their most popular properties, and even though Iger didn't mention a "Tangled 2," this announcement does renew hope that the film may still happen one day.
Perhaps the reason there hasn't been a "Tangled 2" announcement yet is simply a logistical or financial explanation. "Tangled" took more than six years to make and cost a whopping $260 million — a figure that makes it one of the most expensive animated films ever made. If there was to be a sequel, Disney would have to ensure it lived up to its predecessor, and it's possible that they feel the budget and time could be better spent elsewhere.
There are already some other Tangled series and shorts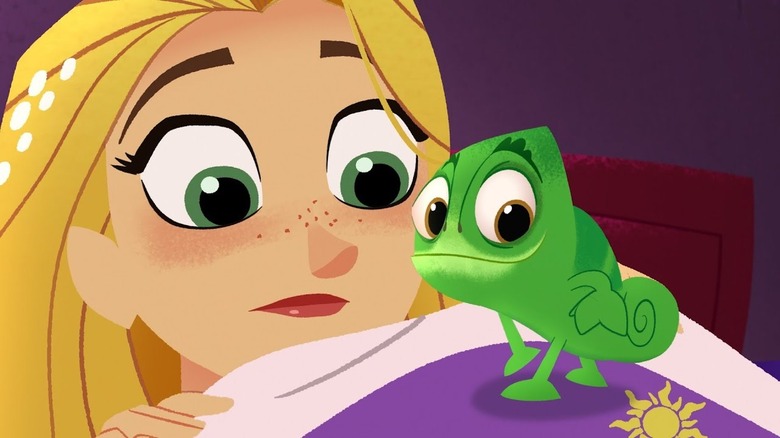 Disney Channel
The question of whether there will be a "Tangled 2" is answered somewhat uniquely in that they've kind of already done it — albeit not in feature film format. As a testament to the popularity of the 2010 original, the movie was followed up with a short, a TV movie, and a series that further expanded on the "Tangled" lore.
In 2012, Disney released a six-minute short titled "Tangled Ever After," which revolves around the wedding of Rapunzel and Flynn Rider. This was followed by the 58-minute TV movie "Tangled: Before Ever After" in 2017, set between the events of "Tangled" and the aforementioned short. Finally, there's the TV series "Rapunzel's Tangled Adventure" (known as "Tangled: The Series" for its first season), which ran for three seasons between 2017 and 2020 and even has a spin-off mini-series of its own called "Tangled: Short Cuts."
Frankly, fans are a bit spoiled for choice already if they're craving more "Tangled" content, and the existence of these suggests that Disney might already feel as though that sequel box has been ticked. Given that the follow-up series and shorts also feature returning cast members from the original film, you could argue that these properties act as the de facto sequel, and we may never see a second feature-length movie.
What the producer and directors have said about Tangled 2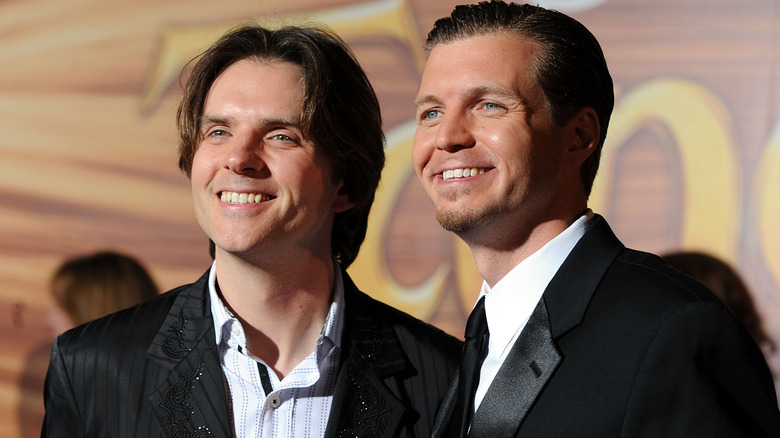 Alberto E. Rodriguez/Getty Images
Of course, in order for a successful sequel to get the green light, it usually needs to have the blessing of those involved in the first movie. Speaking to Den of Geek, "Tangled" producer Roy Conli said that directors Nathan Greno and Byron Howard "weren't really interested in doing that [a sequel]" and speaking more generally said, "The film industry is kind of rife with [sequels] right now." In what could be considered quite a crowded marketplace — particularly if Disney follows through on their proposed sequel plans in the next five years — a "Tangled" sequel seems less and less likely.
In the same interview, Conli addressed perhaps a fairly obvious reason why a sequel wouldn't work, saying, "Her hair was gone! There you go!" Indeed, at the end of "Tangled," Flynn hacks off Rapunzel's long golden locks in order to defeat Mother Gothel (Donna Murphy), and as we see in "Tangled Ever After," she is still sporting the short brown hair that she was left with. As a counterpoint — and to renew some hope for those who are particularly desperate for a sequel — the TV series "Rapunzel's Tangled Adventure" deals with the hair issue quite effectively. In it, they explain that the magic of the Sundrop Flower still lives within Rapunzel, backed up by the fact it's her tears that revive Flynn at the end of "Tangled," and therefore she's able to grow her hair back.
What could be explored in Tangled 2?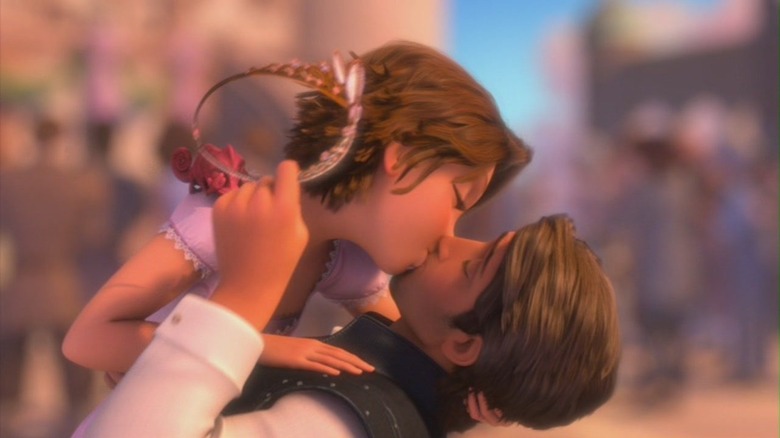 Walt Disney Animation Studios
Even though "Tangled" gives us a fairly conclusive happily ever after — evil is defeated, Rapunzel reunites with her parents, and she and Flynn Rider get together — there are still some unanswered questions that a sequel could dive into. 
In the first film, the focus is predominantly on Rapunzel's quest to discover the meaning of the floating lights she sees on her birthday, and therefore, we don't learn too much about Flynn (beyond that his real name is in fact, Eugene Fitzherbert). This could be something a sequel looks at, and they could either adapt the backstory explored in "Rapunzel's Tangled Adventure" — where we learn about his surprising royal parentage — or come up with something new. His fall from grace from a prince to a thief could be a very interesting angle and something that could be expanded upon if someone from his past made an appearance.
While similarly explored in the subsequent TV series, Rapunzel's journey after she learns she is a princess and reunites with her parents could also provide a compelling narrative for a second feature. If Rapunzel does still have the healing and rejuvenating powers of the Sundrop Flower within her, there would surely be no shortage of potential baddies that would want to exploit her abilities, giving plenty of material for a sequel.
Who would star in Tangled 2?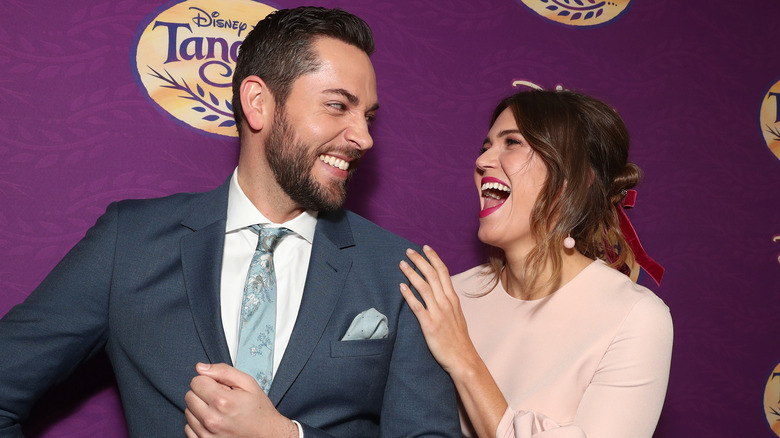 Todd Williamson/Getty Images
Rapunzel and Flynn Rider — voiced by Mandy Moore and Zachary Levi — are arguably one of the best Disney couples, and the success of a sequel could hinge on the involvement of the original cast members. Reuniting to celebrate the 10th anniversary of "Tangled" in 2020, Moore and Levi discussed the legacy of the film and their involvement in it. Talking about the enduring popularity of the movie, their enthusiasm was clear to see, and you'd have to assume that they would be positive about a sequel as well. Neither made a comment to say if they would or wouldn't be involved, but given that they've continued to voice the characters in other media, its a safe bet that they'd say yes.
As for the other cast members, it remains to be seen if they would sign on for a sequel. One who has thrown his hat in the ring, however, is Ron Perlman, who voiced one of the burly — and brilliantly named — Stabbington brothers. It may have only been a small role, but it's one that has endured, with Perlman reprising his role in "Rapunzel's Tangled Adventure." Speaking to ComicBookMovie.com, Perlman said, "I would jump at the opportunity to come back and either do another version of that story or something else with the characters." Other cast members, including Donna Murphy, M.C. Gainey, and Paul F. Tompkins all came back to lend their voices to the TV series, so if a sequel did happen it seems likely that they would also be on board.
Could there be a live-action Tangled instead?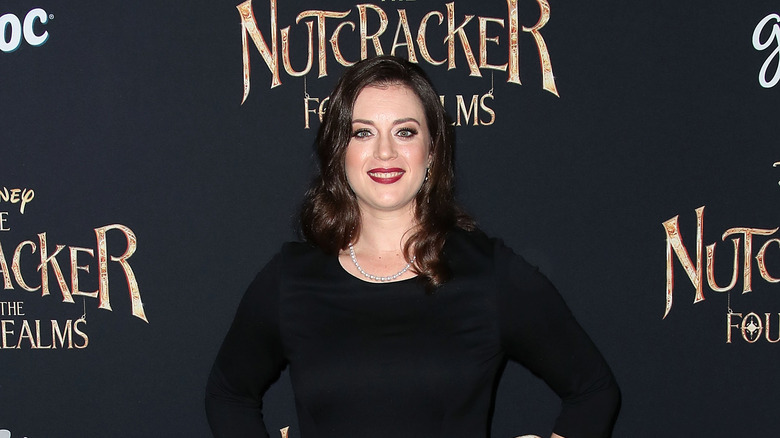 David Livingston/Getty Images
Disney seems to be on a fairly steady track of remaking their back catalog of animated classics as live-action movies, with new versions of "Snow White and the Seven Dwarfs," "Lilo & Stitch," and "The Hunchback of Notre Dame" all in development. While the studio has almost 90 years worth of material to reimagine, their newer films are not off the table — in fact, a live-action remake of 2016's "Moana" is already in the works.
With that in mind, "Tangled" has to inevitably get the live-action treatment at some point, and in 2020, TheDisInsider claimed that Disney was going ahead with a live-action Rapunzel. Reportedly there are already some names attached, with Ashleigh Powell — writer of "The Nutcracker and the Four Realms" — writing the script and Michael De Luca and Kristin Burr producing. It should be noted that there's been no word on the project since then, and Disney has never given the official word on whether or not the project is actually happening. This hasn't stopped fans from sharing their dream casting choices, however, with everyone from Kathryn Hahn, Jessica Rothe, Florence Pugh, and Cher being thrown into the mix.
Whether as a live-action remake or an animated sequel, it seems likely we will see something of the "Tangled" universe on our screens again. Speaking in 2023, producer Roy Conli spoke to The Digital Fix about a possible sequel and teased, "We'll see, we'll see. Stranger things have happened."