The Office Episode That Was Difficult To Film Because Of All The Wild Bloopers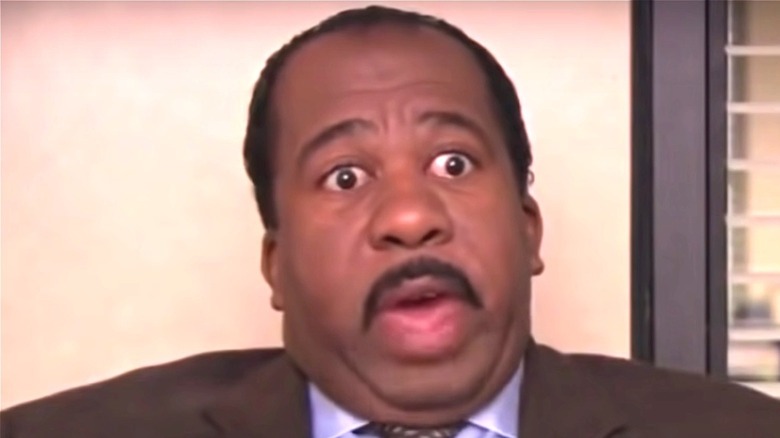 NBC
The mockumentary style sitcom "The Office" — which followed the everyday lives of the Dunder Mifflin Paper Company's employees — is considered one of the best sitcoms of all time. With its nine seasons, which ran from 2005 to 2013, "The Office" gave us some iconic TV characters — from the oblivious but (mostly) well meaning general manager Michael Scott (Steve Carrell) to the sarcastic voice of reason for the office, salesman Jim Halpert (John Krasinski) — as well as some utterly hilarious moments. After all, who could forget the hilarious opening in which the characters think there's a fire in the office?
With so many laugh-out-loud moments, it's somewhat baffling from a viewer's perspective that the cast members were able to keep a straight face while filming some of the funniest content out there. Well, it wasn't always easy for the ensemble cast and there are plenty of behind the scenes bloopers out there from the show to prove it. But it turns out that there was one episode in particular that was downright hard to film because of all the bloopers behind the scenes and "The Office" superfans can probably already guess which episode we're talking about.
"Dinner Party" was hard for the cast to get through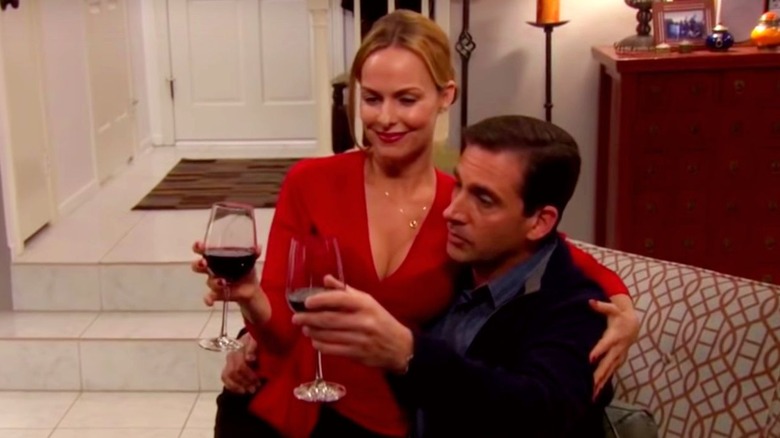 NBC
The Season 4 episode, "Dinner Party," is pretty much the most iconic — and hilarious — episode of the series. In a rare glimpse into an employee's home life, Michael and his former-boss-turned-girlfriend Jan (Melora Hardin) host couples Jim & Pam and Andy & Angela over for dinner. Dwight, jealous of Angela dating Andy, then crashes the dinner with his former-babysitter-turned-lover (Beth Grant) anyway. In the darkly comedic episode, the guests — and the audience — get a look into the deranged, one-sided relationship of Michael and Jan, which includes Jan completely steamrolling Michael in every way including making him sleep on a small foot-of-the-bed bench every night.
Naturally, this episode proved to be the hardest for the cast to get through. In Rolling Stone's oral history of the episode, Grant discussed guest starring in the episode. "The dinner scene was one of the hardest things I've ever had to do," she said. "I was physically dying inside from holding back laughter. I had to hold a beet on my fork and suck on it. I put everything into that."
Grant's description is essentially echoed by the other cast members, all of whom recall the episode shoot as full of intense laughter and, thus, taking awhile to get through. "I don't remember that there was anything particularly funny, but we just got on a laughing jaunt, and we literally could not stop," Hardin said. "Every time they turned on the camera, either [Fischer] or me would just be absolutely in fits of laughter."
Which scenes were the hardest to film?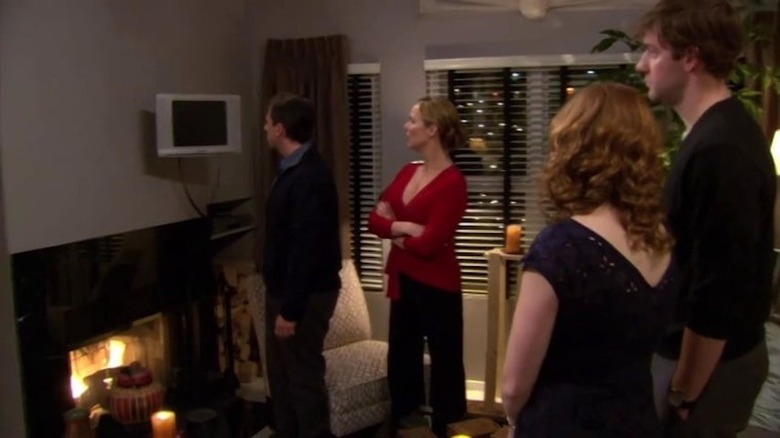 NBC
There are a couple scenes in particular that get brought up in the Rolling Stone piece as being the funniest and therefore, hardest, to get through for the cast and crew. Firstly, the scene in which Michael reveals his extremely tiny flatscreen television. Krasinksi told Rolling Stone, "One of the funniest things I've witnessed in my life was Steve showing us that flatscreen TV and saying, 'When ... when people are over you can just do this' [pulling the screen out from the wall]. The TV only moved, like, a half an inch. Sometimes Steve would get frustrated when we couldn't keep it together because he didn't think he was as funny as we thought he was ... we were just getting demolished by laughter."
Another difficult scene was the one in which Michael reveals, in the midst of their big fight, that Jan has made him have three vasectomies because she couldn't make up her mind whether or not she wanted to have kids. The episode's director, Paul Feig, said, "I remember we were all like, 'This is a little ... this isn't as fun as we wanted it to be.' So I went over to Steve and said, 'It's awesome, we just need to make it a little more fun.' And so that was the take that's in when he said, 'Snip-snap, snip-snap, snip-snap.' They were just laughing so hard."