Marvel Producer Responds To Dave Bautista's What If...? Claim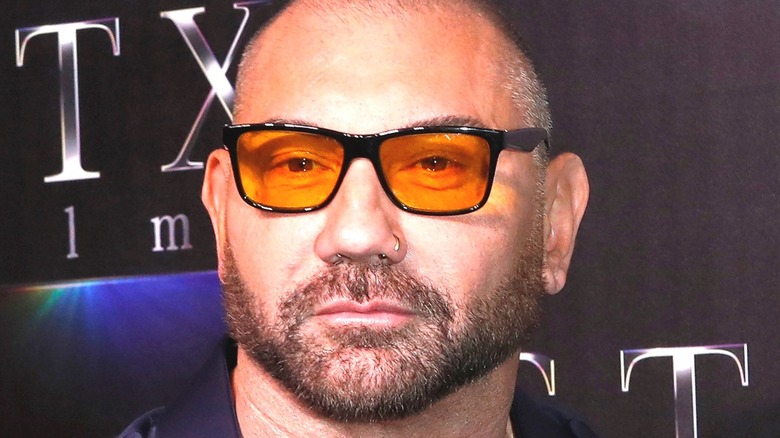 Shutterstock
Marvel Studios and Disney+'s first animated series, "What If...?" features the voices of actors who starred in former MCU films. Chris Hemsworth, Josh Brolin, Hayley Atwell, and many others are reprising their Marvel characters for this special animated series, but quite a few MCU stars did not join the project. Chris Evans, Robert Downey Jr., and Scarlett Johansson are noticeably absent from the credits, primarily because they have seemingly retired from their roles as Steve Rogers, Tony Stark, and Natasha Romanoff.
Another famous Marvel actor who didn't return to voice their MCU character is Dave Bautista. The former pro-wrestler has famously played Drax in the "Guardians of the Galaxy" films as well as "Avengers: Infinity War" and "Avengers: Endgame," but he is not voicing the Kylosian in the animated series. When a fan asked Bautista on Twitter why he wasn't voicing Drax in "What If...?," his answer was quite shocking. "Let's start with I was never asked," the actor tweeted in response. Now, one of the series's executive producers has come forward to shed some light on what went down.
A What If...? producer says there was some miscommunication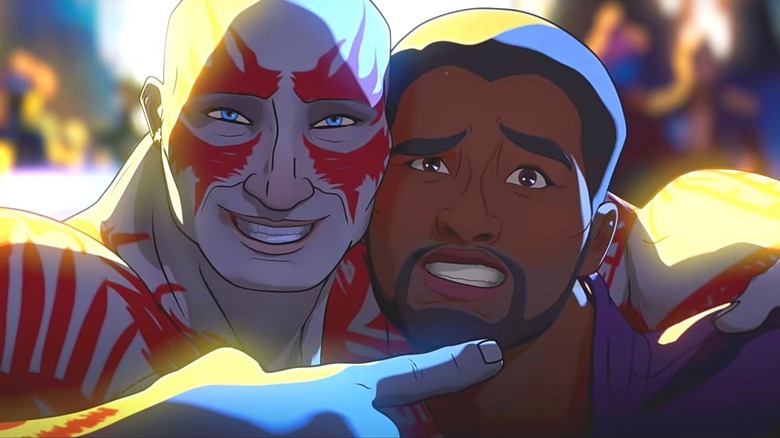 Disney+/Marvel Studios
"What If...?" executive producer Brad Winderbaum caught up with Variety to chat about the new series, and it wasn't long before Dave Bautista's tweet was brought up. Winderbaum admitted he had seen the tweet and clarified how actors were approached to join the unique project. "It's my understanding that everybody was asked in some way, shape or form, either through their agents or directly. I don't know really what happened behind the scenes there, but certainly, we would have loved for him to be in the show. So there's probably some miscommunication somewhere," he noted to the outlet.
At the time of this publication, Bautista has not responded to Winderbaum's comments. We suspect it won't be long as the actor is very active on social media and often responds to news stories he's involved in on Twitter. We're not sure who will be voicing Drax just yet, but we hope they can capture the same magic Bautista brings to the character.