Jake Johnson Confirms What We Suspected All Along About Tom Cruise's On-Set Demeanor
Jake Johnson is shedding new light on Tom Cruise, whom he worked with in 2017's "The Mummy," eight months after leaked audio from the set of "Mission: Impossible 7" revealed Cruise yelling at his crew for not following COVID-19 protocols. In the audio, Cruise could be heard speaking firmly and loudly to at least one crew member not wearing a mask properly amidst filming. The actor repeatedly emphasized that the reason for his outburst was due to the pressures to film a movie the size of "Mission: Impossible 7" with strict COVID-19 protocols. 
At the time the audio was recorded, there had already been reports of other sets, including "Mission: Impossible 7" and the "Avatar" sequels, forced to shut down due to the pandemic, leading to serious production delays and tension across the industry over the future of filmmaking. As such, Cruise's outburst had some genuine reasoning behind it, which earned him praise from others in the industry but also spurred criticism about his demeanor toward crew members while he was in a position of power (via The Wrap).
Now, Johnson has offered his insights on Cruise and they seem to add a curious footnote to the entire December 2020 incident. During a recent appearance on The Daily Beast's "The Last Laugh" podcast to promote his upcoming feature "Ride the Eagle," Johnson opened up about working with Cruise on "The Mummy." Johnson shared scenes with Cruise in the first act of the Universal Pictures monster flick, playing the military friend to Cruise's hero, Nick Morton. Johnson pragmatically emphasized his comments about Cruise only applied to him in the workplace, but they nonetheless offer some interesting clues about the A-list actor.
Johnson confirmed Cruise is an intense guy, but only when working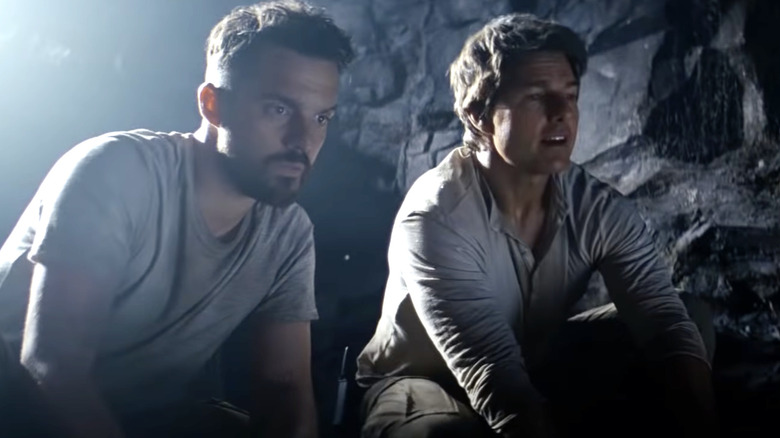 Universal Pictures/YouTube
When the topic of Tom Cruise's on-set audio leaking came up, Jake Johnson noted that he immediately knew the intensity in Cruise's voice was genuine. The actor shared with "The Last Laugh" that "he's an intense guy," and went on to explain that "all he wants to do in a film — I cannot make any statements of the man outside of it because I don't know him that well — but in terms of a filmmaker, he wants to entertain an audience, and if you're not all about that, you're gonna get knocked off the bronco, because he is there to entertain an audience and he's willing to really put himself in harm's way to do it."
Cruise's intensity was apparently a personality trait Johnson knew about even before he signed on to "The Mummy." Johnson also told "The Last Laugh" that he was reticent to sign on because "Tom Cruise is an intimidating figure. And especially because I had to do action sequences with him. I was like, 'Look, I'll do action sequences with an actor who likes stunt doubles.' That's not him."
While an intensity like Cruise's, as described by Johnson, may sound like a shock, the "New Girl" alum seemingly insisted his experience with Cruise wasn't necessarily a negative. Johnson added, "If you don't love [the project] as much as him, you're not at the party. So while I was working with him, it was just all — you wake up early, you go to the gym before you shoot so that you're like ready to go. It was just... I'd never worked with somebody like that."
"Mission: Impossible 7" arrives May 27, 2022. "Ride the Eagle" is available now in theaters and VOD.