The First Trailer For Nicolas Cage's Prisoners Of The Ghostland Has Twitter Buzzing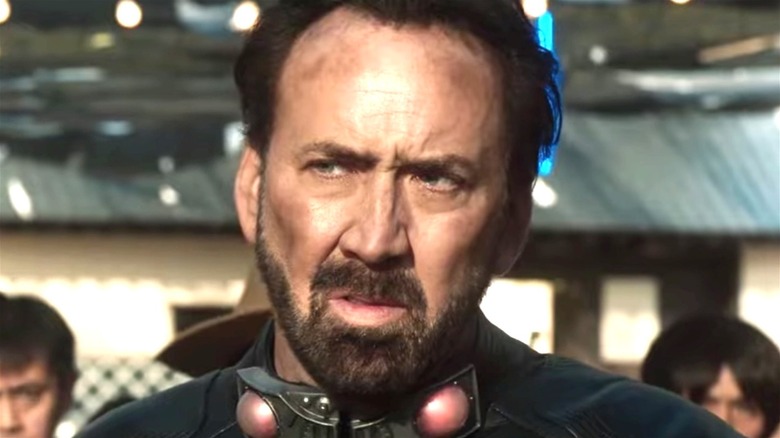 RLJE Films
It may be hard to believe this, but Nicolas Cage's next movie, "Prisoners of the Ghostland," may be wildest and most gonzo yet — and we say that knowing full well he's also starred in brain-melting flicks like "Mandy," "Color Out of Space," and "Willy's Wonderland." 
On Wednesday, RLJE Films released the official trailer for "Prisoners of the Ghostland" (via YouTube). The movie stars Cage, Sofia Boutella ("The Mummy"), Nick Cassavetes ("Face/Off"), and Bill Moseley ("The Devil's Rejects"). Directed by Sion Sono, a Japanese director whose work frequently defies the desire to sit neatly inside one genre, "Prisoners of the Ghostland" follows a character only known as Hero (Cage), a criminal who is tasked by a shadowy figure named The Governor (Moseley) to go retrieve his missing granddaughter (Boutella). The big catch? Hero has been zipped up into a skintight suit with bombs on it and they'll self-destruct if he fails to bring The Governor's daughter back in five days. From the look of the trailer, it's one part "The Suicide Squad," one part "Into the Badlands," and all parts Nic Cage.
While the plot of "Prisoners of the Ghostland" sounds straightforward, the trailer for the upcoming movie reveals it to be anything but a straightforward movie. Blending elements from a multitude of genres and styles, including action, Western, arthouse, and martial arts epics, "Prisoners of the Ghostland" looks like to be a total trip of a viewing experience. Marauding gangs wear spooky masks, Cage snarls every line he has, opulent sets burst out of the ground, a chorus of geishas serve as a surprising welcome wagon. 
Watching the "Prisoners of the Ghostland" trailer is a truly surreal experience, which can only mean that sitting with the movie for its hour-and-40-minute runtime will be an even wilder ride.
Twitter had a major reaction to the Prisoners of the Ghostland trailer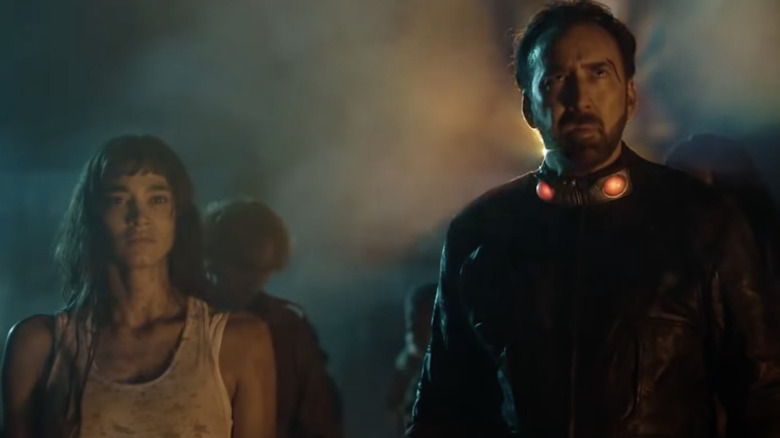 RLJE Films
Reactions to the first look at "Prisoners of the Ghostland" have sent Twitter into a tizzy, with much of the focus on Cage. In the comments of Discussing Film's tweet of the trailer, user @supermangeek101 remarked, "Prisoners Of The Ghostland is gonna be one of the most insane Nicholas [sic] Cage movies ever made!" while user @BDNetwork1 chimed in with, "Saw this at Sundance, definitely an off the rails performance by the man himself, Nick Cage."
In response to Next Best Picture editor-in-chief Matt Neglia's tweet of the trailer, Twitter user @eriker1416 exclaimed, "Another bats— insane Nic Cage flick to balance out the acclaim 'Pig' has gotten. Enjoyed from Sundance.
After Fandom shared the "Prisoners of the Ghostland" trailer, user @BalajiAsari wrote, "I have no idea what to make of that lol. Nic Cage has been in solid form of late & it kind of reminds me of 'Apostle,' so I am in."
That sentiment was echoed by @szero210, who also chimed in one Fandom's comments thread with, "That's [sic] looks absolutely crazy! Nic Cage is really picking one crazy character after another. I love it and gonna watch this one!"
If you peruse the comments of Letterboxd's tweet about the trailer, you'll see some hype for Sono and his style, too. Twitter user @pjtucken wrote, "Sion Sono is my favorite director and I loved watching this through Sundance online this year so yeah... everyone watch it," and user @ayobobf added, "Sion Sono + Nic Cage sounds insane, I hope this is decent."
"Prisoner of the Ghostland" will arrive in theaters and on VOD on September 17, which means you have a limited amount of time to mentally prepare for this new ride with Cage.