Why Wing From The Paper Tigers Looks So Familiar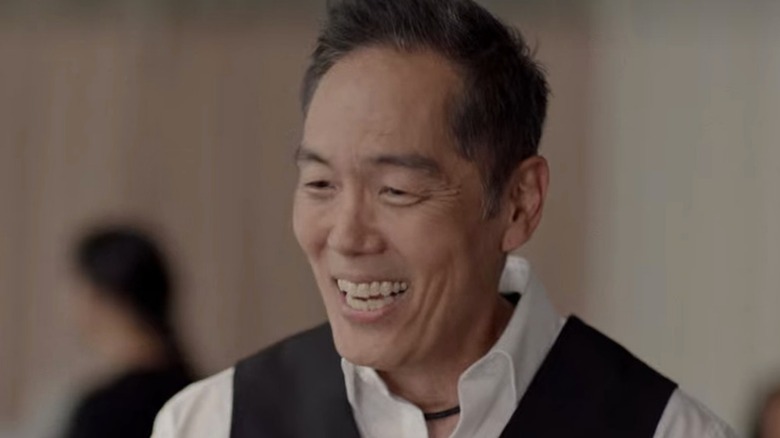 Well Go USA Entertainment
"The Paper Tigers," a martial arts dramedy from up and coming writer/director Quoc Bao Tran, has just hit Netflix this week, and is already killing it on the streaming site. First premiering at the 2020 Fantasia International Film Festival, the film was released in North America in May 2021. The 98% score (and 93% audience score) on Rotten Tomatoes proves that this humble indie isn't one to miss.
The film tells the story of three middle-aged men and former gung fu students who reunite to avenge the murder of their beloved teacher — however, they are a bit out of practice after 30 years. The childhood friends called themselves the Three Tigers, yet Danny (Alain Uy), Jim (Mykel Shannon Jenkins), and Hing (Ron Yuan) need to brush up on their martial arts skills — and reconcile their own personal issues — before they can take on the mystery of who murdered their sifu.
During their journey to track down their master's killer, the friends find themselves in a restaurant run by a man named Wing. Wing also appears at the end of the film while the friends have a celebration dinner at the same restaurant, and asks if he can be a part of their gang. "If you guys are looking for a fourth tiger, I take karate," he tells them.
This is not just a throwaway line, nor is the actor playing Wing just an extra — that's Yuji Okumoto, who not only was a producer for "The Paper Tigers," but is a veteran of one of the classic American martial arts films.
Yuji Okumoto played Daniel LaRusso's biggest rival yet in The Karate Kid Part 2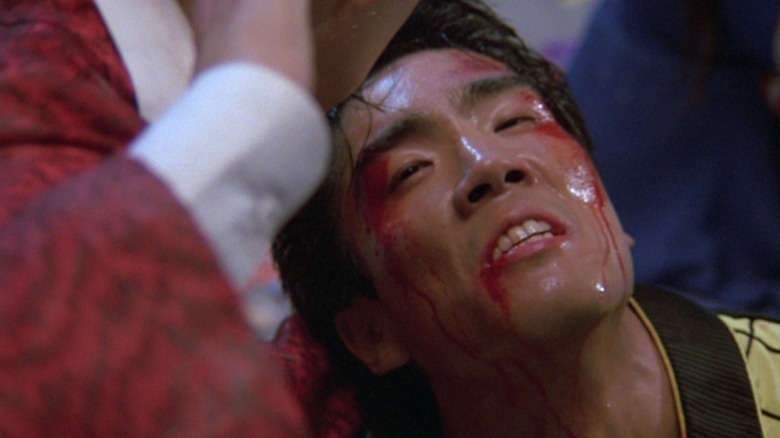 Columbia Pictures
Yuji Okumoto might not be an instantly recognizable face nowadays, but once, he was a huge presence on screen as the main antagonist of 1986's "The Karate Kid Part 2." Okumoto played Chozen, the cocky and violence-driven rival of Daniel LaRusso (Ralph Macchio). As the nephew of Mr. Miyagi's (Pat Morita) old rival, Chozen has inherited his uncle's anger and hatred for Mr. Miyagi, which he channels into his treatment of Miyagi's number one student. At the climax of the film, Chozen gets his clock cleaned by Daniel (and his nose honked) when he challenges him to an intense, one-on-one face-off. Daniel saves the day, wins the girl, and leaves Chozen in the dust.
Okumoto appeared in many other roles over the years following "The Karate Kid Part 2," mainly as a guest star on several television shows. "Knots Landing," "Murder, She Wrote," and "Walker: Texas Ranger" are just a few of his credits, along with a number of minor roles in feature films — but none of them left the same kind of impact that the character of Chozen left in the consciousness of American film culture. When the sleeper hit, "Cobra Kai," made it to Netflix in 2019, it was the perfect chance to bring back this memorable character.
Okumoto returned to play Chozen in Netflix's Cobra Kai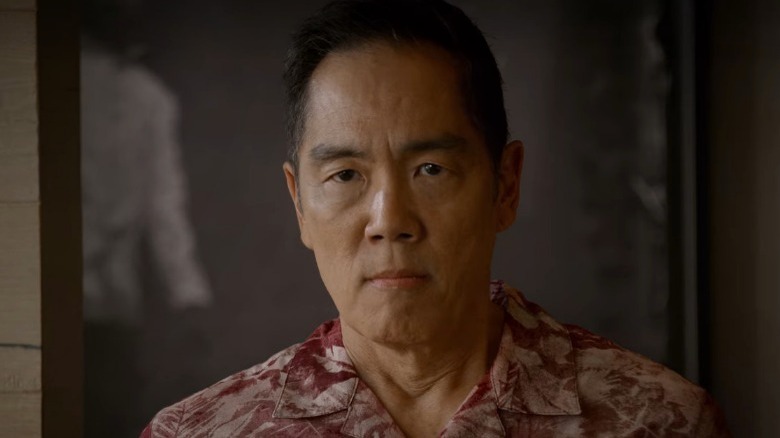 Netflix
Being huge fans of the original "Karate Kid" films, producers Josh Heald, Jon Hurwitz, and Hayden Schlossberg had the idea to bring back all of their favorite characters from the franchise in a spin-off series, "Cobra Kai." This time, the hero of the story is Johnny Lawrence (William Zabka) — now a middle-aged loser with an ancient grudge against his one-time rival, Daniel LaRusso (Macchio). Johnny, hoping to reclaim his glory days, decides to reopen the Cobra Kai dojo as its new sensei — only this time, he vows to do things better.
"Cobra Kai" reunites the original actors of the "Karate Kid" films, including Zabka and Ralph Macchio, while paying tribute to the spirit of the original franchise. Martin Kove later joined the cast to reprise his role as John Kreese, and Elizabeth Shue also made an appearance as both Daniel and Johnny's long lost love, Alli Mills. In the wake of this trend of bringing back familiar faces, fans knew it was only a matter of time before they would see Daniel's old nemesis, Chozen.
Sure enough, Yuji Okumoto crops up in the third season of "Cobra Kai" when Daniel returns to visit Mr. Miyagi's hometown in Japan. At first, Chozen clearly isn't at all happy to see his old enemy. Ironically, Chozen is Daniel's only hope to save his car dealership, and the two must put aside their old grudge to find even ground. In the end, Chozen helps Daniel, not only with his business, but with his knowledge of a secret Miyagi-do technique as well.
Okumoto may have almost 100 acting credits to his name, yet it was his memorable role as Chozen that has stayed with audiences — and that's not a bad legacy to have. With a fourth season of "Cobra Kai" on its way in December 2021, fans can hope we will see more of him in the future.