Ava DuVernay Shares A Wrinkle In Time Set Pics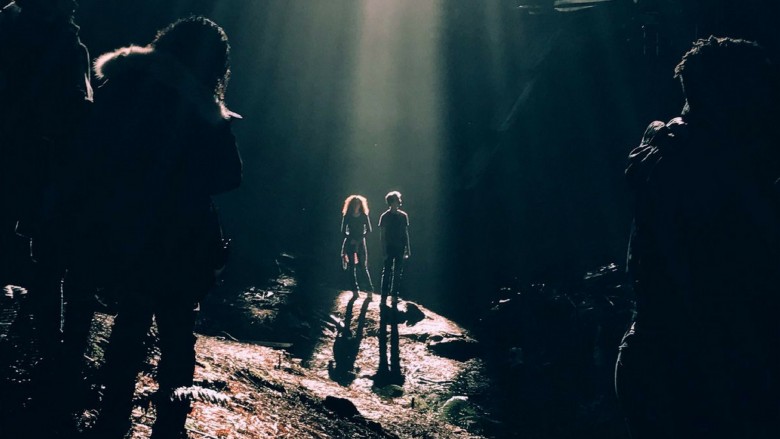 Twitter
Principal photography has wrapped on Disney's A Wrinkle in Time live-action film adaptation, with director Ava DuVernay sharing pictures from the set on her Twitter page Sunday.
A Wrinkle in Time, based on the children's fantasy novel from Madeleine L'Engle, follows Meg Murray (Storm Reid), who, along with her younger brother Charles Wallace (Deric McCabe) and friend Calvin O'Keefe (Levi Miller), goes searching for her missing father (Chris Pine), a scientist who disappeared while working on the mysterious tesseract. DuVernay will direct the first feature film adaptation of the classic novel (which was made into a TV movie in 2003 starring Katie Stuart and Gregory Smith) based off a script from Frozen's Jennifer Lee.
DuVernay praised the actors involved in the project while sharing pictures as filming wrapped, noting that Reid as Meg "does it all. Happiness. Heartbreak. Action. Emotion. And w/ grace. Our hero. In the story. And on the set." She added that Reid was "one of the most formidable actors I've worked with." She also gave compliments to Reid's costars Miller, who she called "an actor with great power," and McCabe, who she said "has a spirit like no one else." DuVernay also shared a pic of Girl Meets World star Rowan Blanchard, who signed on in an undisclosed role, noting that she "joined us for a few days and made a big impression."
The film's all-star cast also includes Oprah, Reese Witherspoon, and Mindy Kaling as the mystical trio of Mrs. Which, Mrs. Whatsit, and Mrs. Who. DuVernay revealed that Kaling was her first casting idea for the movie, adding, "so grateful she said yes!" She also added that Witherspoon constantly blew her away with her "tremendous talent," and joked that Oprah's Mrs. Which is "literally out of this world."
"An epic adventure," DuVernay wrote of the filming experience. "I loved each and every minute."
The cast also includes Gugu Mbatha-Raw, Michael Pena, Andre Holland, Zach Galifianakis, Bellamy Young, and Will McCormack. A Wrinkle in Time is set to be released on April 6, 2018; in the meantime, you can see more pictures from the film below and read up on the other movies that are going to blow you away that year.



That's a wrap on @StormReid. Hands down, one of the most formidable actors I've worked with. The world will know her name. Love you, @Storm. pic.twitter.com/xM2FiOywaH


— Ava DuVernay (@ava) March 12, 2017



That's a wrap on @LeviZaneMiller for WRINKLE IN TIME. Our leading man. An actor with great power. And a gentleman already. Thanks, Levi! 💛 pic.twitter.com/UJNW99yeRq


— Ava DuVernay (@ava) March 12, 2017



That's a wrap on our golden boy and incredible discovery @DericMccabe. This child has a spirit like no one else. You'll see. Thanks, D! 💛 pic.twitter.com/B07BHtt2zN


— Ava DuVernay (@ava) March 12, 2017



That's a wrap on @Oprah for WRINKLE! Gosh, we had fun. My great friend. Her role as MRS. WHICH is literally out of this world. Thanks, OW. 💛 pic.twitter.com/dk1KuGyw1F


— Ava DuVernay (@ava) March 12, 2017



That's a wrap on @RWitherspoon! She blew me away everyday with her tremendous talent. But more than that, w/ her kindness. Thanks, Reese! 💛 pic.twitter.com/BPCsvoOdKJ


— Ava DuVernay (@ava) March 12, 2017



That's a wrap on @MindyKaling! She was the very first WRINKLE casting idea I had. So grateful she said yes! Thanks, Mindy! Love to you! 💛 pic.twitter.com/RoCIQukc2G


— Ava DuVernay (@ava) March 12, 2017