The Martial Arts Comedy That's Heating Up On Netflix's Top 10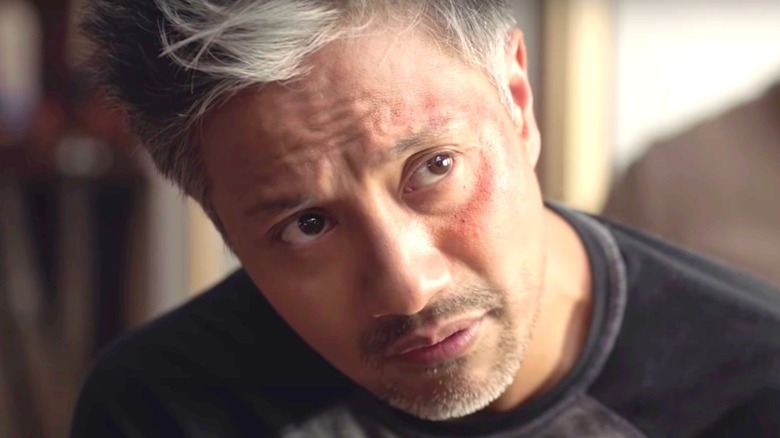 Well Go USA Entertainment
While Hollywood has an ugly history of presenting whitewashed, stereotypical stories of diverse cultures — especially when it comes to martial arts – recently, more and more stories created by and for people of color are getting made and appreciated as they should. Whether it's "Black Panther," "Parasite," or lesser-known films like "Burning" and "Sorry to Bother You," there are a lot of fantastic movies these days that are bringing diversity and accurate representation to the screen, while also simply being great stories. A new movie that was just released on Netflix is sure to be added to that list, and that's "The Paper Tigers."
Never thought you wanted to see three out of shape middle-aged men fight kung-fu? While think again. In "The Paper Tigers," a 2021 film directed by Tran Quoc Bao, three men, well-known and feared as "The Three Tigers" in their youth for their skill in kung fu, must work together years later to hunt down the person responsible for their teacher's death. The new comedy film was released on Netflix on August 7, 2021, and it stars Alain Yu as Danny, Ron Yuan as Hing, and Mykel Shannon Jenkins as Jim, the titular Tigers who must get their act together quickly to help their late mentor. The movie wowed critics after originally premiering at the Fantasia International Film Festival in August 2020, earning a 98% Certified Fresh rating on Rotten Tomatoes based on 58 reviews, and now it's finally getting the opportunity to shine in front of a wider audience. 
As a film that almost didn't get made, "The Paper Tigers" is killing it on Netflix right now, and it's likely only the start. 
The Paper Tigers is a hilarious and heartfelt story of lifelong friendship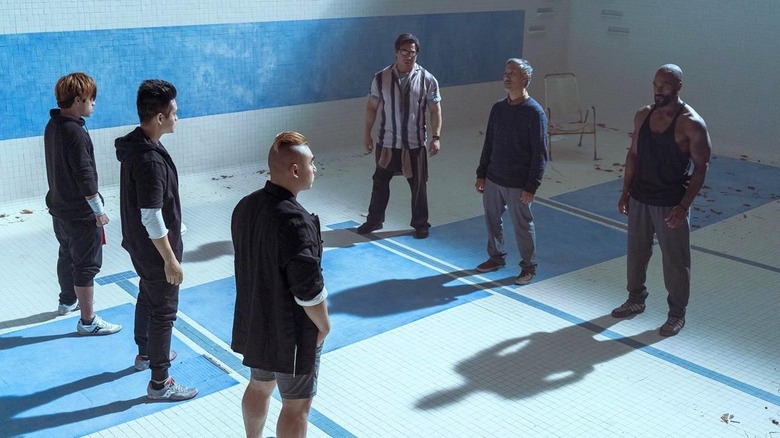 Well Go USA Entertainment
In "The Paper Tigers," longtime friends Danny, Hing, and Jim must return to their kung fu legacy to get justice for their old teacher, Sifu Cheung, played by Roger Yuan. A lot of cast members in the film have an extensive history working as actors, stunt coordinators, or choreographers in movies and television, with Yuan even appearing in "Shanghai Noon" with Jackie Chan. Speaking with The Daily Beast, Tran revealed that Hollywood offered to only make his film if they made the lead character white, to be played by someone like Bruce Willis. Thankfully, Tran didn't cave, going through the difficulty of finding other funding through avenues like Kickstarter in order to make the movie on his own terms, and clearly it paid off.
"The Paper Tigers" is a truly hilarious story that focuses on the lifetime friendship of the three main characters. The movie has a lot of obvious references to older martial arts films while also feeling fresh and innovative, proving that there's still plenty of originality left in popular genres like this one, as long as the right creators are in charge. Jessica Kiang of Variety put it very well when she declared the "irresistibly good-humored" film — which happens to be Tran's directorial debut — to be "a diverting blend of Hong Kong and Hollywood that delivers, on a slender, Kickstarter-enhanced budget, a rousing roundhouse hug to both traditions." So if you are looking for a heartwarming comedy film to take your mind of other troubles, the underdog story of "The Paper Tigers" is the perfect pick.