Kong: Skull Island Was The King Of The Weekend Box Office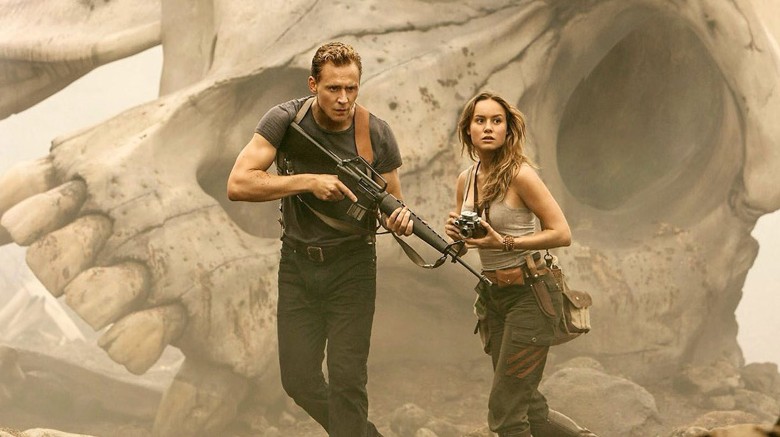 Warner Bros.
The fresh spin on the classic movie monster was a booming success, it seems. Kong: Skull Island rose to the top of the weekend box office, taking out both last week's wonderkid Logan and Jordan Peele's unexpected comedy-thriller Get Out along the way.
Sitting comfortable in the number one slot, the latest flick from Warner Bros. pulled in an impressive $61 million, performing far better than anticipated for the film's opening weekend, though still missing the mark compared to 2014's Godzilla, which say $30 million more in overall revenue. The Brie Larson and Tom Hiddleston-led film raked in an additional $20 million in the global market, solidifying a strong start with both domestic and international audiences.
The final installment of Hugh Jackman's run as the adamantium-clawed X-Men character bumped down a spot to make room for the towering King Kong. However, even in second place, Logan still took home a decent chunk of change: $37 million. Though it's a 57 percent drop from the film's inaugural weekend, which blazed to the tune of $85.3 million, it seems business as usual for superhero movies the second time around. Logan's first box office decline are in the same ballpark as the drops Captain America: Civil War and The Wolverine saw upon their release, which were both 59 percent from opening to second weekend.
Get Out, the deliciously haunting and unsettlingly relevant horror film, sits comfortably in the third slot, snagging $21 million this weekend. Tack that total onto the flick's combined revenue, and Jordan Peele's under-the-radar project has amassed over $100 million since its release. For a film that many saw as an underdog, especially when considering the big-ticket debuts it's been up against this month, Get Out has done spectacularly well.
Slot 4 went to the faith-based flick The Shack, which grossed $10 million. Starring Sam Worthington (Avatar, Hacksaw Ridge) and Octavia Spencer (Fruitvale Station, Hidden Figures), it looks as though the movie is still making waves with religious audiences at a steady pace.
Rounding out the 10 best-performing films are a mix of familiar films. The adorable LEGO Batman Movie pulled in a respectable $7.8 million; the Zoey Deutch-led Before I Fall continues to fall further down the list, and makes a poor showing at its second box office weekend with just $3.1 million; and Hidden Figures comes close behind with $2.7 million, going three-peat for 7th place, with John Wick: Chapter Two matching the exact revenue at $2.7 million for itself. Academy Award winner multiple times over, La La Land rests in 9th, leaving Fifty Shades Darker at the bottom of the list.
The monster movie that took home a monstrous revenue is out now. Before you head to the theaters to check it out, see what critics are saying about Kong: Skull Island. (Spoiler: There's a reason it was number one this weekend!)