The New Teaser For The Boys Season 3 Is Very Revealing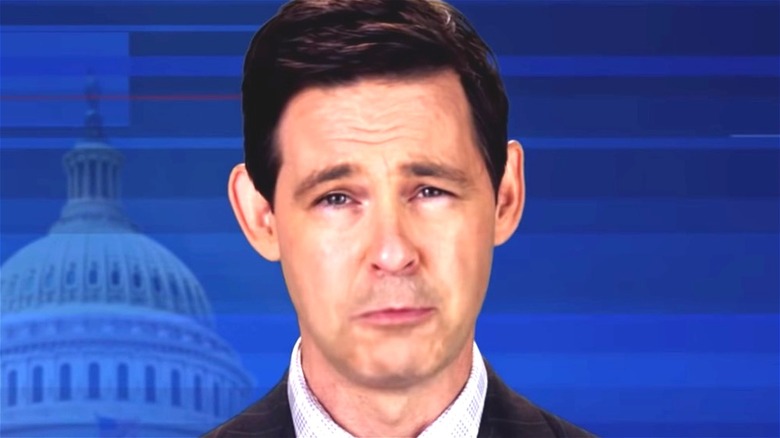 Amazon Studios
The Season 2 finale of "The Boys" aired on October 9, 2020, leaving fans with a lot of questions as to the future of virtually everyone involved. Billy Butcher (Karl Urban) and his titular Boys are set to be their own organization designed to keep an eye on the behavior of super powered people, but what does that mean? Hughie (Jack Quaid) has taken a job with the secret head-exploder Victoria Neuman (Claudia Doumit) and we have no idea how he'll survive.
So far, most of our hints for the upcoming third season of "The Boys" have revolved around new cast member (and former "Supernatural" star) Jensen Ackles as he takes on the role of Soldier Boy, but, like everyone else, we haven't been given much regarding the future of Vought, their product Compound V, or their superhero team The Seven.
However, we recently got a video called "Vought News Network: Seven on 7 with Cameron Coleman (August 2021)," which is finally giving us some much-needed updates on what's been happening between the end of "The Boys" Season 2 and the start of Season 3. While the "news report" appears to be hosted by Vought and done in a propaganda-driven, Fox News style, we can still read between the lines and see what we can really expect going forward.
What's happening with current and former members of The Seven?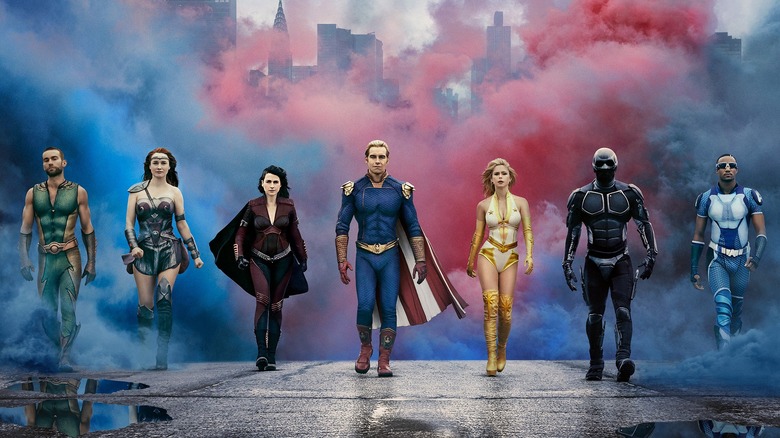 Amazon Studios
First, there's another boy set to turn up in "The Boys" SSeason 3 other than the title boys and Solider boy: Drummer Boy (Miles Gaston Villanueva). Drummer Boy, who is now going by Supersonic, is notable both for being out of the limelight while he was in rehab and for having been in a previous relationship with Starlight (Erin Moriarty). Apparently, the two were both part of that group of young Christian superheroes before Starlight joined The Seven. Perhaps Supersonic is primed to take a spot within the Seven.
Speaking of Starlight, while she's been away from our screens, it seems as though she's taken up a lot of responsibility, as the Vought News Network reveals her fans think she's burning the candle at both ends. It's not hard to think she's overworked, because the last time we saw The Seven's supposed leader Homelander (Anthony Starr), he was angrily self-pleasuring himself at the top of a tall building rather than saving anyone.
Corroborating the idea that people are stepping in for Homelander, a number of his fans suffered from deep dehydration after standing in a long line at the USA's southern border to "keep out super terrorists".
Rounding things out, The Deep (Chace Crawford) is publicly fighting against the Church of the Collective and claiming they have an "unholy obsession with Fresca." Meanwhile, Queen Maeve (Dominique McElligott) is using her forced coming out as an opportunity to throw support around a number of new LGBTQ Youth Centers and "Explore your pronouns: boys, girls, trans, and non-binary" summer camps. A-Train (Jessie T. Usher) is still set to return to The Seven, albeit after a race with a mystery opponent — perhaps that opponent will be Supersonic?
The current and future state of Vought International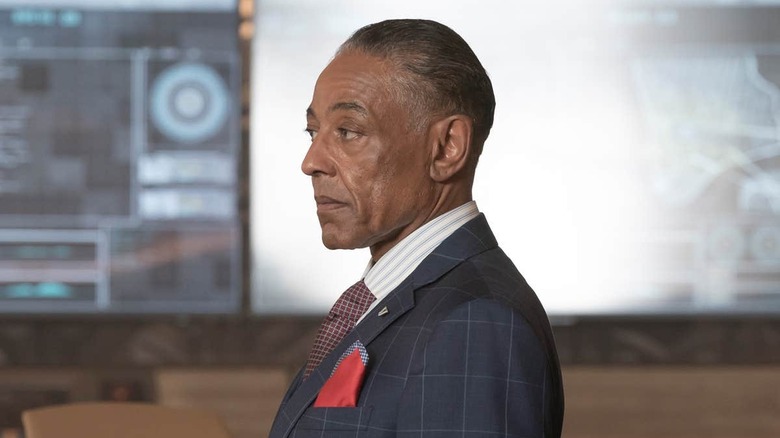 Amazon Studios
There's one other aspect of this pseudo teaser trailer worth noting: the state of Vought International themselves. Last season, the corporation was in trouble after it was revealed where Compound V comes from and how it's tested on infants. Naturally, the company is in crisis mode trying to get in front of that bad press.
CEO Stan Edgar (Giancarlo Esposito) releases a public statement shared on the Vought News Network, which states, "While recent, unfounded claims have been directed towards our product, Vought remains committed to our customers. We will continue to deliver the level of quality and excellence we're known for and use this time to recalibrate and improve, as we look toward a brighter future."
In other words, Vought isn't about to change anything about the way they do business and are adopting a "wait until the public forgets our heinous actions" position.
There's one other part of this fake news broadcast that could be more important than it seems — an advertisement for a "Vought Global Wellness Center," where super-powered people who are no longer in the limelight can go to receive help and treatment. Knowing that Vought isn't exactly a caring company, it's natural to assume this wellness program has a nefarious purpose. Perhaps Vought is looking to bring old heroes back into the fold for good press, or, more likely, they are hoping to perform experiments on old heroes to find new ways of creating super-powered people without the use of Compound V.
As of now, the Vought Global Wellness Center's website (www.GWCVought.com) isn't being used yet, but it has been registered. In other words, keep an eye out on that site as we get closer to "The Boys" Season 3 — you never know when there might be more secret information to discover.
"The Boys" Season 3 will air in 2021.