The Shocking Amount Michael J. Fox Was Paid For Back To The Future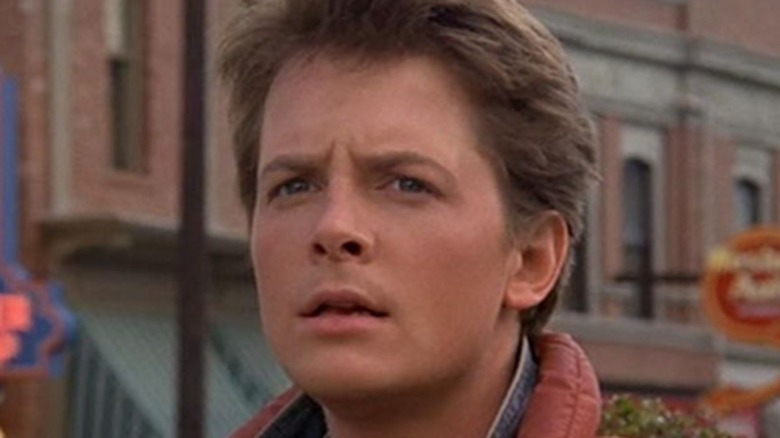 Universal Pictures
With the likes of "I Wanna Hold Your Hand" and "Romancing the Stone" under his belt, director Robert Zemeckis was hard at work on his next project as the halfway point of the 1980s approached. Alongside co-writer Bob Gale, Zemeckis cooked up a science fiction adventure comedy that came to be known as "Back to the Future," which thankfully broke their streak of failures and entertained all audiences from the moment it debuted on July 3, 1985. Suffice the say, the project was a resounding hit for Universal, and it remains in the pop culture zeitgeist to this day.
Aside from the quotable lines, unforgettable scenes, and inventive story, "Back to the Future" found success thanks to its cast of talented actors. Who could forget Christopher Lloyd's eccentric take on Dr. Emmet Brown, the mastermind behind the time-traversing DeLorean? Or Thomas F. Wilson's spot-on interpretation of both the 1950s and 1980s versions of the bully Biff Tannen? Of course, one would be remiss not to highlight the true star of the show, Michael J. Fox, who took on the lead role of rebellious teenager Marty McFly and made it all his own.
In the modern era, "Back to the Future" and the individuals behind it have made boatloads of money from rereleases, extraneous tie-in media, merchandise, and more. However, when looking at Michael J. Fox's initial payday, it's clear that few were banking on it becoming an enduring cash cow.
Fox didn't make as much off of Back to the Future as you may think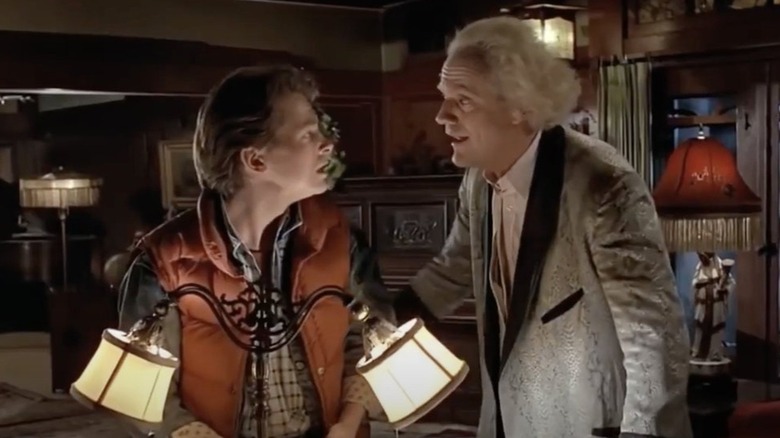 Universal Pictures
Michael J. Fox's road to becoming Marty McFly was long and full of twists and turns. From the very start, Robert Zemeckis wanted him for the character after watching him shine on "Family Ties," but his schedule prevented him from taking the gig. That left the crew to come up with other stars — ranging from Johnny Depp to Charlie Sheen — to pitch the part to before settling on Eric Stoltz. He shot a few of his scenes before an agreement was made to replace him with a now-available Fox, who signed on in a heartbeat for a meager $250,000 (via The Things).
A six-figure payday like that is certainly nothing to scoff at, but in the grand scheme of the financial record of "Back to the Future," it wasn't much for its lead star. After all, it grossed over $388 million worldwide on a $19 million budget, making it the highest-grossing film of 1985. Luckily, that kind of performance meant that when sequel talks inevitably arose, Fox was in line for a major promotion. For "Back to the Future Part II" and "Back to the Future Part III," he took home $5 million apiece, significantly dwarfing his first check from the franchise.
"Back to the Future" and everything relating to it is as beloved today, if not more so, than it was over three decades ago. Surely its big-name players are still enjoying that popularity today, and Michael J. Fox isn't losing any sleep over his $250,000 payout from way back when.