Dylan O'Brien Is Missing From Teen Wolf's Series Finale Set Pic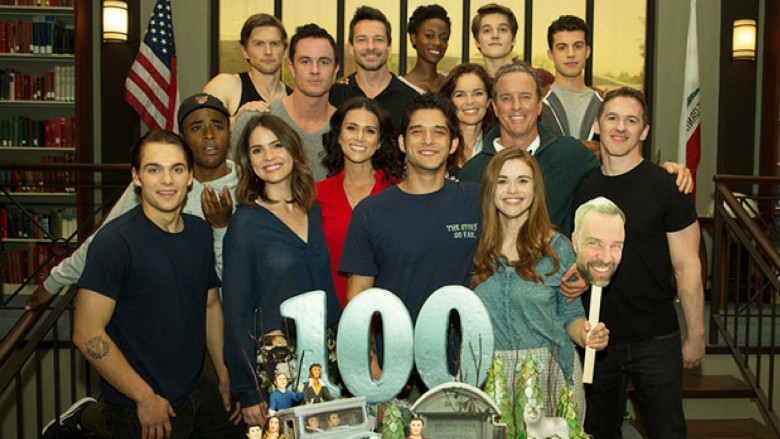 MTV
This does not bode well for Teen Wolf fans. After months of speculation on whether or not Dylan O'Brien would be back for season 6B, the show released a photo of the cast celebrating wrapping the show's 100th and final episode... with O'Brien, conspicuously, missing.
O'Brien's fate on the show has been up in the air for a while. Creators said early on that they were rolling back O'Brien's involvement in season six due to his budding movie career, which became even more of an issue after he suffered a severe injury on the set of Maze Runner: The Death Cure, which left him in recovery for months and pushed filming on the movie back to March of 2017. Season 6A's closing episode felt a bit like a finale, especially for O'Brien's Stiles, who finally got together with longtime crush Lydia. (Viewers even got to learn his real name.) However, many fans find it hard to imagine the series concluding without Scott's nerdy best friend by his side, and there will certainly be a lot of upset viewers if O'Brien doesn't make an appearance at all.
Creator Jeff Davis has been asked on multiple occasions about Stiles' fate, telling HollywoodLife that he won't speak too much about O'Brien's schedule, adding that it's been, "a challenge so far." "We'll wait and see," he said. In an interview with Entertainment Weekly after the winter finale, Davis still did nothing to quell fan fears, making it seem as though, to him, Stiles' story was wrapped. "We knew we didn't want Stiles to just pop in and out of the season," he said. "We wanted him to be a real focus of the season and this gave us an opportunity to show how much we treasure the character. It felt like a good way to honor his character." He later added that Stiles' future on the show "remains to be seen."
The picture could just be a way for the show to trick fans into thinking O'Brien won't appear, though, something which we can only hope is true. We'll know for sure when Teen Wolf returns with its final episodes in the summer of 2017, but, in the meantime, see the movie mistake that made the final cut in the Michael J. Fox 80's cult comedy on which the show is based.