The First Full Trailer For Y: The Last Man Has Finally Arrived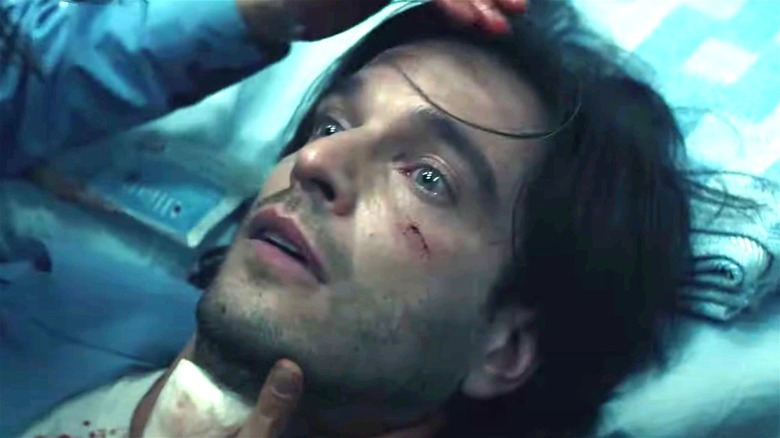 FX/Hulu
Brian K. Vaughan and Pia Guerra's "Y: The Last Man" has been ripe for the picking for a while. It took just shy of 20 years for the multiple Eisner Award-winning comic book series to get a live action adaptation off the ground, so it's reasonable that fans have gotten antsy waiting for a first look at the upcoming FX series.
Those fans have a lot to get excited about today. After more than five years of delays, speed bumps, and behind-the-scenes shake-ups, FX and Hulu released the first official trailer for their "Y: The Last Man" adaptation, and needless to say, the post-apocalyptic drama is looking bleak as can be.
The story follows Yorick Brown — played by Ben Schnetzer of 2016's "Warcraft" and 2013's "The Book Thief" — and his capuchin monkey Ampersand, as they traverse a world thrown into chaos by the sudden and unexplained deaths of every other mammal with a Y chromosome. The plague is as mysterious as it is sudden and horrific, putting a gruesome, blood-vomiting spin on the old chestnut "Men: Can't live with 'em, can't live without 'em."
A good man is hard to find in Y: The Last Man
Set against James Brown's "It's a Man's Man's Man's World," the first trailer for "Y: The Last Man" gives viewers a close look at a comic-accurate recreation of the story it's based on. Day one of the plague sees dudes of all stripes, suddenly and unceremoniously converting their inside blood into outside blood by way of their mouths. All the big-budget, existentially nightmarish shots of empty metropolitan areas that audiences have come to expect from apocalyptic movies and television series are on full cinematic display.
We get our first look at Ben Schnetzer as Yorick Brown, schlepping his beloved monkey around an ashen hellscape and being assured that he's "reproductively interesting." We see his mother, congresswoman-turned-sitting-president Jennifer Brown (Diane Lane) struggling to juggle the chaos of a world suddenly deprived of half its people. Ashley Romans of "NOS4A2" shows off her wasteland badassery as Agent 355. Explosions and collisions pepper the whole experience. Anxiety-wise, it's an absolute smorgasbord.
"Y: The Last Man" premieres on FX on Hulu starting September 13.