Why Taylor Swift's Simone Biles Commercial Has The Internet In Tears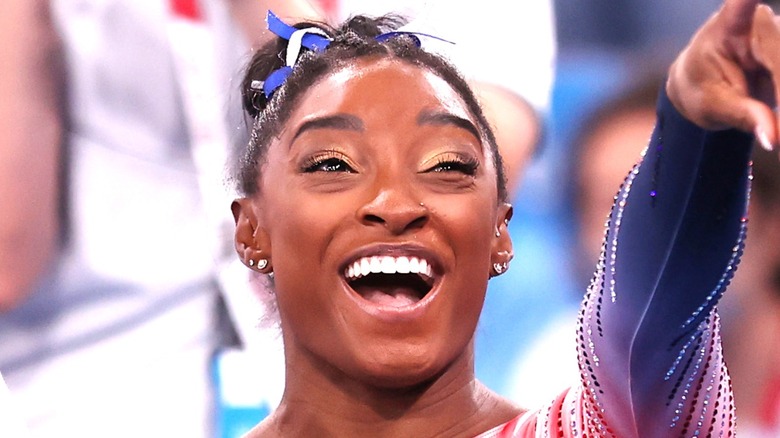 Laurence Griffiths/Getty Images
The 2021 Summer Olympic Games have been emotional for fans and athletes alike. No story playing out during this olympiad has drawn more ink than that of American gymnast Simone Biles, who withdrew from the event's team competition on July 27, citing her wish to focus on her mental health. She later explained that she was experiencing a case of "the twisties," a phenomenon gymnasts experience that causes them to lose control of their movements (via NBC News). After withdrawing from the all-around competition as well, the gymnast returned to the world stage just in time for the balance beam event on August 3, in which she took third place, claiming a bronze medal to add to her collection (via NPR). 
A new video piece for NBC's coverage of the event features narration from a popular musician, as well as one of this artist's most emotionally resonant songs. Here's why the use of this Taylor Swift song has the internet in tears.
Fans are going wild for this new tribute to Biles
The song is called "This is me Trying," from Swift's album "Folklore."
Fans of both Swift and Biles have been moved to tears following the release of the video spot, which takes viewers step-by-step through Biles' experience at the games — from her tumble during a practice session through her withdrawal and reentry. It also highlights how the athlete spoke out on Twitter about mental health awareness. Swift observes that Biles is "perfectly human," adding "that's what makes it so easy to call her a hero."
Biles and Swift both reacted positively to the spot on Twitter, with Biles describing it as "special." Swift said that she cried watching Biles perform, and that the athlete had provided the world with a "lesson in emotional intelligence and resilience."
Fan response was equally warm. "When you know what this is because your little girl is going through something similar. Her example is wonderful, that's why I love @Simone_Biles, bless you!" tweeted @Wilmer__VD.
@mtaguila summed up the thoughts of many Swifties, tweeting, "What a perfect role model these two are. Both are champions/pioneers of their own fields. Both are supportive of each other's struggles and achievements. QUEENS in every sense of the word! How lucky I am to live in the same era with @taylorswift13 and @Simone_Biles." 
They closed with a pleading face and crying face emoji. Fans of both women likely agree.