One Handmaid's Tale Star Hopes This Fan Theory Comes True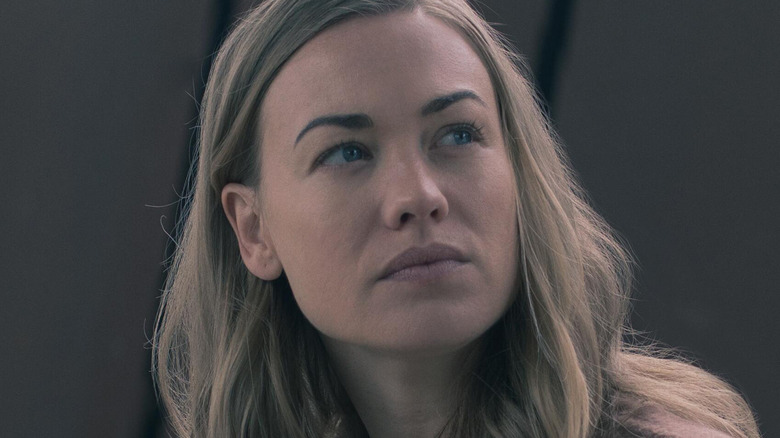 Hulu
The following contains spoilers for Season 4 of "The Handmaid's Tale"
While the fourth season finale of "The Handmaid's Tale" sealed Commander Fred Waterford's (Joseph Fiennes) fate, fans will have to wait until Season 5 of the dystopian series to learn what's next for his wife Serena Joy, played by Dexter's Yvonne Strahovski. While June Osborne's (Elisabeth Moss) thirst for justice was somewhat sated by murdering one of her captors in true Gilead fashion, Serena remains out of June's reach ... for now. Serena has good reason to be worried about her future and that of her unborn son, since she no longer has Fred's protection.
At the start of Season 4, both Fred and Serena faced a list of criminal charges, with each spouse ready to throw the other under the bus to secure their freedom (or, in Fred's case, to drag his wife down with him). However, Serena's pregnancy and June's arrival in Canada forced the couple to unite against their common foe. Fred struck a deal agreeing to turn traitor and provide what remains of Free America with vital information about the inner workings of Gilead in exchange for his and his wife's freedom. June devised her own plan using connections within the totalitarian regime that resulted in Fred hanging from a wall.
Not only did fans immediately began speculating about what awaits Serena in Season 5, but Strahovski herself has an opinion about a fitting story arc for her character.
Will Serena Joy become a Handmaid?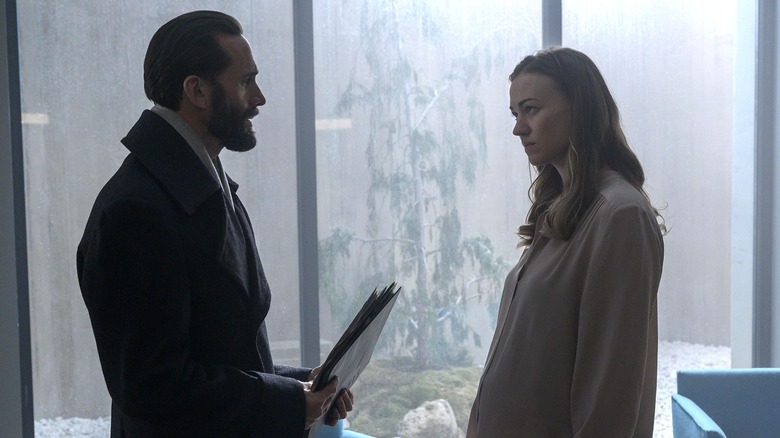 Hulu
Serena's ability to get pregnant first planted the seed in fans' minds that the disgraced Commander's wife could suffer the same fate as many other women in Gilead. A visit from the Putnams confirmed that, while the patriarchal theocracy had no interest in rescuing Fred, it did have its sights set on Serena and her son, who is considered a true child of Gilead. Serena herself voiced her concerns to Fred that she could become a Handmaid if she returned to Gilead. 
It's a theory that has gained more traction since Serena's freedom was tied to Fred. With Season 5 on the way, Strahovski told Harper's Bazaar, "I have no idea what they're going to come up with, but to me, the most obvious thing that would be pretty fun to play out would be if Serena did get sent back to Gilead and become a Handmaid because she's now a fertile woman, and how she would handle that, especially if it's a particularly abusive situation and it echoes June's journey, or not."
Of course, very few people get what they deserve on "The Handmaid's Tale," and watching Serena either live in fear of June or face her head-on would make for compelling television. Serena will undoubtedly view June's decision to send her Fred's finger as an act of war. 
Will Serena Joy go into politics?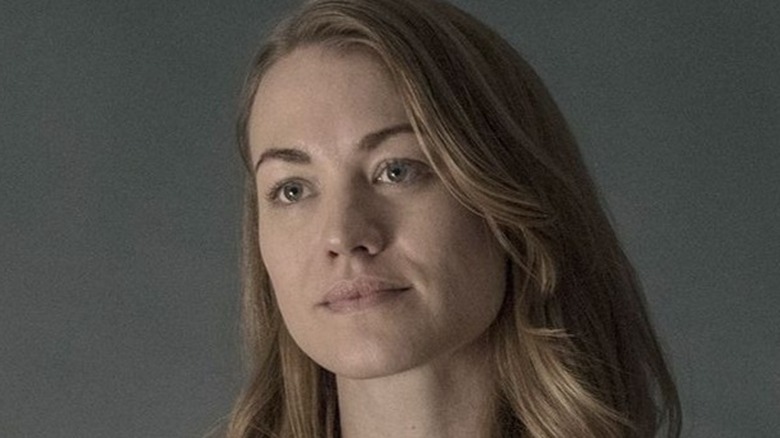 Hulu
Despite the odds stacked against Serena, it's difficult to imagine Mark Tuello (Sam Jaeger) would hand her over to Gilead unless they had something he wanted much more. As Strahovski discussed with Harpers Bazaar, fans have been fascinated with the relationship between Serena and Tuello, and were at one time convinced he was the father of her child. Despite her crimes, Tuello knows what awaits Serena if he sends her back. Serena is also a formidable woman who proved to be smarter and more resourceful than her husband, pre and post-Gilead. She also has a newfound fanbase in Canada, and Fred's death could turn her into a martyr.
Strahovski is on board with Serena getting her comeuppance, but the actress sees other avenues for the show's writers to explore. "It makes more sense to me to do the more infuriating thing — infuriating to the fans — and that she actually finds success outside of the detention center in Canada in the way of politics or becoming some kind of spokeswoman, picking up where she left off pre-Gilead: writing a book, getting a following, becoming the female president of Canada, I don't know," Strahovski said. 
Whether or not the fan theory that Serena Joy becomes a Handmaid comes to fruition remains to be seen, but after Season 4's game-changing ending, anything is possible in the future of "The Handmaid's Tale."