The Gossip Girl Reboot Episode 4 Scene That Went Too Far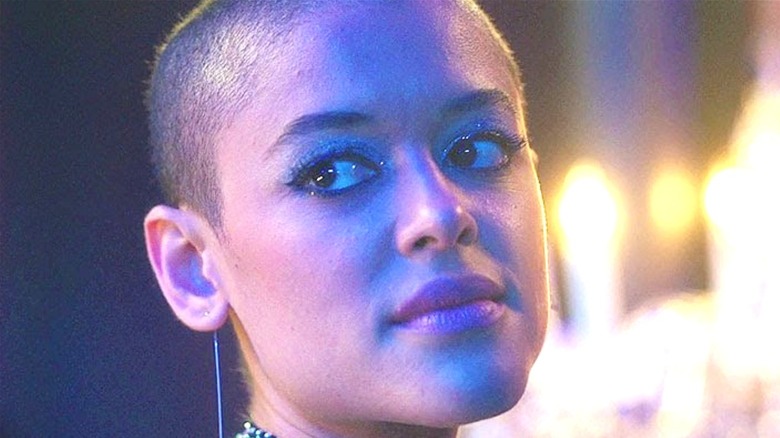 HBO Max
A few weeks before HBO's "Gossip Girl" reboot premiered, there was plenty of online controversy after "Variety" reported that showrunner Joshua Safran said the new show would "avoid glorifying its characters' wealth and lifestyles," and that its protagonists would "wrestle with their privilege." Some fans worried that the drama and themes of this "Gossip Girl" would appear watered down if the series was overly concerned with portraying utterly unproblematic characters
While it's true that this "Gossip Girl" is more diverse and features characters who are more aware of social ills, the first four episodes have still featured plenty of wild antics that fans of the original loved. The chief source of tension is the tenuous bond between two half-sisters: Longtime it-girl Julien Calloway (Jordan Alexander) and young newcomer Zoya Lott (Whitney Peak). The reboot went to wild new lengths in Episode 4 (titled "Fire Walks With Z"), and even included one scene fans thought went too far.
Episode 4 revealed Zoya's traumatic backstory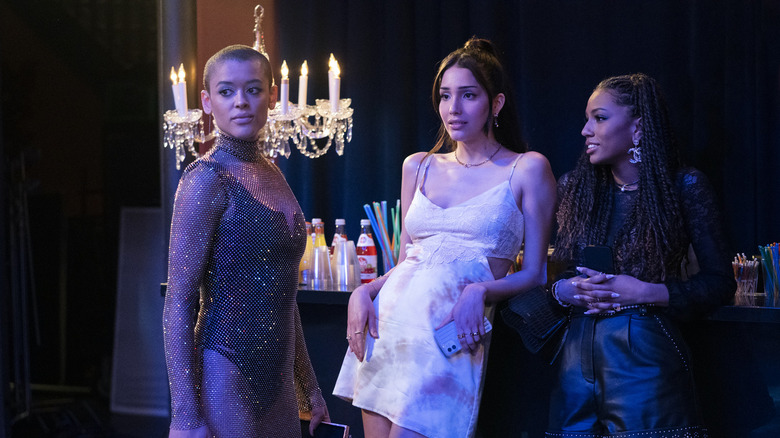 HBO Max
In Episode 4, Zoya sought revenge against Julien by digging up her problematic old tweets. She did this after falsely assuming Julien conspired to get her kicked out of her grandmother's Brooklyn apartment. So Julien announced an event to honor their late mother on the same day Zoya planned to host her birthday party, but their fathers forced them to hold a joint event.
At the party, an irritated Julien showed an old video of Zoya, which was given to her by her friends Luna La (Zión Moreno) and Monet de Haan (Savannah Lee Smith). It shows Zoya vandalizing a school wall with her ex-Buffalo classmates, but then the video takes a dark turn of which Julien didn't seem to be aware. The classmates lock Zoya in a classroom and call her "mother killer," as she cries on and off-screen. Julien then apologized, and introduced musical guest Princess Nokia almost immediately afterward.
Some fans were taken aback by the scene's intensity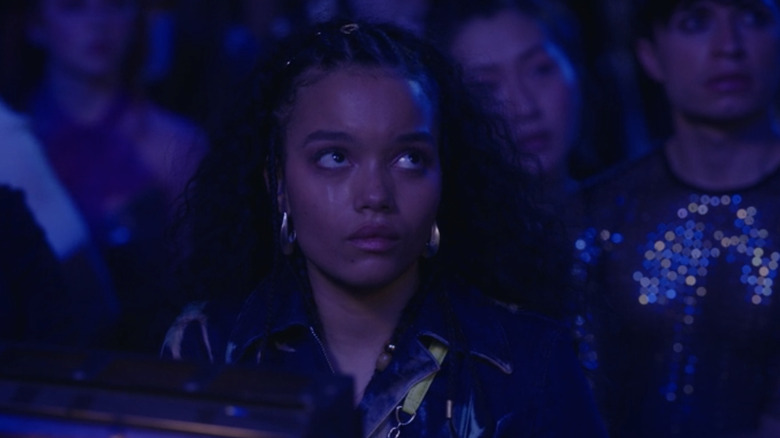 HBO Max
Some fans were taken aback by the scene's sudden, unwavering intensity, and the extreme cruelty Zoya's old friends displayed toward her. "Did anyone else cringe sooo bad at the Zoya's video scene?? Like I literally closed my eyes for a lot of it and had to pause and take a break," Reddit user Kcatlol said. "I cringed because it went on for way too long and was so repetitive and OTT," user pearlsandplumes replied. "'Mother killer,' really? Not even the worst bully would go there. That was some prison s***, lol." 
User mathymate agreed, adding, "It would have been better if they showed Zoya fighting and then abruptly cuts to show Zoya being bullied before the fighting ensued. It would have caused mixed emotions, which the writers were going for." Hopefully the rest of the "Gossip Girl" reboot will be able to handle drama and genuine emotional moments with a more delicate touch.