What Is The Song In The Allstate 'Everything's Alright' Commercial?
Insurance company Allstate has a warm new ad meant to express the positive feeling of knowing your insurance has you covered no matter what happens. In the commercial, which was created by agency Droga5 (via iSpot.tv) and is narrated by singer Alicia Keys, a woman driving her convertible switches on the radio and musicians suddenly appear in the car with her, playing along to the song. 
On the mention of how Allstate keeps people protected, a tree moves its limbs to provide shade to a man sitting on a bench. And when Keys explains how Allstate has its customers' backs when things go wrong, a girl accidentally drops a scoop of ice cream from her cone, which magically regenerates with a brand new scoop. It's a sunny, friendly spot, soundtracked by an upbeat horn-driven song ("played" by the musicians in the convertible).
The comment section on the commercial's YouTube post is filled with conversation around the song, with numerous people asking and answering what it is. We'll answer the question, too: The song in Allstate's "Everything's Alright" commercial is a jazz single from the late 1960s that managed to claim the top spot on the Billboard Hot 100 in its day, despite being an instrumental track. 
It's "Grazing in the Grass" by Hugh Masekela.
Grazing in the Grass is a jazz classic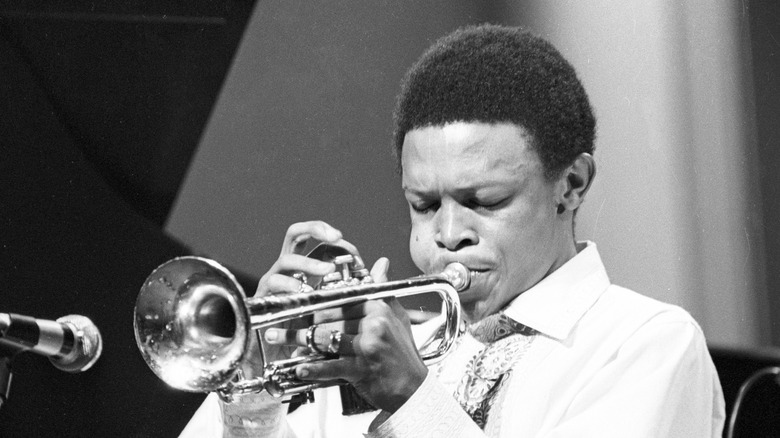 Tom Copi/Getty Images
Legendary South African trumpeter Hugh Masekela recorded "Grazing in the Grass" in 1968, and it reached the top of the Billboard Hot 100 chart that July. The melody was written by Philemon Hou, an actor and singer who was visiting Masekela in the studio the day the song was recorded, according to Minnesota Public Radio. The story, according to Stereogum, is that Masekela was contractually obligated to record an album that was at least a half-hour long. As he was nearing the end of recording, he was three minutes short, so Masekela and his crew quickly threw the song together (This is also essentially how Black Sabbath's "Paranoid" was written, according to Songfacts).
There's also a version with lyrics by the soul group Friends of Distinction written by bandleader Harry Elston that peaked at #3 on the Billboard Hot 100 in 1969. This version is much faster, loses the distinctive cowbell of Masekela's version, and contains the memorably groovy refrain "Grazin' in the grass is a gas, baby, can you dig it?" It's a carefree song that sounds like having fun in the summertime, so it's the perfect song to put in a gentle and positive summertime-debuting commercial like Allstate's "Everything's Alright."