Why M. Night Shyamalan's Sixth Sense Cameo Means More Than You Think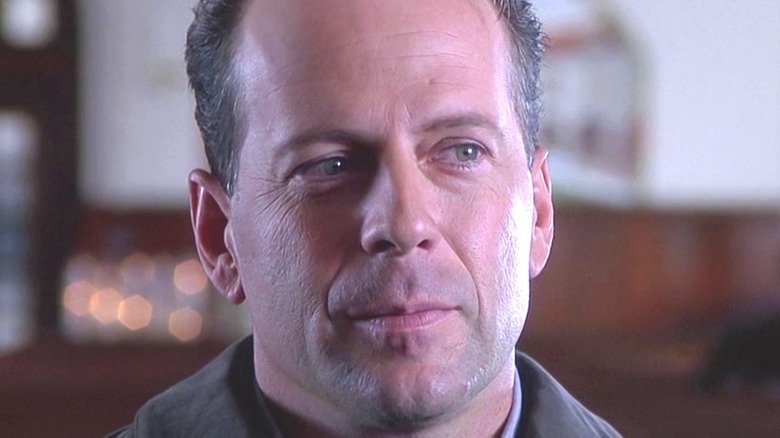 Buena Vista Pictures
While it's not unusual for directors to make cameo appearances in their movies, some do it more than others. Perhaps the first noticeable string of cameo appearances came with the Master of Suspense, Alfred Hitchcock, who made cameo appearances in 40 of his films during his legendary career, including "Psycho," "Rear Window," and "North by Northwest." Often, Hitchcock's cameos were simple walkthroughs, but he did get more inventive in such films as "Lifeboat," where he appeared in "before and after" pictures in a diet advertisement in a newspaper.
Another filmmaker with a penchant for appearing in his mystery movies is writer-director M. Night Shyamalan, who has made cameo appearances in 11 of the films he's directed — including "Unbreakable," "Signs," "Split," and "Glass" — as well as one TV series ("Servant"), which he created. Like Hitchcock, most of the cameos are brief, but there are times when the role can be fairly extensive, such as his turn in his new hit psychological thriller "Old." Shyamalan is simply billed as "Hotel Van Driver" in the film's credits, but his role in "Old" is much more involved than dropping off a group of unwitting adult tourists and their children at a remote island beach — only for them to start rapidly aging as the day unfolds.
Shyamalan's major career breakthrough came with the twisty 1999 supernatural mystery "The Sixth Sense," which earned six Oscar nominations including best picture, best director, and best original screenplay for Shyamalan, best actress for Toni Collette, and best supporting actor for Haley Joel Osment. Young Osment immediately became recognizable after delivering his classic line, "I see dead people," as did Shyamalan for his cameo appearances — which, in some cases, mean more than you think.
M. Night Shyamalan's Sixth Sense cameo was inspired by his parents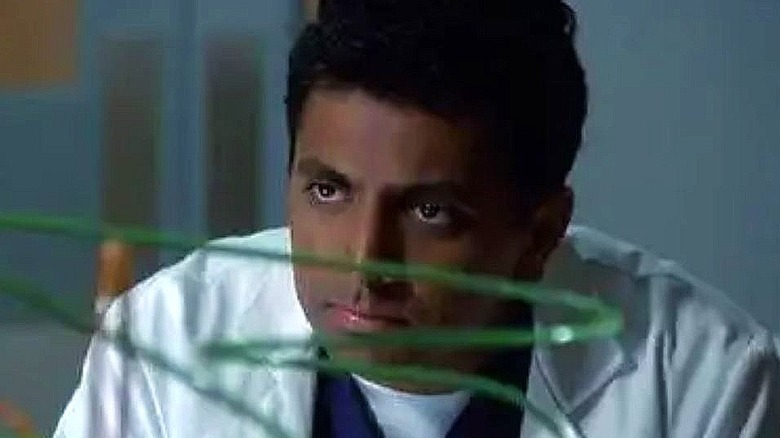 Buena Vista Pictures
In "The Sixth Sense," Shyamalan makes a cameo appearance as Dr. Hill, a pediatrician who treats Cole Sear (Osment). As it turns out, Shyamalan's character is a tribute to a family occupation, since his father, Nelliyattu C. Shyamalan, is a physician, while his mother, Jayalakshmi Shyamalan, is an obstetrician and gynecologist. However, since M. Night Shyamalan fell in love with filmmaking at an early age after being inspired by the work of director Steven Spielberg, his personal story had a twist of its own. Despite his father's wishes, Shyamalan became a writer and director instead of following in his parents' footsteps.
While Shyamalan seems content with his place behind the camera and making his customary cameos, there have been signs over the years that he's getting more comfortable with acting, at least when it comes to playing himself. In 2007, Shyamalan played himself in the hit comedy series "Entourage" and appeared as himself again in two episodes of the award-winning drama series "This Is Us" in 2019 and 2020.