The Devastating Death Of Thea White
Thea White, the actress best known for providing the voice of Muriel Bagge on the Cartoon Network animated series "Courage the Cowardly Dog," died on Friday, July 30 due to complications from surgery following an operation to remove a cancerous mass from her liver, according to a Facebook post from her nephew Brad Zitzner (via TMZ). She was 81 years old.
White voiced Muriel Bagge, the kind, elderly Scottish woman who found and took in the titular talking dog on the cult classic animated series. The surreal show, which ran from 1999 to 2002, revolved around Courage repeatedly saving Muriel and her husband Eustace from monsters, aliens, and other supernatural threats that appear at their isolated farmhouse on the outskirts of the town of Nowhere. She reprised her role for the upcoming "Courage the Cowardly Dog" and "Scooby Doo" crossover film "Straight Outta Nowhere: Scooby-Doo! Meets Courage the Cowardly Dog," which will be released on September 14.
Thea White had an amazing career resurgence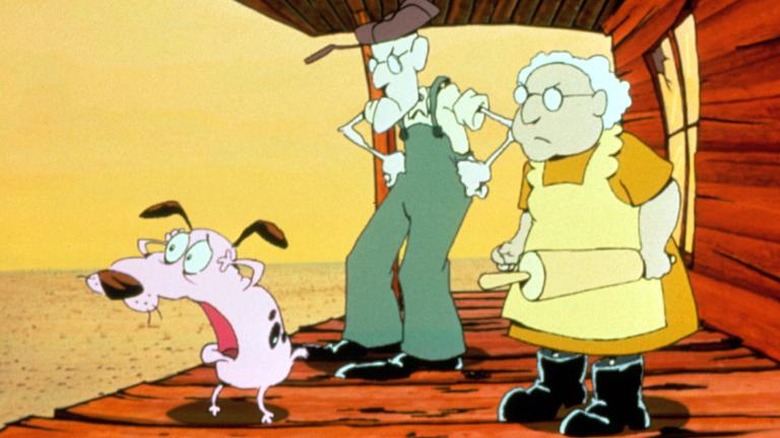 Cartoon Network
According to a 2002 profile in her hometown New Jersey newspaper, White studied acting at the Royal Academy of Dramatic Arts in London and the American Theater Wing in New York City, and worked as a stage actress early in her career, as well as a personal assistant to legendary actress and singer Marlene Dietrich. After she married Scottish session drummer Andy White –- who famously filled in for Ringo Starr on the Beatles' debut single "Love Me Do" -– she retired from acting and took a job at a library in Livingston, New Jersey.
"Courage" found her unexpectedly, when a production company called her house looking for her husband because they needed someone who could speak with a Scottish accent. She said, "I don't know anyone, but I used to be an actress and my husband is a Scot, and I can do the accent, so why don't I audition?" 
The rest is history.
White's brother John Zitzner posted on Facebook a spirited video she recorded shortly before her surgery, where she sends a loving message to her family. "I've never met a person who knew you who didn't think you were the greatest person alive," her nephew Brad wrote. 
"She was an extraordinary woman. I felt blessed and honored to have her in my life," said her "Courage the Cowardly Dog" co-star Marty Grabstein said in a video he posted on Facebook.